| | |
| --- | --- |
| Simpson highlights official visitors list for the weekend | |
---
| | |
| --- | --- |
| Friday, January 22, 2016, 1:37 PM | |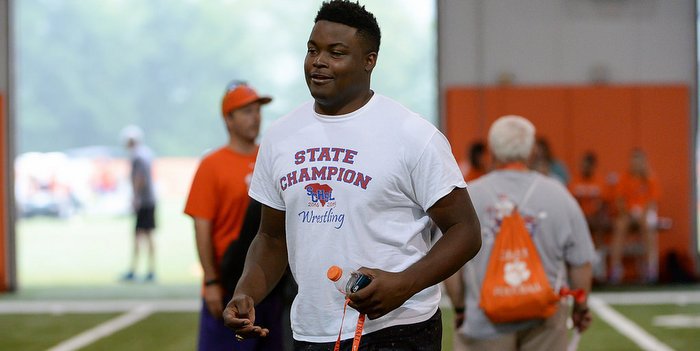 Official visit season is upon us, and as National Signing Day nears and this weekend will see the Clemson coaching staff host its second of three official visit weekends.
Last weekend Clemson welcomed all of its 2016 commits who weren't already enrolled, plus Trayvon Mullen and Michail Carter. This weekend will only be a group of four, with the most notable attendee being John Simpson.
Simpson will be joined by Romeo Finley, Matthew Ryan and new commit Nolan Turner.
*Clemson has courted Simpson – the 4-star North Charleston (SC) Fort Dorchester offensive lineman – for quite some time and he has been close to pulling the trigger and committing to the Tigers on several occasions, including last August.
However, his desire to see the process through and take his visits won out. Simpson has visited Clemson and South Carolina many times, but has only taken two official visits to this point – LSU in November and Florida last weekend.
The 6-4, 296-pound prospect will bring his mother, grandmother and brother to Clemson this weekend before wrapping up his visits next weekend with a trip to Alabama.
*Finley is a 4-star defensive back out of Niceville (FL) who has been on Clemson's radar for quite some time. However, the last time Finley visited Clemson was during the summer of his junior season.
The 6-1, 190-pound safety told TigerNet earlier this week that he's looking forward to seeing everything the Tigers have to offer.
"They're (Clemson) in the picture. I just want to take things slow and have a nice visit," Finley told TigerNet Wednesday evening. "I just want to get there and see everything about Clemson. I think it was my junior year during the summer when I last visited. I just want to see the campus again and get a feel for it to see if I can see myself there. I just want to have a good time and get to see the place."
Finley claims a top three of Georgia Tech, Miami and Clemson and plans to announce his decision the day before National Signing Day.
*Matthew Ryan is a 2-star offensive lineman out of New Orleans (LA) Newman and is being offered a walk-on spot.
Ryan, the son of assistant Bills head coach Rob Ryan, nephew of Bills head coach Rex Ryan and cousin of Clemson holder Seth Ryan will be making his first trip to Clemson.
The 6-3, 315 pounder has scholarship offers from Akron and SE Louisiana, as well as walk-on offers from Auburn, Clemson, Mississippi State and a handful of other schools.
*Vestavia Hills (AL) safety Nolan Turner is a prospect we just learned of Thursday afternoon when he announced his commitment to Clemson via Twitter.
Turner – a 6-2, 190-pound safety – is the son of Kevin Turner, a former teammate of head coach Dabo Swinney. He had a scholarship offer from University of Alabama Birmingham and a walk-on offer from Alabama.
Clemson had kept up with Turner throughout his high school career, originally offering him as a walk-on, but the departure of safety Jefferie Gibson earlier this week opened up a scholarship, allowing Swinney to offer him a spot at Clemson.
Turner told TigerNet that after meeting with Swinney he decided to accept the offer and visit Clemson this weekend.
"I sat down with Dabo, and he started explaining to me how they had two of their safeties leave for the draft and another just transferred, and he was talking about how that opened up a scholarship," Turner said. "He told he was offering me a full scholarship to come play at Clemson. I didn't know what to say. I was speechless."
As a senior, Turner had 63 tackles and five interceptions and was named All-State as an athlete (safety and receiver).