---
| | |
| --- | --- |
| Friday, October 9, 2015 8:01 PM | |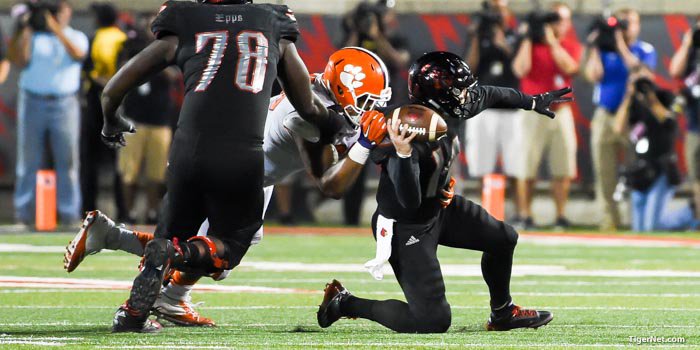 CLEMSON – Defensive end Kevin Dodd

Kevin Dodd
RS Jr. Defensive End
#98 6-5, 268
Taylors, SC
View Full Profile is finally getting his recognition, and his more-heralded teammates are taking notice.
The redshirt junior out of Greer's Riverside High School has been on campus since January of 2012 after a stint at Hargrave Military Academy but tallied just 21 tackles in 24 games over his career. However, he was also buried on the depth chart behind names like Malliciah Goodman

Malliciah Goodman
Defensive End (2009 - 2012)
#97 6-4, 270
Florence, SC
View Full Profile , Corey Crawford

Corey Crawford
Defensive End (2011 - 2014)
#93 6-5, 275
Columbus, GA
View Full Profile and Tavaris Barnes

Tavaris Barnes
Defensive End (2010 - 2014)
#9 6-3, 275
Jacksonville, FL
View Full Profile , guys who have spent time on NFL rosters.
Dodd finally has his chance to shine, and he's taking advantage of it. He leads the team with 3.5 sacks, is second on the defense in tackles for a loss with six and quarterback pressures with five. He's also sixth in total tackles.
Dodd's emergence has earned the appreciation of former five-star and freshman standout Christian Wilkins

Christian Wilkins
Fr. Defensive Tackle
#42 6-5, 299
Longmeadow, MA
View Full Profile .
"He is someone I look up to a lot. I can learn a lot from him, even though our situations were a little different," Wilkins said this week. "He just stuck with it and got better over time. To have that much focus to stay here for three or four years and not see any results of your effort that you are putting into it and then finally getting your opportunity and making the most of it, that's just commendable. I have a lot of respect for him for that."
His two sacks and 3.5 tackles for loss in 60 snaps against Notre Dame were a big part of Clemson's 24-22 win over Notre Dame last week and earned Dodd the ACC defensive lineman of the week honor. His biggest play, however, might have come on Notre Dame's attempted two-point conversion late when he set the edge and allowed his teammates to tackle quarterback DeShone Kizer short of the end zone.
"When they came out and lined up it was just formation recognition," Dodd said of the play. "I saw they had trips all set back and nine times out of ten when you get that it's a sprint out. I kind of jumped the play before it started and set the edge and counted on the guys to plug it up."
As for his player of the week honor, Dodd just smiled and said it was all part of the process.
"It's huge, a part of the process I have going on right now. I just want to thank the coaches and the people that believed in me," he said. "I just continue to work and be that go-to guy and the guy that people can call on. My confidence has been here since that spring. Just knowing that it was my time to play and be that guy. Playing these games has given me a chance to showcase my ability and what I can do."
He is also earning the praise of his coaches.
"He was a guy that we really took simply on potential," head coach Dabo Swinney

Dabo Swinney
Head Coach
View Full Profile said. "He really wasn't a very good player. He just had potential. He had size. He had athleticism, but he wasn't a very good football player. I'm proud of Kevin. He's been player of the game for us twice in four games. He's just scraping the surface of what he can do. What you're seeing now is he's getting the fruits of his labor. His confidence is just going to grow."
Defensive coordinator Brent Venables

Brent Venables
Def. Coordinator / Linebackers
View Full Profile echoed Swinney's comments.
"He's continued to be very consistent and playing at a real high level," Venables said. "I complimented him during the week, just how hard he practices. The really, really good ones, they know one way to work and they've got an attitude and a purpose to what they're doing. Kevin is rapidly continuing to develop himself because of that high effort."
Dodd will once again be in the spotlight this week as the Tigers take on Georgia Tech's vaunted option attack.
"This is just another game for me to go out there and take a stand and show who Kevin Dodd is," he said. "I know I have to keep working and this is just another chance for me to show what I'm able to do."