| | |
| --- | --- |
| Sensabaugh drafted by home-state Titans, will re-join former teammate Harper | |
---
| | |
| --- | --- |
| Saturday, April 28, 2012 7:33 PM | |
In the spring of 2011, Coty Sensabaugh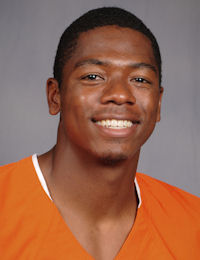 Coty Sensabaugh
Gr. Defensive Back
#15 6-0, 180
Kingsport, TN
View Full Profile had just ended spring practice at Clemson University, his first as a projected starter at corner despite entering his senior season, and many wondered if he would be up to the task of handling the duties of an every down defensive back in the ACC.
A year later, Sensabaugh turned a stellar senior campaign into a job in the NFL after he was picked up by the Tennessee Titans with the 20th pick of the fourth round (115 overall) Saturday afternoon.
A native of Kingsport, Tenn., Sensabaugh played 52 games in four seasons at Clemson, picking up four interceptions, tallying 87 tackles and had 18 passes defensed.
He said Saturday afternoon on a media conference call that he was happy to be playing in his home state.
"It was great news because I'm from Tennessee. It's just a blessing," Sensabaugh said. "I'm just happy to be able to participate in the NFL Draft, and being drafted and staying local—I don't even know, words can't even describe it. I don't know what to say. I got to watch them, but I didn't really have a favorite team growing up. I just enjoyed watching football, whoever it was I didn't really have a specific preference."
Coty is the second cousin of Dallas Cowboy defensive back Gerald Sensabaugh, and he said Gerald helped him through the process.
"He taught me everything I needed to know about this process," Sensabaugh said. "He gave me a lot of advice and walked me through everything step-by-step. He and my agent and my friends who are in the NFL, I got a lot of help from a lot of people. He taught me so much, I don't even know where to start. He taught me about the business part, how to be a man in the business, how to go about your business day in and day out, just everything. He's just a blessing, and I'm happy to have him in my corner."
He said he had been watching the draft with a small retinue of family and friends.
"I was actually watching the draft the entire time," he said." It's probably about eight or nine of us. I didn't want a whole lot of people because I knew it was going to be crazy. I just wanted a certain few people. I'm actually having a little get-together tonight."
He said he knows some of the players that are currently on the Titans roster, including former teammate and current Tennessee running back Jamie Harper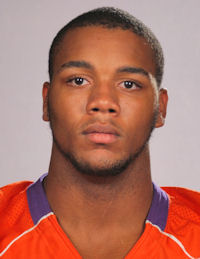 Jamie Harper
Running Back
#8 6-0, 235
Jacksonville, FL
"I know that safety Michael Griffin is still there and Jason McCourty," he said. "That is really all I know. I know one of my college teammates, running back Jamie Harper, is with the Titans. I'm not really familiar with their personnel, especially in the secondary. I'm going to get to know a lot of them real soon I'm sure."
He said he will touch base with Harper once the madness dies down.
"I could (call) if my phone was free. My phone is tied up," he said. "Everybody is blowing me up. I'll talk to him in a couple of days."
Sensabaugh said that he won't let his last game as a Tiger – the loss in the Orange Bowl – ruin four years of great memories.
"I have a lot of great memories at Clemson. That was a bad game, but that can't take away from what we did," he said. "We accomplished a lot that nobody expected us to accomplish. I'm just happy to be a part of the NFL. I'm just ready to start playing football. This was my dream growing up. I'm just excited about the opportunity."