| | |
| --- | --- |
| Saturday Orange Bowl notebook | |
---
| | |
| --- | --- |
| Saturday, December 31, 2011, 11:25 AM | |
FORT LAUDERDALE, FLA. – Sammy Mania has hit south Florida.
Clemson offensive players and coaches were available in an Orange Bowl press conference at the Marriott Harbor Beach Resort early Saturday morning, but the influx of media from the state of Florida didn't want to know about Clemson, the Orange Bowl or any of the other players on the Clemson roster.
It was all about Sammy, Clemson's standout freshman receiver who is from South Fort Myers and broke almost every Clemson receiving record in his first season.
And much like you see when the Super Bowl holds its media day, a lot of the questions bordered on the ridiculous and the absurd.
For instance, Tiger running back Andre Ellington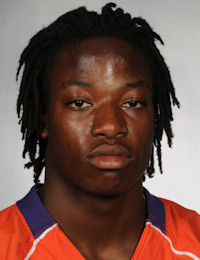 Andre Ellington
RS Jr. Running Back
#23 5-10, 190
Moncks Corner, SC
View Full Profile – a standout in his own right – had to endure several minutes of questioning from a writer who wanted to know only about Sammy.
"Have you ever played a video game against Sammy," the writer queried Ellington. "What game did you play? Who won? What was the score? What teams were you?"
Just so you know, Andre was Florida St. and Sammy was Florida and Sammy won in double overtime.
Sammy was also asked by one writer if he had a nickname, and he said, "Yeah, its Sammy."
The writer kept on, and said, "Well what do they call you?"
"Sammy," was his deadpan answer as he was obviously tired of the questions at the end of the half hour session.
*One player who was obviously in his element was junior tight end Dwayne Allen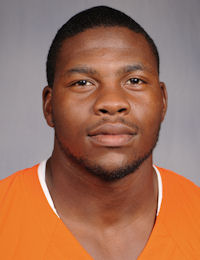 Dwayne Allen
RS Jr. Tight End
#83 6-3, 255
Fayetteville, NC
View Full Profile , who delighted in answering "no comment" to questions about Sammy before breaking into a big grin and answering. He also would take microphones from television and radio people and turn the interview around. He also interviewed right tackle Landon Walker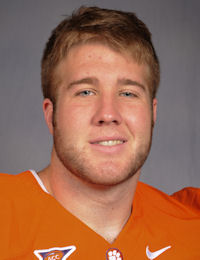 Landon Walker
Gr. Offensive Tackle
#72 6-6, 305
North Wilkesboro, NC
View Full Profile for a Fox Sports reporter who acted like she wasn't too sure why her camera and microphone had been hijacked.
Allen also had one of the best quotes of the day when he was asked about the advantages of staying in a swanky hotel like the Westin Diplomat, which is serving as the team hotel.
"I ask for ice in my bathtub every time I get back from practice," Allen said. "And every time there is ice in my bathtub so I can soak my legs. It is just first class all the way through. Our hotel is located in Hollywood and I like that because it is away from the distractions of South Beach. This way we can concentrate on what is important, which is winning the Orange Bowl."
Allen also was asked about defensive end Andre Branch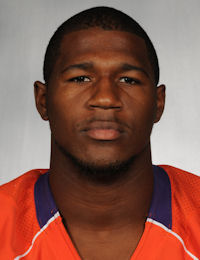 Andre Branch
RS Sr. Defensive End
#40 6-5, 260
Richmond, VA
View Full Profile 's wardrobe, including his famous bow ties.
"Andre is a character," Allen said. "He is not afraid of showing his enthusiasm through his wardrobe. I love his orange pants, and I hope he brought them down."
*Allen said that he is glad the Tigers have had extra time to prepare for West Virginia's 3-3-5 defense.
"It is just like Virginia Tech's 'Robber Coverage' in that we needed extra time for that," Allen said. "The robber isn't something you see all the time and we knew we wouldn't have time to get it in the week before the game so we worked on that over the summer. It's the same thing with the 3-3-5 – we needed that month to prepare for it because that is something we don't see, ever."
*Offensive coordinator Chad Morris on the West Virginia defense.
"Well, they're a very good football team, number one. As you look at their defense and you look at their odd stack or their 3-3-5 defense, and their coach [defensive coordinator Jeff Casteel] has been there for quite some time, they run extremely well. I think their linebackers are probably as aggressive a group as we've seen. They're one of the top teams in the country in pass defense. They like to drop quite a few back. They're going to bring their fourth defender somewhere in a rush. They're going to try to put some pressure on you, and then they're going to drop eight and rush three and going to try to force your quarterback to make decisions at that point. You know, they have played a lot better defensively as of late. I've got a lot of respect for those guys, coming out of the Big East. And my former head coach, Coach Graham, was at West Virginia with all those guys, and that's what we would go against, and Tulsa was the odd stack. This may be something we don't see on a regular basis in the ACC, something that we ran at Tulsa. So to attack it is a little bit different. We see it on occasion on some long yardage downs, but I think they're definitely a well-coached football team, and they're going to be ready. This is a great stage for both teams, and I know they're excited to be here, as we are. We've got to do a good job of protecting the football."
*Chad Morris on his ties with West Virginia head coach Dana Holgorsen.
"I had met Dana at a couple clinics down in College Station at the Lone Star Clinic. I met him there and listened to him speak. Obviously his time at the University of Houston they'd recruit in our areas. And then when he moved on to Oklahoma State, we played against him when I was at Tulsa. So as far as just meeting him and knowing him - I've met him a couple times, I know he's a very sharp-minded football coach on the cutting edge, and that's always great to see, how he grows his offense. They definitely have those guys going. As a high school coach in state of Texas, that is one of the guys that you always looked at, and again, always on the cutting edge of things."
*Ellington on Sammy's Competitiveness
"He's a competitor. He doesn't like to lose. He's going to keep swinging until he hits the ball. He never wants to lose. I played him once in [NCAA] College Football and it went into double overtime. He just kept going and I have to finally admit that he beat me. He got me on a touchdown. I felt like I had the game wrapped up- I would score and then he would go score. It just shows the competitiveness. He had Florida and I had Florida State."
*Ellington on time off and his health
"It means a lot - just getting some time off. We needed that- not just for me, but we had some guys that were banged up. Some time off was really good for us. I'm back to where I was at the beginning of the season. I felt the best I have all season [at the ACC Championship Game]. I'm feeling really good and hopefully I'll have the turnout that I want.
* Dalton Freeman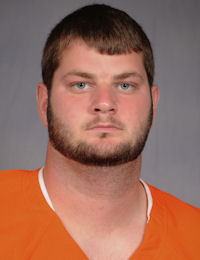 Dalton Freeman
RS Jr. Offensive Line
#55 6-5, 285
Pelion, SC
View Full Profile on intensity of bowl practices
"We've kind of been off for a month so we had to get a lot of live work to get back ready to play in the game. Our coaches have done a great job. They don't want to kill us, but they've pushed us. They don't want to push us over the hump, but they want us to rise to the top of the hump and then bring us back down. We have a very experienced coaching staff and they know what they're doing."
*Freeman on WVU defensive front
"We've had a month to prepare [for West Virginia's defensive front] and I feel like we have a pretty good grasp of what they're going to do."
Freeman on making the Orange Bowl the standard for Clemson football
*We have 29 freshmen and red-shirt freshmen contributing to this team and they should see this as the standard for them. They should see this and say, 'we are going to be back here next year and we want to make this a yearly thing. We don't want to play in these other bowls.' The more wins you get the further south you play."
Freeman on team regaining confidence in ACCCG
"Definitely. We did lose that confidence but we got it back. We just had to dig down deep during halftime of that game and realize that this was what we had worked for since the winter. Coach Swinney promised us that he would get it fixed, but ultimately it was on us last year in the Meineke Car Care Bowl. We finished as a 6-7 ball club. Clemson hasn't had a losing season since I've been alive. We knew that we had to correct it. We just had to think back to where we had been last year and how hard we had worked and find something within and we were able to come back and play with all of the confidence and heart that we needed.
"This should be the standard for Clemson- competing and winning ACC championships year in and year out which will take us to bowl games like this. Next year we are talking about coming back, but for the national championship instead. The Orange Bowl will be played here for the ACC champion again and then it's the national championship. I'm hoping all of the younger guys on our team and everybody that will be coming back will get acquainted with it and do everything in their power to make us come back."