| | |
| --- | --- |
| Rodriguez enjoys first Death Valley experience | |
---
| | |
| --- | --- |
| Monday, September 10, 2012 4:38 PM | |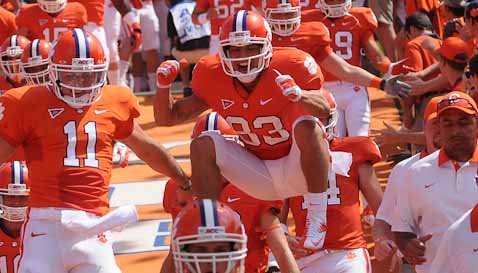 CLEMSON – Walk-on receiver Daniel Rodriguez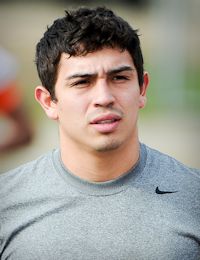 Daniel Rodriguez
RS Fr. Wide Receiver
#83 5-8, 175
Stafford, VA
View Full Profile boarded the buses for the ride around Death Valley Saturday afternoon, saw the Clemson fans lining the streets, and then saw even more who were waiting outside of the buses as Clemson players and coaches began preparations for the run down the hill.
He heard the cannons go off, the sound of the band playing, and then was caught up in the rush and he began his very first trip down the hill for what many call the most exciting 25 seconds in all of college football.
Rodriguez hit the lip near the bottom of the hill, went airborne, and the pictures taken of Rodriguez in that moment paint a picture of a young man who has sacrificed so much and is now enjoying what he has made of his life.
Indeed, Rodriguez hit that lip, went airborne, and still hasn't come back to earth.
The decorated war veteran played on special teams – kickoff coverage – in the season opener against Auburn, but saw action as a punt returner and a wide receiver against Ball St. this past Saturday.
Every time Rodriguez's name was announced to the Death Valley crowd, applause and cheers would break out, something that Rodriguez says meant a lot to him.
"I try to go out there on the field focused and ready, and then the fans are going nuts when they call my name and I'm just trying not to break a smile because I'm about to return a punt," he said Saturday after the game. "It's humbling. I'm very grateful to the fans and the staff and the ACC to just get that kind of response from the people at Clemson is just unbelievable. It was touching."
He said that catching a punt with defenders running full-speed towards him doesn't bother him in the least.
"Just catch the ball. I kind of put everything in perspective," Rodriguez said. "I'm not being shot at and nothing is blowing up around me- minus the cannon that scared me a few times. Just catch the ball. As long as I throw a fair catch, nothing can happen to me. Just grab the ball and do it."
Rodriguez drew even more cheers when he caught his first pass as a Tiger, a simple four-yarder from Morgan Roberts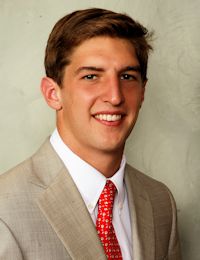 Morgan Roberts
RS So. Quarterback
#15 6-2, 200
Charlotte, NC
View Full Profile that didn't mean much in the outcome of the game, but meant the world to Rodriguez.
"It was a good feeling," he said. "I came out of the huddle knowing that I would be getting the ball, so I just looked at the blockers and was like, 'hey give me the block because I'm going as hard as I can to try and break it down the sideline.' I just came off of the screen and caught it and from there it is kind of a blur. I just tried to get as many yards as I could after the catch. It was a great feeling hearing the fans. Death Valley is an absolutely unbelievable place to play and I am just so happy to be here."
Rodriguez said that being at Clemson means more to him than it does other college freshmen and sophomores because of what he has had to go through to get here.
"It kind of trumps it as far as something positive," he said. "I've had a lot of negative in my life as far as war and combat and things of that nature, but in this part of my life- going to college at this university, being able to step out on the field again after going through adversity and what not- I feel like the mountain keeps getting higher and higher and I couldn't be any happier being at Clemson and being a Tiger and being able to wear orange and come out here every day and practice and compete. It is just a great feeling."
He said being able to play his first game last week in the Georgia Dome set the table for a week he will never forget.
"It kind of put a lid on everything as far as what I did to get to play college football and to say that my first collegiate game was in the Georgia Dome against an SEC opponent as high as Auburn was kind of a surreal moment in my life," he said. "It was an incredible feeling to run out through the smoke and out of the tunnel and getting to line up against those boys. It was awesome."
He also said he wants to be around Clemson as long as Clemson wants him around.
"I'm still hungry. I'm a competitor. I'm excited about where we're at and what I've done, but there's more," Rodriguez said. "As long as I have eligibility and Coach Swinney will have me around, I'd like to be in that locker room with those guys."