| | |
| --- | --- |
| Reeves interrupts Swinney's family vacation but ends commitment drought | |
---
| | |
| --- | --- |
| Saturday, June 20, 2015 8:01 AM | |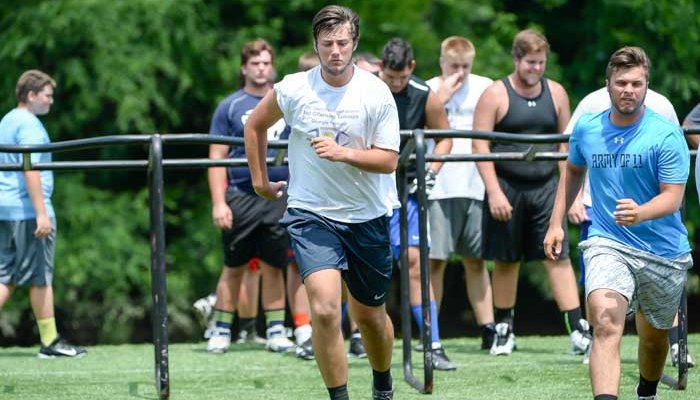 It's been a while since the Clemson coaching staff picked up a verbal commitment, but that ended Friday evening when 3-star McDonough (GA) Eagles Landing Christian offensive lineman Chandler Reeves

Chandler Reeves
Offensive Tackle
6-6, 255
McDonough, GA
View Full Profile chose the Tigers over Georgia Tech.
Reeves visited the Clemson campus for head coach Dabo Swinney

Dabo Swinney
Head Coach
View Full Profile 's high school camp, then brought his family back for a visit later that week. Reeves told TigerNet last week that his decision would come down to Clemson and Georgia Tech, but he ended the speculation Friday in becoming Clemson's first verbal since 5-star linebacker Rahshaun Smith

Rahshaun Smith
Linebacker
6-3, 230
Towson, MD
ESPN:


View Full Profile on March 5th.
Reeves becomes the 9th commitment for the 2016 recruiting cycle, and he says it was because he knew where he wanted to play college football.
"Basically, I've been talking about it with my family, praying about it and getting advice about it from coaches, family and friends," Reeves said. "The reason today was the day is because there really was no reason to hold off any longer. I know where I want to go and I visited the schools I wanted to visit, but from the time we walked on campus at Clemson we felt that there was something special there that we wanted to be a part of.
"Rather than putting it off, I just wanted to get it out of the way. I want to be a part of the family and start to get to know people and build relationships. It was one of those things that I already knew deep down, but I had to do some thinking and hearing out family and friends for some reassurance and to make sure everyone was on the same page - all of the people I look up to and love."
Reeves then detailed how he made his decision known to the Clemson coaches.
"I called Coach (Marion) Hobby - my recruiting coach. He was on the road coming to Atlanta," Reeves said. "I had talked to him in the previous couple of days and told him that I thought Clemson is where I wanted to be and that I would call him when I felt like the time is right and when I knew 100 percent, because I want to be 100-percent for Clemson and for Clemson to be 100 percent for me. Today it was all or nothing, so I called him and he was ecstatic and really happy. Basically, he told me I needed to get off the phone with him and call the big man - Coach Swinney - and run it by him. He said that Coach Swinney would tell me about the commitment it takes to become a Clemson Tiger and what that entails."
Reeves then called Swinney, who is vacationing in Florida with his family.
"I got off the phone with Coach Hobby and got right on with Coach Swinney and he picked up the phone while he was heading to dinner with his family at the beach," Reeves said. "He was screaming on the phone and just ecstatic. He's full of energy and such a lovable guy. He picked up and said, 'What's up Chandler? I've got you on speaker phone because we're headed to dinner.' That was kind of cool and it just goes to show how personable he is. His whole family is cheering in the background and things like that so that was really cool to hear. It makes me feel like the decision I'm making is definitely 100 percent and it could not be better to be a part of what he's got going on at Clemson."
The 6-6, 255-pounder says his family is on board with his decision.
"My family is ecstatic just like I am. They were going to be behind me no matter where I went," he said. "The fact that faith comes first for us and Coach Swinney and his staff have got it going on as far as that goes, so that's very important to me and my family. From the moment they walked in, we both kind of had a mutual feeling of the significance of what the Tigers have going on, so that was kind of cool to agree with them on that. We were always on the same page. They're just as happy as I am."
Reeves says he is more than happy to shut down the recruiting process.
"I'm really happy to be shutting the recruiting process down. They don't have to ask me twice to do that at Clemson," he said. "I know that one of their things is to shut recruiting down, so I'm more than happy to do that for them. I'm really glad to do that now because it's really hectic. For now, I'm going to get bigger, faster and stronger. I'm going to help out my team here in high school, do my best to lead them to a state championship this year and then right after that ends I'll be headed up to Clemson."