| | |
| --- | --- |
| Recruits react to the departure of Chad Morris | |
---
| | |
| --- | --- |
| Tuesday, December 2, 2014 7:01 AM | |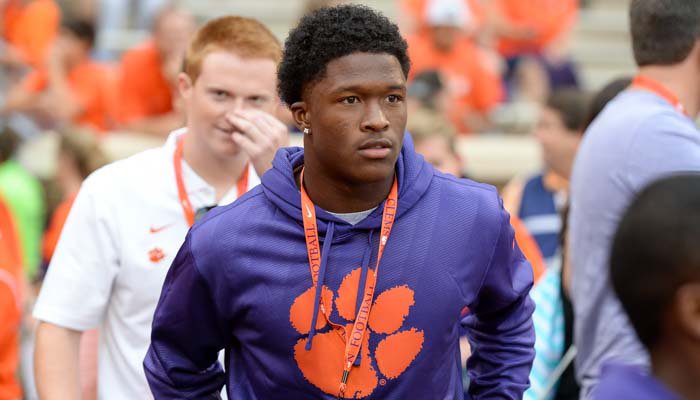 The rumors of Chad Morris

Chad Morris
Offensive Coordinator / QBs
View Full Profile ' departure took Clemson nation by surprise last Thursday night and as more reports began to circulate and outlets confirmed Clemson's offensive coordinator's departure, the message board and social media overflowed with questions about the Tigers fourth ranked recruiting class.
Once Morris was named head coach at SMU, TigerNet reached out to several members of Clemson's 2015 class and highly touted prospects for the 2016 cycle to ask their thoughts on the change.
Nobody summed up their responses better than Orlando (FL) tight end commit Garrett Williams

Garrett Williams
Tight End
6-4, 215
Orlando, FL
ESPN:


View Full Profile , who said the change doesn't affect his commitment to the Tigers.
"It absolutely doesn't. I love Coach Morris," Williams told TigerNet Monday evening. "He's recruited me a little bit along with Coach [Jeff] Scott and been to my school multiple times. I have a really good relationship with him and he deserves that SMU job. He's a head coach and has all of the skills to be a great one. I'm looking forward to seeing what he does there and I'm really happy for him, but it doesn't change my commitment status at all. I told some other people that I'm committed to the university, not necessarily just the coaching staff. My commitment is still 100-percent, just like it was before. I'm still really excited to be a Tiger and I can't wait to get up there."
Williams said that he would be supportive of whoever head coach Dabo Swinney

Dabo Swinney
Head Coach
View Full Profile decide to hire, but he thinks receivers coach and recruiting coordinator Jeff Scott

Jeff Scott
Asst. Coach (WR) / Recruiting Coord.
View Full Profile is ready for the next step of becoming a coordinator.
"I think Coach Scott is prepared and he's ready," Williams said. "He's won every place that he's been - in high school and at Clemson. He's done an incredible job recruiting at Clemson and coaching receivers. He's had some of the best receivers come out of Clemson the last few years, more than any other school. He's been successful at everything he does. He's been around coaching his whole life. I think he's ready to be a coordinator and I think he would be a great fit at Clemson. He wouldn't have change systems and has a lot of up and coming players like Deshaun Watson and Artavis Scott who have learned the system. I really think that if they gave Coach Scott the job, it would be a great hire. I know that I Coach Swinney will get the right man in there and I look forward to seeing who it is."
Deon Cain

Deon Cain
Athlete
6-2, 200
Tampa, FL
ESPN:


View Full Profile – 2015 wide receiver commit, Tampa (FL) Tampa Bay Tech
TigerNet spoke with Deon Cain's mother Monday evening and she said that Morris' departure does not affect Cain's commitment to Clemson at all.
Sean Pollard

Sean Pollard
Offensive Guard
6-5, 310
Southern Pines, NC
ESPN:


View Full Profile – 2016 offensive lineman, Southern Pines (NC) Pinecrest
"No sir, it doesn't affect anything at all. I think he's a very Godly man and he has worked hard and I know God has a plan and that's what He was telling Coach Morris to do. It's a great opportunity for him and I wish him the best. It doesn't not affect anything as far as my recruitment is concerned. As long as Coach Swinney and Coach [Robbie] Caldwell are there, I'll be happy."
Tucker Israel

Tucker Israel
Quarterback
6-0, 195
Orlando, FL
ESPN:


View Full Profile – 2015 quarterback commit, Orlando (FL) Lake Nona
"Well it was known that he was one of the best offensive coordinators in the country, so it was a matter of time for him to go. I really like Coach Morris. I will continue to stay in touch with him and wish him nothing but the best, but I am 100-percent committed to Clemson and I'm not leaving or searching for anything else. Coach Swinney told me this would happen and assured me he wasn't going to change the offense, so I shouldn't worry about him hiring an offensive coordinator that runs the wing-t."
Mecole Hardman

Mecole Hardman
Wide Receiver
5-11, 175
Elberton, GA
ESPN:


View Full Profile – 2016 athlete prospect, Elbert (GA) Elberton County
"I think it's a good move for Coach Morris, but yes, it changes things because I know he made Clemson wide receivers great by finding ways to give them the ball and that's what made you want to go to Clemson. Now, since he's gone, that changes things because there aren't many offensive coordinators that can do what he does. I'm very interested to see who Clemson hires.
Shadell Bell

Shadell Bell
Wide Receiver
6-3, 190
Decatur, GA
ESPN:


View Full Profile – 2015 wide receiver commit, Decatur (GA) Columbia
"It's a great milestone in Coach Morris' life to get what he has dreamed of, but there's no impact on me and we'll see how it turns out. I'm still attending Clemson."
Ray Ray McCloud

Ray Ray McCloud
Wide Receiver
5-10, 170
Tampa, FL
ESPN:


View Full Profile III – 2015 wide receiver commit, Tampa (FL) Sickles
It doesn't change things at all. They have great coaches and I think it will be the same for me. We are ALL IN."
Jake Fruhmorgen

Jake Fruhmorgen
Offensive Tackle
6-5, 280
Tampa, FL
ESPN:


View Full Profile – 2015 offensive line commit, Tampa (FL) Plant
TigerNet spoke with Jake's dad John Fruhmorgen who said:
"Jake is actually excited about the future with tons of existing talent to go along with his recruiting class. He doesn't feel the offense will be changed too much but the train will simply keep rolling. He got a chance to meet many of his teammates over the weekend and is really just excited to get in there next month and help be a part of the team."
Parker Boudreaux

Parker Boudreaux
Offensive Tackle
6-5, 282
Orlando, FL
ESPN:


View Full Profile – 2016 offensive tackle prospect, Orlando (FL) Bishop Moore
"I wish him the best. It shouldn't change much as long as Coach Dabo and Coach Caldwell are there."
J.C. Chalk

J.C. Chalk
Tight End
6-4, 221
Argyle, TX
ESPN:


View Full Profile – 2016 tight end commit, Argyle (TX)
"I am happy for him if he feels like that's the right decision. I totally understand and it doesn't change anything for my commitment. I'm still solid."
Zerrick Cooper

Zerrick Cooper
Quarterback
6-4, 200
Jonesboro, GA
ESPN:


View Full Profile – 2016 quarterback commit, Jonesboro (GA)
"No it doesn't change anything."

Tags:
Garrett Williams
,
Ray-Ray McCloud
,
Shadell Bell
,
Deon Cain
,
Tucker Israel
,
Jake Fruhmorgen
,
J.C. Chalk
,
Mecole Hardman
,
Sean Pollard
,
Parker Boudreaux
,
Zerrick Cooper
,
Chad Morris
,
Jeff Scott