| | |
| --- | --- |
| Ray-Ray McCloud makes an impression on Keyshawn Johnson, Jr. | |
---
| | |
| --- | --- |
| Friday, April 24, 2015 3:19 PM | |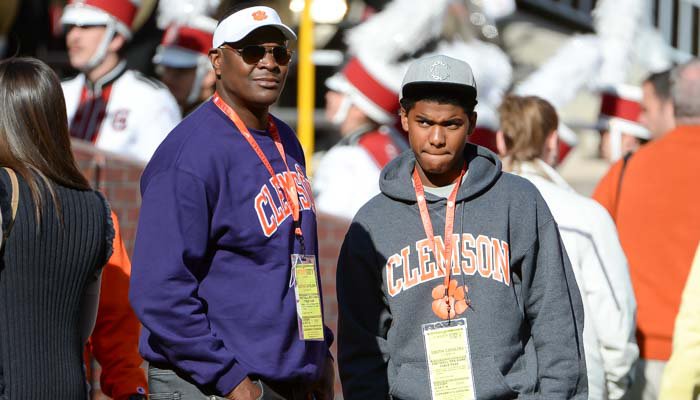 California is approximately 2,300 miles from South Carolina, but there's just something about Clemson that keeps Keyshawn Johnson, Jr. coming back for more.
Johnson, Jr., along with his father (former NFL receiver Keyshawn Johnson, Sr.) and 5-star Newbury Park (CA) defensive back Darnay Holmes

Darnay Holmes
Cornerback
5-10, 185
Newbury Park, CA
View Full Profile toured the southeast earlier this month and made sure that Clemson was a stop along the way.
The 4-star Mission Viejo (CA) Calabasas receiver made his fourth trip to Clemson earlier this month and he told TigerNet Thursday night that it's the little things about Clemson that keep him coming back.
"What really brings me back is stuff like that - talking to Ray-Ray McCloud, a Clemson commit that doesn't even know me," Johnson, Jr. told TigerNet recently. "I don't even know him. He was just telling me how great the school is and the fact that everyone always wants to talk. The people and the fans know me and that's really cool. I just love the environment. It always keeps me coming back and I can't wait to get back again."
The 6-1, 195 pounder immediately hit it off with two of Clemson's most recent signees and learned about Clemson from a recruit and commit's point of view.
"I liked it a lot. Every time I go there it's always a good experience," Johnson, Jr. said. "I talked to two commits - Ray-Ray McCloud and Deon Cain - when I was up there. They were telling me that Clemson is just a big family. That means a lot to me - to have a family as my team. Overall, I really liked the atmosphere. I talked to Coach [Jeff] Scott and Coach [Dabo] Swinney."
McCloud and Johnson, Jr. spent so much time together that the 2017 prospect said if he were to make Clemson one of his five official visits, there's only one person he would want to be his campus host.
"I was talking to him for about an hour. He was telling me how he was always committed there and how he always wanted to be there," Johnson, Jr. said. "We were talking about how Clemson is a family and how you'll always have someone to talk to. I really like Ray-Ray as a person and he's a great player. If I were to make an official visit to Clemson, I would definitely want him to be my player host. That's my biggest relationship with Clemson."
Johnson, Jr. was also able to further strengthen his relationship with both of Clemson's offensive coordinators.
"I have a good relationship with Coach Scott because he's the one recruiting me, but I talk to Coach [Tony] Elliott every time I come to Clemson," he said. "We just talk about me getting up there for more visits. Coach Scott, I talk to him more. I probably call him once every couple weeks. I have a really good relationship with him."
Johnson, Jr. doesn't claim a favorite but Clemson, Miami, Nebraska, Ohio State, Ole Miss, Tennessee, UCLA and USC are his top schools - a group that his father agrees with.
"It's pretty cool. I trust him with what he tells me in terms of the schools," he said. "He likes all of the schools that I like. It's a great to experience all of this with my dad. I like having him on all of the trips with me."
He doesn't know exactly when he'll make it back to Clemson, but it will be sooner rather than later.
"I'm going to come out to the summer camp if I'm not busy. If not that, then I'll be there for a game," he said.