| | |
| --- | --- |
| Quarterback competition ends with offer, Swinney shows his wide receiver roots | |
---
| | |
| --- | --- |
| Saturday, June 13, 2015 6:47 PM | |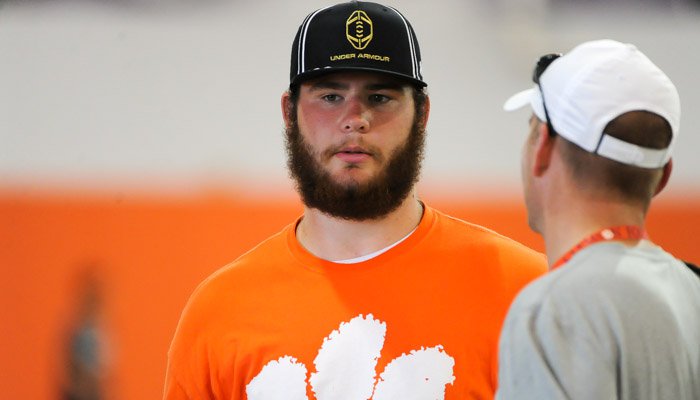 CLEMSON – The competition was as hot as the weather Saturday afternoon in Clemson.
Over 250 day campers joined up with the 900 that were already on campus for the afternoon sessions of Dabo Swinney

Dabo Swinney
Head Coach
View Full Profile 's high school camp, and with offers on the line there were several competitions worth watching.
Let's start with the quarterbacks. Four-star 2017 quarterback Chase Brice

Chase Brice
Quarterback
6-3, 195
Loganville, GA
View Full Profile out of Loganville (GA) Grayson was in the same group with 3-star Kellen Mond of San Antonio (TX) Reagan, and the two took turns impressing.
Brice plays for Mickey Conn at Grayson – Swinney's former teammate – and we've heard that Conn has changed his offense with the Rams to more closely resemble the offense that Clemson runs. Brice already has 14 offers – including Louisville and Miami (FL) – and certainly did enough Saturday to impress quarterbacks coach Brandon Streeter

Brandon Streeter
Quarterback Coach
View Full Profile , earning a Clemson offer before leaving campus Saturday evening.
Mond was also impressive during the drills, and if one quarterback failed to hit on a particular throw the other one would step and make it. At times, it almost looked like the two prospects were competing against each other. Both quarterbacks moved to one endzone to work with the wide receivers, and that drew the attention of one of Clemson's former receiver coaches – Swinney.
Swinney parked his golf cart in the end zone – along with son Will, who was in a walking boot after injuring his foot during drills earlier this week – and began to bark at both the quarterbacks and the receivers to step up their game. Swinney took time with receivers Diondre Overton

Diondre Overton
Wide Receiver
6-5, 195
Greensboro, NC
View Full Profile and Cornell Powell

Cornell Powell
Wide Receiver
6-1, 200
Greenville, NC
ESPN:


View Full Profile , and both receivers tried to step up their game under Swinney's tutelage.
The receivers coach – and former wide receiver – came out in Swinney as he could be heard all over the indoor practice facility.
"That was a robot route. Do it again."
"That was lazy! Don't run a lazy route!"
"Oh, we have some tired legs out here today. You can tell it."
"I can guarantee that 100 percent of the balls thrown out of bounds are incompletions. Give your receiver a chance to go get it."
*Offensive lineman Chandler Reeves

Chandler Reeves
Offensive Tackle
6-6, 255
McDonough, GA
View Full Profile – who received a Clemson offer earlier this week – was back on campus as promised for a visit.
*Clemson commit and offensive lineman Sean Pollard

Sean Pollard
Offensive Guard
6-5, 295
Southern Pines, NC
ESPN:


View Full Profile was on hand to watch the festivities, and he was an interested observer during the competition above. Like a lot of offensive linemen – including Clemson's Eric Mac Lain – Pollard was convinced he could be the best quarterback out on the field. And people wonder why I like offensive linemen so much…..
*Spent time watching 2017 Brookland-Cayce defensive end Octavious Pringle and came away impressed. At 6-1, 274, he has power and didn't disappoint on the sled.
*Keep 2018 defensive tackle Josh Belk out of Richburg (SC) Lewisville on your radar. He already checks in at 6-4, 305 and turned some heads during Saturday's session.
* Brent Venables

Brent Venables
Def. Coordinator / Linebackers
View Full Profile had a nice group of linebackers, including Clemson commit Jamie Skalski

Jamie Skalski
Linebacker
6-1, 225
Newnan, GA
ESPN:


View Full Profile , Clemson offer Jake Venables

Jake Venables
Linebacker
6-1, 190
Central, SC
View Full Profile and 2018 inside linebacker Dax Hollifield

Dax Hollifield
Middle Linebacker
6-1, 220
Shelby, NC
View Full Profile of Shelby (NC) Shelby. Skalski continues to impress me with his motor, and he moved a lot better Saturday than he did on Friday. I can see why Venables made the offer – he just looks like the kind of linebacker that never quits.
Hollifield's athleticism is what I noticed. He can move and has great feet. But to be honest, I am not sure that any of the kids outwork Brent Venables, who looks like he is about to have a stroke with the way he coaches but also looks like he is in his element.
*One corner that I really liked was 2017 Charlotte (NC) Latin prospect Melvin Rouse. He isn't the biggest kid in the world – he's listed at 5-9 – but was impressive during drills. He has a Duke offer, but more will follow.
*In the category of passing the eye test, 2017 offensive guard Dayquan Watkins was the winner. Watkins is out of Robersonville (NC) T.C. Roberson, and he lines up at 6-6, 305. He is starting to pick up a lot of interest, including N.C. State and UNC.