| | |
| --- | --- |
| QB Kelly and RB Brooks headline second session of Swinney football camp | |
---
| | |
| --- | --- |
| Monday, June 13, 2011 7:59 PM | |
CLEMSON – The second session of the Dabo Swinney Camp will open up Tuesday morning, and several big-name prospects for the 2012 class will be on hand.
Headlining the participants will be Buffalo's Chad Kelly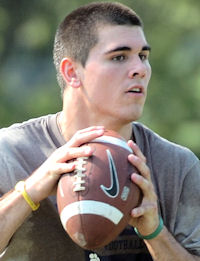 Chad Kelly
Quarterback
6-3, 205
Buffalo, NY
View Full Profile , the quarterback prospect who is at the top of new offensive coordinator Chad Morris' wish list. Kelly will be on campus Tuesday for a visit, and will work out in the Wednesday morning session.
Kelly is expected to announce his college choice on Thursday.
Another player to watch out for – and one who the Clemson coaches will almost certainly be paying attention to – is running back Zac Brooks

Zac Brooks
Wide Receiver
6-2, 180
Jonesboro, AR
View Full Profile of Jonesboro, Arkansas. The 6-2, 180-pound speedster (runs a 4.4 40-yard dash) will work out all three days.
Brooks has a dozen offers already, including offers from Arkansas, Clemson, Auburn, Notre Dame, Ole Miss, UNC, Pitt and Stanford, after rushing for nearly 1,400 yards and 15 touchdowns as a junior.
Other 2012 prospects who will be on campus are athlete Marty Williams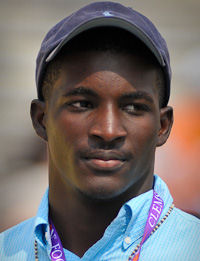 Marty Williams
Athlete
6-2, 210
North Augusta, SC
View Full Profile of Fox Creek, recent Clemson commitment Cordrea Tankersley, big-time linebacker prospect Nick Dawson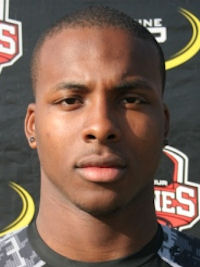 Nick Dawson
Linebacker
6-3, 228
Charlotte, NC
View Full Profile out of Charlotte and defensive end standout Romeo Okwara

Romeo Okwara
Defensive End
6-4, 230
Charlotte, NC
View Full Profile of Charlotte.
Plenty of 2013 talent will be on hand as well, and TigerNet will be at the camp to let you know which of these rising juniors stand out.
The Tigers will most likely only sign 17 or 18 players in the 2012 class [there are only 14 seniors], and with seven commitments already on board, the coaching staff will be taking a final look at the 2012 prospects while using the final three days as a spring board into offers for the 2013 class.
Tuesday, June 14, 2011

11:00AM - 1:00PM - Camper Registration

1:30PM - All Campers assemble on field at Death Valley for Camp Meeting

2:00PM - Walk to Practice 1 (Practice Organization)

4:10PM - Practice Ends

4:30PM - Dinner - Harcombe Dining Hall

6:25PM - Assemble at dorm - Wait on Coach to blow horn & head to practice fields (Goodwin/Riley)

6:45PM - Roll Call at Fields (Practice 2)

8:15PM - League Games (Dooley - Swinney Ball Coordinator)

9:00PM - Back in Stretch Lines

9:15PM - Walk to Dorms (Goodwin/Riley)

9:45PM - Pizza & Gatorade for sale at dorm (Dooley/Harris)

10:30PM - Campers in own room for bed check

10:45PM - Lights Out

11:00PM - Curfew Check by Clemson Coaching Staff

Wednesday, June 15, 2011

7:30AM - Wake-up (Horn will be blown)

7:45AM - Breakfast

8:45AM - Groups assemble - Wait on Coach & head to practice fields (Goodwin/Riley)

9:00AM - Roll call at fields (Practice 3)

10:50AM - Practice Ends

11:15 - 12:30PM - Lunch

2:15PM - Groups assemble at dorm - Wait on Coach & head to practice (Goodwin/Riley)

2:45PM - Roll call at fields (Practice 4)

4:35PM - Practice ends (Guest Speaker)

4:45 - 6:30PM - Dinner

6:40PM - Groups assemble at dorms - head to practice fields (Goodwin/Riley)

7:00PM - Roll call at fields (Swinney Ball) (3 Games)

8:10PM - Back in stretch lines

8:30PM - Weight training, Clemson Weight Room (Highlight Videos)

9:15PM - Walk to dorms (Goodwin/Riley)

9:30PM - Pizza & Gatorade sales at dorms (Dooley/Harris)

10:30PM - Campers in own room for bed check

10:45PM - Lights Out

11:00PM - Curfew Check by Clemson Staff
Thursday, June 16, 2011

7:30AM - Wake-up (Horn will be blown)

8:00AM - Breakfast

8:45AM - Groups assemble at dorms - Wait on Coach & head to practice fields. (Goodwin/Riley)

9:00AM - Roll call at fields (Practice 5)

10:50AM - Swinney Ball Playoffs (All play 1Game)

Swinney Ball Championship Game

11:30AM - Flex Lines - Final Instruction for Camp Departure

Championship Awards

Coach Swinney

Check -out