| | |
| --- | --- |
| Profile of a walk-on is a story of determination | |
---
| | |
| --- | --- |
| Friday, October 7, 2011 3:19 PM | |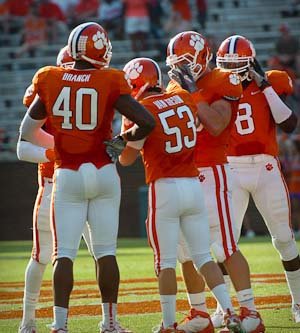 Sam Van Gieson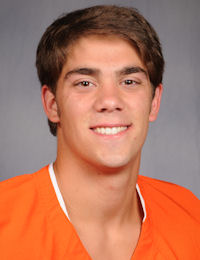 Sam Van Gieson
RS Jr. Long Snapper
#53 5-10, 185
Greer, SC
View Full Profile walked into then-Clemson head coach Tommy Bowden's office in August of 2008 excited about the possibilities.
Van Gieson had grown up a Clemson fan, but following his graduation from Riverside High School in June of 2008, he found that there was interest in him from some college programs as a long-snapper.
Van Gieson had been a long-snapper for Riverside, and Guilford College, a Division III school in North Carolina, was the first school to show interest. However, as a Division III school, they couldn't offer a scholarship. So Van Gieson started sending out tapes and stats to other small schools, and eventually wound up with an offer for a full ride to Benedict College. Newberry offered a package that would cover 75% of his tuition, while Presbyterian offered him as a preferred walk-on.
"I had honestly made up my mind to go play at Newberry," Van Gieson told TigerNet this past week. "I had been a longtime Clemson fan, and I had been accepted into the bridge program. But my mother told me to appeal, and I said that if I got into Clemson on appeal, I would go to Clemson. If I didn't get the appeal, I was going to go play football at Newberry. But I got in on the appeal and decided to go to Clemson."
Flush full of hope and excited about his future at Clemson, Van Gieson couldn't get the love of football out of his system, and decided that he would take his long-snapping skills and see if he couldn't walk on to the Clemson team.
He headed toward Bowden's office, knocked on the door, and found Clemson's head coach with his feet on his desk taking a break. Van Gieson told Bowden that he was going to walk on to the football team in fall camp, and Bowden took in Van Gieson's slight stature (5-9, 170), and shocked Van Gieson to his core.
"He literally laughed at me," he said. "He told me that they didn't need any more long-snappers, and that they didn't need anyone my size. That was really discouraging."
Discouraged, Van Gieson thought that maybe football wasn't meant to be.
But an encounter he had when he was 12 years old stuck in his mind.
Van Gieson's father Mike works at SYNNEX in Greenville, and when Sam was 12 Rudy Ruettiger came to SYNNEX to give a speech. Ruettiger, of course, is famous for the movie "Rudy," the true story of how a small player (5-6, 165) got his chance to shine for Notre Dame's football team in 1976.
Ruettiger was picked up at the airport by Van Gieson's brother, and spent some time at the family's house before heading over to SYNNEX to give his motivational speech. Sam took a picture with Ruettiger, and never forgot the encounter, so he decided to see if he could contact Rudy and find a little encouragement.
"I tried every email I could find," he said.
The email he sent is this:
"Dear Rudy,
I'm not sure if it is actually you who receives these emails, but to whoever is not Rudy please forward to him. My name is Sam Van Gieson and i am a freshman at Clemson University. Like you, my dream has always been to play for Clemson and run down the hill before a game. I have planned for the past 3 years to walk on at Clemson as a long-snapper. I am 5'9'' and 170 lbs. Today I went and spoke with head coach Tommy Bowden because the tryouts are this Friday morning, and he basically laughed at me and told me i was too small. I have a certain connection with you that not many people have - when I was 10 years old you actually came to my house in Greenville, SC before speaking at my dad's business convention. That experience has been my claim to fame for the last 8 years and will be until the day i die, you are my inspiration and my drive... letting me know that just because God gave me a small body doesn't mean he didn't give me a small heart. I hope that these coaches will see that this Friday morning. Please, I need your help... I feel very discouraged and know that a few words from the Rudy himself could only boost my spirits."
Van Gieson wasn't sure if he should expect a reply, but actually wound up with two the next day. The first one was from Rudy himself.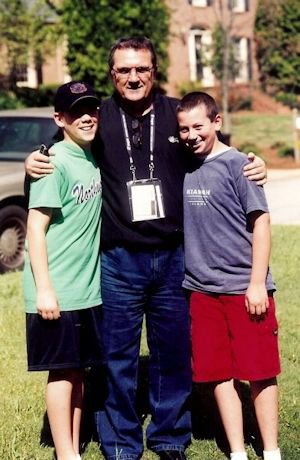 Sam Van Gieson with Rudy Ruettiger
"Sam,
Great hearing from you and I need for you to go in there As you belong there...Coach Bowden will give you a shot. He is a great guy.....Then, it is up to you....I have a friend who is a long snapper for the 49ers And he is you.. He is what you are about..Brian Jennings has been with the 49ers for ten years, he was also told he was too small. But determination and a lot of hard paid off for him. Ten years in the pros and a pro bowler on top of that. So everything is possible. Do not get discouraged because they said you may be too small. Just go there and snap the hell out of the ball.....
Coach Bowden will give you a shot.
Get out there..
Rudy"
Another email , this one from Jennings, also gave him hope.
"Sam,
My name is Brian Jennings. I currently play football for the 49ers. We are on our way to play the bears tonight.
Rudy told me about you and I wanted to wish you luck! I walked on at Arizona State, became the long snapper, and earned a scholarship.
I know you can do anything that you put your heart into if your willing to work hard enough. I never would have thought that a NFL career was ahead of me... All did was give my dream everything I had.
Good luck and I'll be rooting for you,
Brian Jennings"
Armed with his newfound encouragement he went to practice that Friday to try out, but really never got a chance to show what he could do, and he watched the 2008 season from the stands with the rest of the Clemson fans.
However, a call during spring practice in 2009 gave him yet another small glimmer of hope.
"The spring of my freshman year, J.K. Jay

J.K. Jay
Offensive Line
# 6-6, 275
Greenville, SC
View Full Profile , a friend of mine from Greenville, gave me a call and said that the long-snappers were struggling. He said 'You might wanna get out here and see what happens.' It was Coach Swinney's first spring. "
Van Gieson didn't know if he could take another heartbreak, but then he remembered what Rudy told him in his email: Get out there.
And he did.
"So I walked out to practice with my own ball and a pair of cleats, and introduced myself to Coach [Andre] Powell and told him what I was there for. He said, 'We have some kickers coming out, you can snap to them.' So I did all of the snaps they had for the kickers that day, and I had a great day. They had one slot open, and they gave it to me instead of a kicker. I went out there and I did well enough to be kept on."
It was during that spring that he finally achieved a lifelong dream, even if it wasn't on a fall Saturday.
"Running down that hill the first time in the spring game made it all worthwhile," he said. "As soon as I walked into that locker room for the game, I didn't know if I would have a number or even my own locker. But I found my locker and a jersey with my name on it. Then I got to run down the hill in front of about 15,000 people. That was fun."
But the life of a walk-on isn't glamorous. The cheers and adulations are for the stars, not the kids who sweat through every practice, every 6 a.m. mat drill and every team meeting just for the chance to run down the hill.
"That summer, I showed up for Summer II workouts, and I am running the dike with C.J. Spiller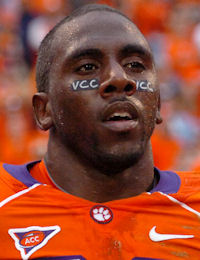 C.J. Spiller
Pro Running Back
#28 5-11, 195
Lake Butler, FL
View Full Profile ," Van Gieson said. "I wanted to die. I remember that we were supposed to run the dike 21 times, and I was literally crawling up my last two. After 19 of them, I was just on my back and Coach [Larry] Greenlee had a hosepipe and was wetting me down to try and cool me off. Richard Jackson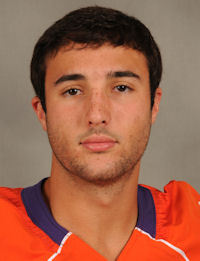 Richard Jackson
Punter / Kicker
#19 6-0, 195
Greer, SC
View Full Profile , [a friend and teammate of Van Gieson's since their days at Riverside] was screaming at me, 'If you want to run down that hill, then get up.' It was brutal."
Van Gieson's father Mike helps Sam keep it all in perspective during the moments when he wonders if it is all worth it.
"My dad says, 'Remember the feeling at the top of the hill when you are doing summer workouts and on those early mornings' and I try to keep that in mind," he said. "Because that makes it all worth it."
Prior to this season, Van Gieson only had the chance to run down the hill three times because there is a limited number of players that can dress out for each game – in 2009 against Coastal Carolina and in 2010 against Presbyterian and N.C. State.
This season, Swinney has rewarded Van Gieson's hard work by making him one of the 105 that can dress out for every home game, something he takes full advantage of.
"There are only so many opportunities to run down that hill, and I don't want to miss even one of them," he said. "It is intense. I am on the third bus and at the back of the pack and I can barely hear the cannon as it goes off. And then, the sound of the crowd overtakes everything. I rub that rock, hear the band playing Tiger Rag and when I hit that plateau on the hill I jump as high as I can."
Still, the life of a walk-on isn't easy, but Van Gieson helps out wherever he can. He volunteers for the scout teams, and makes sure the kickers have someone to snap to them whenever they need to kick.
He also knows the chances of his getting into an actual game are small – he has yet to play in one – but he has outlasted many other walk-ons as he bides his time and hopes.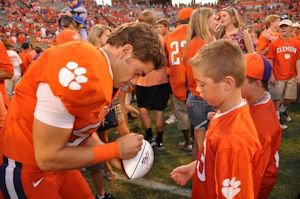 "There were plenty of guys, I think there were 12, who walked on when I did that were my age," he says. "Now there are three of us left, and I have seen many come and go. There are some that come out and they last during the football season, but they don't want to put in the work during the off-season. There are those of us, though, who make sure we stay in the weight room and we do things the right way. If you prove you want to work, they will treat you just as good as they treat Tajh Boyd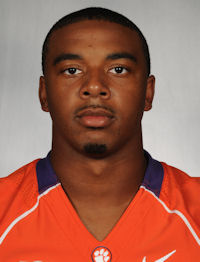 Tajh Boyd
RS So. Quarterback
#10 6-1, 225
Hampton, VA
View Full Profile ."
This Saturday, Van Gieson will don his familiar No. 56 jersey, take part in pregame warm-ups, board the bus and run down the hill. He is listed as the third-team long-snapper, so he knows his chances of making it into the game are the same as the original Rudy. But his parents, Mike and Dana, and family will be there, just as proud of Sam and what he has accomplished as any other football player's parents.
"We are as proud of Sam as Tajh's parents are of Tajh or as C.J. Spiller's parents are of him," Mike said. "He has worked so hard. He gets to stand on the sidelines and runs down the hill, and he gets to be a part of something great. At first, he really wanted to play, and then he realized he could be a part of something special. And the harder he was worked, the harder his teammates have embraced him."
So if you happen to make it to the field following Saturday's game and you want to pat someone on the back who is the true embodiment of what Clemson football is all about, find No. 56. Shake his hand. And tell him thanks, because Clemson's version of Rudy deserves it just as much as the original.