| | |
| --- | --- |
| Practice notes: Swinney breaks down QB battle | |
---
| | |
| --- | --- |
| Monday, March 10, 2014 8:49 PM | |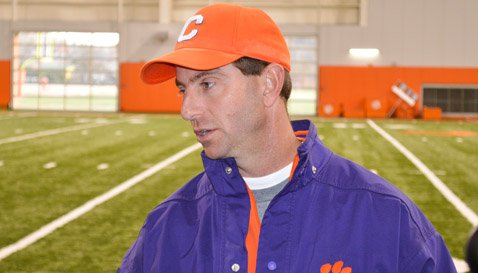 CLEMSON – Clemson head coach Dabo Swinney

Dabo Swinney
Head Coach
View Full Profile offered a knowing smile Monday evening when he was asked about the ongoing quarterback competition.
Swinney knows that he and offensive coordinator Chad Morris

Chad Morris
Offensive Coordinator / QBs
View Full Profile will have to face that question each and every time they meet with the media between now and the season opener against Georgia in late August.
However, through the first four practices of the spring, the competition is still a three-man race between Cole Stoudt

Cole Stoudt
Sr. Quarterback
#18 6-4, 205
Dublin, OH
View Full Profile , Chad Kelly
Chad Kelly
RS So. Quarterback
#11 6-2, 210
Buffalo, NY
View Full Profile and Deshaun Watson

Deshaun Watson
Fr. Quarterback
#4 6-3, 190
Gainesville, GA
View Full Profile .
"It's wide-open. It's legitimately a competition," Swinney said, after Monday's practice. "I'd save all the drama if I had all of that penciled in already. As I've said many times, I think we are blessed. We've got elite talent at that position, so you've got to let guys go compete. You've got to go through the process. It's just that simple."
"You've got to put them in all kind of situations and then you grade everything. At some point, you make a decision. When that is: middle of spring, after spring, fall camp, third game, I don't know. You know when you know. We're in a very good situation. I love how they're competing."
Swinney then made a point of saying that the coaches are watching every little thing with each of the three quarterbacks.
"We're keeping a snap count and kind of a mental log of everything and a physical log of everything," Swinney said. "Right now, it's just about challenging them and seeing how they respond. We're doing a good job of mixing it up, as far as who's getting reps with the [first-team], who's getting reps with the [second-team], just changing the dynamics on all of these guys and watching them operate. Not disappointed with anybody right now, pleased with everybody. But, again, it's just day four."
Clemson said the coaches are a long way from naming a leader, co-leaders or even giving a hint of what they think.
"If I said, 'Hey, this guy right now,' if I said he's the guy, then he might come out here and stink it up tomorrow," Swinney said. "The consistency in performance at that position, obviously, is critical. They're battling hard. It's fun to come to work every day."
Swinney said that the quarterback position reminds him of his three boys – they all have the same DNA but each has a different personality.
"Cole Stoudt is a very well-respected leader amongst his peers, same thing with Chad. Chad is one of those guys, he's going to be out front, do everything to the Nth Degree," Swinney said. "That's who he is. That's in his DNA. That's how he came back from his injury last year," Swinney said. "Deshaun has been a leader his whole life. Now, he's walking into a situation where not many people know a whole lot about him, so he has to start over, and it's interesting to watch a young guy like that jump into the mix with grown men."
Other notes
On the competition at offensive tackle
"I'm pleased with what we're doing there. We've got a good rotation with our ones and twos. We are really stressing those guys. Shaq [Anthony] obviously has good experience. Kalon [Davis] is getting a lot of work there – he'll go and get the first three reps with ones at guard and then he'll slide out and get a couple of reps at right tackle. Shaq will roll. Joe Gore

Joe Gore
RS Jr. Offensive Tackle
#73 6-4, 275
Lake Waccamaw, NC
View Full Profile will roll right tackle to left tackle [Eric] Mac Lain is getting a little work there. We've got a good rotation and it's allowing us to see different combinations of guys. At the end of the day – between now and when we play on August 30th – what's the best combination for us to go win?
"[Isaiah] Battle has done a really nice job for us. I've been really pleased with Joe Gore to this point. Just seeing how he's been able to handle left and right tackle. Kalon has done a really good job. And, Maverick is a young guy who is getting ready for a scrimmage so we can see where he is out there. I'm pleased right there. We're not game ready, but I think we've got some answers."
On Spencer Region

Spencer Region
RS Jr. Offensive Guard
#74 64, 350
Cullman, AL
View Full Profile
"He's a down the line guy right now and battling for the spot."
On Kurt Fleming
"Raw because he hasn't played football in four years. A bull in a china shop. Very physical. Tough kid. Doesn't back down. Likes the grind of it. He hasn't run a ball in four-plus years, so he's still kind of getting back into the groove of things. He'll be just fine.
On the wide receivers
"They are just all playing ball, but they've got so much to learn. They came here because there is a lot of opportunity at that position. We've got a pretty good track record around here of getting guys the ball that deserve to get the ball and developing players. I'm impressed with those guys. They've really come on in four days. Two other guys that have just really improved as much as anybody on our team are Adrien Dunn and Seth Ryan. I'm talking about great improvement from summer to where they are now. Daniel Rodriguez

Daniel Rodriguez
RS Jr. Wide Receiver
#83 5-8, 175
Stafford, VA
View Full Profile – same thing – that guy has really developed into a good football player."
On Scott, Priester and Kitt
"They are special, young talent. We've got a lot of teaching and coaching to do, but they've got the right mindset and skill set. After four days, you can just see the improvement."
On C.J. Davidson

C.J. Davidson
RS Jr. Running Back
#32 5-11, 185
Clemson, SC
View Full Profile
"He's a legitimate starting type of talent at the division one level. He had a really, really good year growing up. He will be a factor around here for the next couple of years."