| | |
| --- | --- |
| Plain and simple: Pollard using Nike trip to be a better player for Clemson | |
---
| | |
| --- | --- |
| Tuesday, July 7, 2015 12:01 PM | |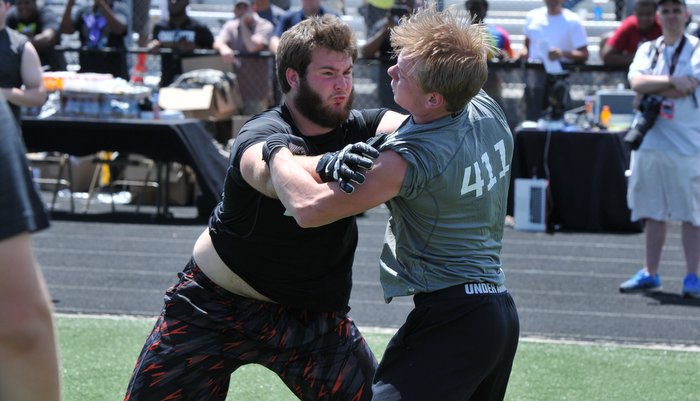 Sean Pollard

Sean Pollard
Offensive Guard
6-5, 295
Southern Pines, NC
ESPN:


View Full Profile is excited about the trip to Oregon for Nike's The Opening, but his reasons differ from most other college prospects who head out to Oregon looking for exposure, gifts and the chance for a free trip to Nike's world headquarters.
Pollard just wants to get better so he can be a better player for Clemson down the road.
The 2016 Clemson commit and Southern Pines (NC) Pinecrest standout offensive lineman left early Tuesday for Nike's signature event, but told TigerNet he didn't have too much time to get excited – he was busy preparing for the 2015 football season and working a full-time job.
"Yes I am excited because I will get exposure and will be going against the best," Pollard said. "It lets you actually see if you are up to the rankings you have. But on Monday I had football workouts all morning and then I am working 40 hours per week and had to work until 11 p.m. There isn't a lot of time to worry about a lot of that other stuff."
Pollard said the trip will be even more special because his father – Steve Pollard – was able to raise enough funds to make the trip.
"It's just amazing. He has been there through everything for me," Pollard said. "I wish my mother could go, but it would be kind of hard for her. We raised the money and it's just amazing that he will be there and get to witness it. He's been my number one supporter through everything, and me actually proving something to myself and showing out in front of him will be amazing."
The 6-4, 290-pound guard prospect said he has played outside of North Carolina just once – in Maryland – and the farthest west he has been is Pennsylvania.
"I am not really looking forward to the plane flight, because I don't really fit on planes," Pollard said. "But it is Oregon and I am excited to get on the West Coast. And then I will be back on the West Coast in January for the Semper Fidelis Game. I am excited to experience new things."
Despite the travel and sharing the experience with his father, however, Pollard said there is just really one reason he wants to go – to get better.
"My thing is just getting coached by the people who have been where I want to be," he said. "Obviously I want to be the best player I can be, and the people they have coaching have been at the highest level and they know what they are doing. You have to be a sponge and absorb everything they are saying and make yourself a better player. I want to make myself a better player so I can get to Clemson and help my team out."