| | |
| --- | --- |
| Parker's big day shows addition of Venables and hard work paying off | |
---
| | |
| --- | --- |
| Thursday, April 19, 2012, 3:49 PM | |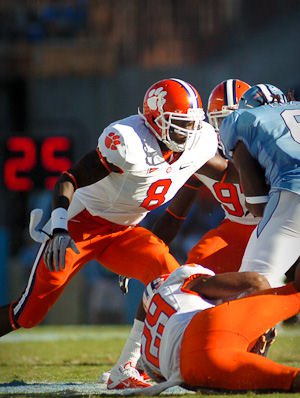 CLEMSON – Many Clemson fans have wondered one thing over the past two seasons: Where is Justin Parker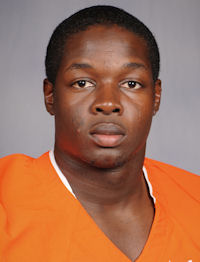 Justin Parker
So. Linebacker
#8 6-1, 225
Port Royal, SC
View Full Profile ?
The highly-touted linebacker out of Beaufort High School came to Clemson as the No. 13 middle linebacker in the nation, and he was rated as the 13th-best player in the state regardless of position when he graduated in 2010.
The hope was that his combination of size (6-1, 223) and athleticism would help get Clemson's linebackers back to the once-feared group they were, but he has played just 90 snaps (with 19 tackles) over his first two seasons.
The arrival of new defensive coordinator Brent Venables has appeared, at least on the surface, to help Parker revive his career. Parker was all over the field in last Saturday's Orange and White game, tallying seven tackles in a solid afternoon of work that he admitted might have been his best day as a Clemson Tiger.
"I have to say it was. I just played wide open and got after the ball," Parker said. "When Coach V first got in, he told us to open up. Just play comfortable and play loose. He has taught us to read the formations and get better at pre-snap reads, but to just open up and go after the football. I play better when I can just play downhill."
Parker admitted that he has also rededicated himself to working more in the film room, and said that Venables and his method of teaching the game have helped all of the defensive players.
"He teaches a lot," he said. "I think that is what all the guys have noticed about him. He is just straightforward, and he is going to get you ready to make plays."
Venables was seen prior to the spring game, exhorting his linebackers to keep their pad level low and refine their footwork, even during pre-game warm-ups.
"He stresses that. Pad level makes a big difference," Parker said. "It can mean the difference between a TFL (tackle for loss) and plus three yards. That is one thing I really like about him. He teaches you the right way."
Parker played at the MIKE (middle) linebacker spot Saturday, and said he has been learning different positions so he can get more playing time in the fall.
"I really like playing WILL (weakside) backer, because I like playing on the edges a little bit," he said. "But I have been learning the different positions, because you never know what can happen. But I have fun, regardless of the position I play, because it's the game of football. I have fun no matter where I play."