| | |
| --- | --- |
| Orange Bowl Practice Insider | |
---
| | |
| --- | --- |
| Sunday, December 27, 2015, 1:42 PM | |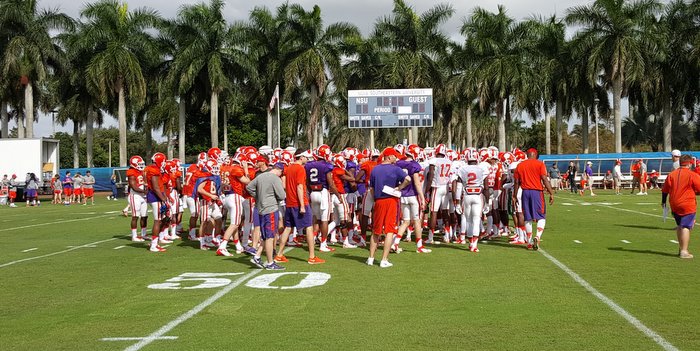 FORT LAUDERDALE, FL – The Clemson football team held its first Florida practice for the 2015 Orange Bowl Sunday afternoon under typical Florida conditions – a lot of humidity, heat and a quick rain shower.
The Tigers held an abbreviated practice at Nova Southeastern University, and members of the media were allowed to watch the first few sessions.
Junior defensive end Shaq Lawson was all business.
Lawson – who has already said this will be his last season at Clemson – was doing everything in his power to keep the team focused. At one point, he looked over at one reserve and said, "You play too much. We are here to win a game. Stop playing."
He then got on a punt returner who dropped a punt, screaming his name and telling saying, 'Come on! We are here to win."
Lawson is known for his smile and he's always laughing, and he keeps everyone loose. Until practice starts, and then he's all business.
*Co-offensive coordinator Tony Elliott made sure his running backs are staying focused, running through several drills and telling them, "All I need to do is find one guy who wants to play. Just one. I need one by Thursday to show me that he really wants to play."
He then threw a pass that one back had trouble corralling, and Elliott said. "That's why we only take handoffs."
Adam Choice – who is redshirting this season after tearing his ACL last season – looked fantastic. He made all the cuts and showed nice hands coming out of the backfield. Don't forget his name – he will fight for playing time next season.
*Cornerback Adrian Baker was in a green, non-contact jersey but he looked like he was moving around without any restrictions.
*Wide receiver Ray-Ray McCloud also looked fluid during the sessions we watched. He showed no signs of a limp or any hesitation cutting on his sprained MCL. McCloud suffered the injury in the win over Florida St. but returned for the ACC Championship Game.
*We spent time watching the younger defensive ends, and Richard Yeargin, Austin Bryant and Sterling Johnson all turn heads. They just look the part, especially since Yeargin added weight.
*The defense and the offense stretch on opposite sides of the field, but safety Jayron Kearse made it a point to go over and talk to Deshaun Watson. Interesting to see the two leaders have a session before they went back to their respective units.
*More to come after practice.
Preparing for Clemson's first practice in Florida pic.twitter.com/JY8qYidaCl

— David Hood (@MDavidHood) December 27, 2015
Clemson's OL practicing pic.twitter.com/yvZlDdn90A

— David Hood (@MDavidHood) December 27, 2015
Wayne Gallman and Jeff Davis pic.twitter.com/hGgnjHaAyt

— David Hood (@MDavidHood) December 27, 2015
Broward County Sheriff shows his allegiance pic.twitter.com/jDEENq2Dh0

— David Hood (@MDavidHood) December 27, 2015