| | |
| --- | --- |
| One-on-one battles highlight early portion of Wednesday's practice | |
---
| | |
| --- | --- |
| Wednesday, March 26, 2014 5:46 PM | |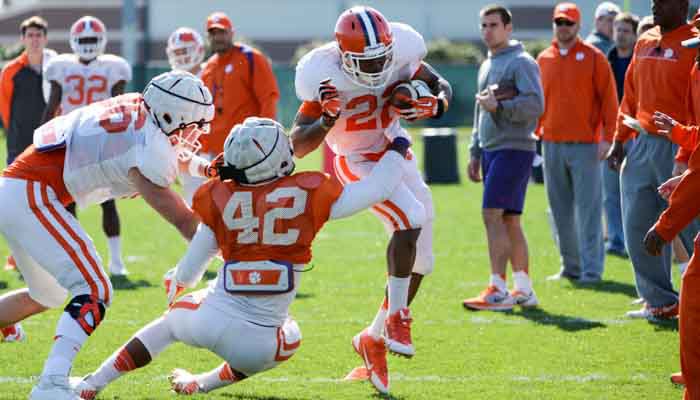 CLEMSON – Clemson head coach Dabo Swinney

Dabo Swinney
Head Coach
View Full Profile said after Monday's practice that many of his players seemed to think they were still on spring break. The guess here is that most of them won't feel that way after an intense, physical early portion of Wednesday's practice.
The media was allowed to watch the first 45 minutes or so of the practice, which was highlighted by the "W" drill and one-on-one matchups that were called out by the coaches.
To begin the one-on-one matchups, Swinney screamed out, ' Kyrin Priester

Kyrin Priester
Fr. Wide Receiver
#17 6-2, 190
Lilburn, GA
View Full Profile , come get you some!' Swinney then looked over at the defense and screamed, ' Jayron Kearse

Jayron Kearse
So. Safety
#20 6-4, 205
Fort Myers, FL
View Full Profile , get out here!' Those two locked up in a battle that lasted 20 seconds or more before Kearse took Priester to the ground.
Other fun matchups were Tyrone Crowder

Tyrone Crowder
RS Fr. Offensive Line
#55 6-2, 325
Marston, NC
View Full Profile against Scott Pagano

Scott Pagano
RS Fr. Defensive Tackle
#56 6-4, 280
Honolulu, HI
View Full Profile , Kevin Dodd

Kevin Dodd
RS So. Defensive Tackle
#98 6-4, 280
Taylors, SC
View Full Profile against Shaq Anthony

Shaq Anthony
RS Jr. Offensive Tackle
#76 6-3, 265
Williamston, SC
View Full Profile , Ebenezer Ogundeko

Ebenezer Ogundeko
RS Fr. Outside Linebacker
#1 6-3, 230
Brooklyn, NY
View Full Profile against Jay Jay McCullough

Jay Jay McCullough
RS So. Tight End
#89 6-3, 230
Fort Mill, SC
View Full Profile , Jordan Leggett

Jordan Leggett
So. Tight End
#16 6-6, 235
Navarre, FL
View Full Profile against Stephone Anthony

Stephone Anthony
Sr. Linebacker
#42 6-2, 235
Polkton, NC
View Full Profile and Grady Jarrett

Grady Jarrett
Sr. Defensive Tackle
#50 6-1, 290
Conyers, GA
View Full Profile against Isaiah Battle

Isaiah Battle
Jr. Offensive Tackle
#79 6-6, 280
Brooklyn, NY
View Full Profile .
I have to be honest, that was a lot of fun to watch, especially seeing big Grady go mano y mano against Battle. Swinney started that round of drills by calling out Priester and Kearse, but after that would ask Chad Morris

Chad Morris
Offensive Coordinator / QBs
View Full Profile who he wanted and then ask Brent Venables

Brent Venables
Defensive Coordinator / Linebackers
View Full Profile his choice. With the coaches screaming and the players yelling and the on-lookers adding their voice to the din, those drills were the highlight of the time allotted to the media.
For the record, Leggett held his own against Anthony for more than a few seconds and the Ebo-Jay Jay battle was a contest of wills.
*During the "W" drills, I was actually pleased to see Spencer Region

Spencer Region
RS Jr. Offensive Guard
#74 64, 350
Cullman, AL
View Full Profile more than hold his own against Josh Watson

Josh Watson
RS Sr. Defensive Tackle
#91 6-4, 285
Wilmington, DE
View Full Profile . Both players brought a little attitude to the drill.
Another fiery competitor in the "W" drill was freshman defensive back MacKensie Alexander

MacKensie Alexander
RS Fr. Defensive Back
#2 5-11, 185
Immokalee, FL
View Full Profile , who wants to be out there every play and every drill. It's obvious he still needs a lot of coaching, but former defensive back Michael Hamlin

Michael Hamlin
Safety (2004 - 2008)
#25 6-3, 205
Lamar, SC
View Full Profile looks like he has taken Alexander under his wing and is there for a word of encouragement every time Alexander walks off the field.
Kearse, who looks like a linebacker, was absolutely destroying people during the "W" drill. Whenever he ran into a receiver, it sounded like an offensive lineman hitting a defensive lineman. It was also during that same drill that Stephone Anthony hit an offensive lineman so hard that I thought one of their helmets shattered. After burying the lineman in the ground, Anthony jumped up and was swarmed by his teammates.
*The early portion of practice was spent on special teams, and Daniel Rodriguez

Daniel Rodriguez
RS Jr. Wide Receiver
#83 5-8, 175
Stafford, VA
View Full Profile and Adrien Dunn both spent a lot of time at punt return. I know that Swinney has spoken favorably of the improvement that Rodriguez has made since last season, but it's obvious in all of the drills that the Purple Heart recipient is doing everything he can do to get on the field.
*Morris was putting all three quarterbacks through running and passing drills and the offensive line from left to right was Battle, Eric Mac Lain

Eric Mac Lain
RS Jr. Offensive Line
#78 6-3, 260
Hope Mills, NC
View Full Profile , Reid Webster

Reid Webster
RS Sr. Offensive Tackle
#77 6-4, 285
Woodstock, GA
View Full Profile , Tyrone Crowder and Kalon Davis

Kalon Davis
RS Sr. Offensive Guard
#67 6-5, 330
Chester, SC
View Full Profile . Webster is seeing a lot of time at center because starter Ryan Norton

Ryan Norton
RS Jr. Offensive Line
#58 6-3, 270
Simpsonville, SC
View Full Profile injured his shoulder.
Cole Stoudt

Cole Stoudt
Sr. Quarterback
#18 6-4, 205
Dublin, OH
View Full Profile was his usual accurate self, but just looks bigger than he has at any time since he's been at Clemson. As it turns out he is 6-5. 230 pounds, but still moves well despite the added weight. In fact, he just looks like a big time quarterback.
Chad Kelly
Chad Kelly
RS So. Quarterback
#11 6-2, 210
Buffalo, NY
View Full Profile showed no signs that his knee is bothering him. His burst through the line on certain running plays reminded me of how he looked last spring before he injured the knee. But don't think he's all about the run – he made several nice throws, including a 50-yarder to Mike Williams

Mike Williams
So. Wide Receiver
#7 6-5, 205
Vance, SC
View Full Profile .
Deshaun Watson

Deshaun Watson
Fr. Quarterback
#4 6-3, 190
Gainesville, GA
View Full Profile and Demarre Kitt

Demarre Kitt
Fr. Wide Receiver
#8 6-1, 195
Tyrone, GA
View Full Profile hooked up on the same pattern, but Kitt stumbled and dropped the pass at the last minute. Watson also looked better than he did a few weeks ago on the short throws, and it's obvious he is getting more and more comfortable with his new environment and the pace of practice.
*An interested observer was 5-star quarterback prospect Torrance Gibson, who is making the rounds right now. Gibson has visited Auburn, LSU and Oklahoma this week, and he spent a lot of time watching the quarterbacks.
*Author Lou Sahadi was also at the practice. Sahadi has written books about Willie Mays and Johnny Unitas, but also wrote the book "The Clemson Tigers: From 1896 to Glory." That book took a deeper look at the Clemson program and the National Championship season.

Tags:
Brent Venables
,
Chad Kelly
,
Chad Morris
,
Cole Stoudt
,
Daniel Rodriguez
,
Deshaun Watson
,
Demarre Kitt
,
Ebenezer Ogundeko
,
Grady Jarrett
,
Isaiah Battle
,
Jay Jay McCullough
,
Jayron Kearse
,
Jordan Leggett
,
Josh Watson
,
Kalon Davis
,
Kevin Dodd
,
Kyrin Priester
,
Mackensie Alexander
,
Michael Hamlin
,
Mike Williams
,
Reid Webster
,
Ryan Norton
,
Scott Pagano
,
Shaq Anthony
,
Spencer Region
,
Stephone Anthony
,
Tyrone Crowder