| | |
| --- | --- |
| One of the state's brightest for 2016 makes return trip to Clemson | |
---
| | |
| --- | --- |
| Wednesday, September 10, 2014, 8:56 AM | |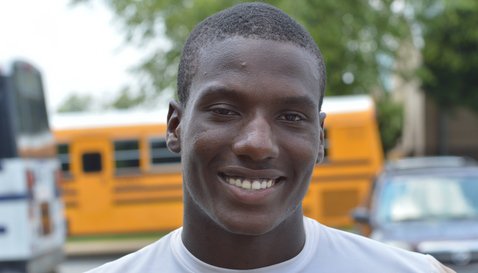 Saturday's game against South Carolina State might not have been a glamorous matchup but Bryan Edwards

Bryan Edwards
Wide Receiver
6-3, 185
Conway, SC
View Full Profile saw everything he came to see.
The 2016 Conway (SC) wide receiver has made several trips to Clemson over the last couple of years but Saturday he was able to get a feel for what it would be like playing as a freshmen in offensive coordinator Chad Morris

Chad Morris
Offensive Coordinator / QBs
View Full Profile ' system.
"That's something you like to see because me being a young guy in a couple of years you want to see the way the offense works," Edwards told TigerNet Sunday afternoon. "You also see that they play young guys and you think, 'Hey, maybe I can fit in that offense one day.'"
Two freshmen, in particular, stood out.
"It [the game] wasn't very competitive," Edwards said. "I got to see Deshaun Watson and he looked really good. Artavis Scott was really good in that game. I think he set a Clemson freshman receiving record during the game."
After seeing Watson play for the first time in person, Edwards said that he can already imagine what it would be like playing with the talented signal caller.
"It would be really good to play with a guy like Deshaun if I decided to go to Clemson," Edwards said. "He's a highly recruited guy and he's going to be a big player in a couple of years. He doesn't look like a freshman. He looks poised and under control. He looks like he is in control of things. He looks really natural out there. It would be really fun to play with Deshaun."
Another guy Edwards paid close attention to was sophomore receiver Mike Williams - a guy that the 6-3, 208-pounder models his game after.
"I'm probably most like Mike Williams," he said. "He's a big bodied guy, kind of a vertical guy. He can blow the top off the defense. I saw one play that was a vert and he went up in the endzone and almost pulled it down with one hand but it popped out at the last second. That would've been a really great catch. He has great body control in the air and can play the ball in the air with his height and size."
Edwards accomplished another goal Saturday afternoon - allowing his family to see Clemson's football facilities for the first time.
"It was great. It was really fun," he said. "I got to see them beat up on S.C. State. I brought my family up for the first time. It was my mom's first time up there and she liked it a lot. She enjoyed seeing all of the things that the players get like the lounge, the training room. She enjoyed the game and she enjoyed herself."
It is believed that Edwards' final decision will come down to Clemson and South Carolina but the junior said that he has some more work to do before he will commit to a school.
"I'm not sure yet. I've still got a couple of places that I think I want to look at," he said. "My decision will probably come early in my senior year. Clemson is really high on my list."
Edwards hauled in 66 passes for 680 yards and 18 touchdowns during his sophomore season.
As a freshman, Edwards caught 17 passes for 225 yards and nine touchdowns. He also spent five games on defense and recorded 36 tackles, two fumble recoveries and seven pass breakups.