| | |
| --- | --- |
| One night in Charlotte: The oranges aren't enough | |
---
| | |
| --- | --- |
| Tuesday, December 8, 2015 8:01 AM | |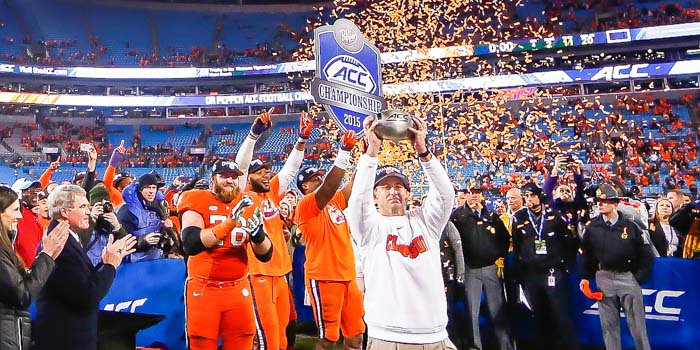 Deshaun Watson. There were anxious moments and frowns, and there were boos and there were cheers.

And I drank in every last second of it, the beauty of the moment standing out like a flower in a desert. Why? Because the last time I had been on that field in that situation was in 2011, when Clemson defeated Virginia Tech to win the ACC title for the first time in 20 years and secure a berth in the Orange Bowl. At that point, Clemson had been in the championship game two out of three years and going back every year or every other year seemed like a lock.

And then it wasn't. These moments are hard to come by, and they are meant to be savored, something Dabo Swinney tried to tell his team in the week leading up to the game. You're 12-0 and playing for a conference championship….these seasons don't come around all that often. Soak it up young man, this is a wonderful thing.

Following Watson's first down carry and the final play, I watched the final seconds tick of the clock and avoided the rush of players, coaches and support staff as they burst onto the field. I readied my camera, and then I heard a familiar and unmistakable sound – the thunk of oranges as they landed all around me. They were being thrown from the stands by jubilant fans who were already thinking about a berth in yet another Orange Bowl, but instead of this one following heartbreaking losses to Florida St. and South Carolina during the regular season, this one would be for a chance to play for a national title.

The players gathered around the people handing out the hats and t-shirts with "ACC Champions" written on them, and then they began to notice the oranges that began to litter the field. In 2011, I don't remember many – if any at all – oranges being sent back into the stands. The players and coaches and family members kept them for themselves. This time was different, however, as the players began to chunk the oranges back into the stands while shouting with unadulterated joy.

And the message was clear – in 2011 this program was just happy to be there. Just happy to get a chance to play in something like a BCS game and be a part of the process. Mementos were kept. This time, there is more to play for. The oranges aren't enough. Some of the shirts even made their way into the stands, but it was the sight of players tossing the fruit back into the stands and then standing arm-in-arm as they sang the Clemson alma mater at their top of their lungs that stayed with me. I tried to film some of it, tried to catch the emotion on Jeff Scott's face as he sang and tried to capture the complete joy of a program that has battled through each week.

This is a program that is always on upset alert. It's always disrespected. They aren't big enough, or the schedule isn't tough enough or the ACC isn't SEC-enough. This is a program that has had a target on its back since being named the favorite back in July at the ACC Kickoff. It's a program that everybody has been aiming for since the first College Football Poll came out. And they just keep winning, taking everybody's best shot along the way.

I moved out into the celebration, battling a throng of happy Tigers, and got a hug from center Jay Guillermo, who has battled past his own problems and solidified the offensive line. I got a wink from Eric Mac Lain, whose senior leadership is all the more remarkable because there were some in the program who thought he wouldn't ever play a significant down.

There was one-armed Ben Boulware, who had played through the pain and played on guts and adrenaline and the pure joy of the game. And there was the stoic Mackensie Alexander, more content to watch his teammates celebrate than act crazy. There was T.J. Green – in street clothes after getting ejected – seeking out his secondary mates for a congratulatory hug.

There was the graceful Deshaun Watson – the quiet one – getting more attention than he would like, his awkward smile betraying the fact that he doesn't like to be the center of attention. There were former players like DeAndre McDaniel, who didn't get to be a part of celebration like this one, spilling silent tears and appreciating the fact he has another chance to experience a championship as a coach.

There was the school president and members of the Board of Trustees and coaches wives. And there was Tony Elliott, the brainy one, smiling and standing back from the crowd while letting others soak in the limelight.

There were the babies – Ray-Ray McCloud and Deon Cain – not sure where to go or what to do except be happy. And they were.

But most of all there were no oranges to be found after a few minutes, not whole ones. The ones that had landed intact had been thrown back, the message clear: This isn't enough. We will celebrate tonight, and we will rest next week, and then we will get back to work and try to become the first team in college football history to go 15-0.

What a night it was. But it doesn't end there. Like Swinney always says – the best is yet to come. Hopefully, the tablet will continue to work, because I want to be there when it happens.

Tags:
DeAndre McDaniel
,
Eric Mac Lain
,
Jay Guillermo
,
Ben Boulware
,
Mackensie Alexander
,
T.J. Green
,
Deshaun Watson
,
Ray-Ray McCloud
,
Deon Cain
,
Tony Elliott
,
Jeff Scott