| | |
| --- | --- |
| Oklahoma ramps up the trash talk for the Orange Bowl | |
---
| | |
| --- | --- |
| Sunday, December 27, 2015, 10:56 AM | |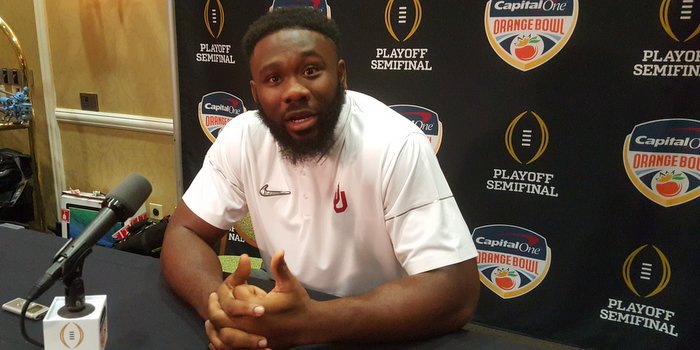 FT. LAUDERDALE, FL – Let the trash talking begin.
Oklahoma and Clemson players descended on the media hotel early Sunday morning for their first round of Orange Bowl Interviews, and it was obvious from the start that Oklahoma wants to win the battle of the trash talk.
Sooner defensive end Charles Tapper was front and center during the morning interview session, and he said he hopes the trash talk will make the top-ranked Tigers shut down.
"We like to talk a lot of trash during the games," Tapper said. "We start talking early and don't stop. We know that with a lot of teams if we talk to them during the game, they'll sort of shut down."
Tapper said Clemson quarterback Deshaun Watson is a threat to run the ball, but said the Sooners see a better look at quarterback in practice each day with Oklahoma's Baker Mayfield.
"He's a pretty good quarterback and a Heisman candidate, so we all know," Tapper said. "He's a mobile threat. He has that zone read aspect to his game and he wants to call his own number a lot when he gets to the goal line, so we have to stop the quarterback run and the zone read and make him one dimensional, we can take away one of the things he does.
"They're both (Watson and Mayfield) mobile threats. I feel like Baker is a little bit better, but that's just my personal opinion. I feel like we get a better look at a quarterback when we go good on good. You want to pressure him (Watson) the same way - try to get him out of the pocket and make him make some plays throwing the ball down field. He wants to run instead of sitting in the pocket and finding his receivers and going through all of his reads, so we want to let the pass rushers go and have some fun out there. He's going to make some plays with his feet because he's a great quarterback, but we've just got to out there and keep challenging him and keep trying to get after him."
Tapper said Watson reminds him of Tennessee quarterback Josh Dobbs.
"They want to run the ball a lot and don't want to put the ball in the air. They want to call their own number a lot," he said.
As for Clemson's offensive line, Tapper said no one stands out to him and that freshman left tackle Mitch Hyatt looks like…..a true freshman.
"They just remind us of all of the offensive linemen in the country. The freshman - No. 75. He looks like a true freshman," Tapper said. "He's going to be very good. He's still young right now and he has a lot to learn. It's fun. He's an All American, so it's always fun to go against that type of player."
Tapper then said he doesn't mind Clemson putting up a tombstone after the win over Oklahoma in the Russell Athletic Bowl last year.
"I just brushed it off. If they need that positive energy or their little tombstone thing, we just looked at it and laughed at it," he said. "We knew it's all fun and games. It didn't affect us too much."
Clemson starting left guard Eric Mac Lain said the trash talking is all in fun, and he welcomes the challenge that Oklahoma presents with the trash talk.
"Miami tried that, too," Mac Lain said Sunday. "We didn't really hear a lot of trash talk from Oklahoma last year, but they weren't in a position to talk a lot of trash. It's all in fun. Miami was my favorite trash talking game this year, and you have to give them credit, they talked right up until the bitter end. But it really doesn't mean anything."
Oklahoma safety Ahmad Thomas said Clemson was the team he wanted to play in the College Football Playoff.
"I wanted to play Clemson after last year. We were thinking about each individual game but once we were in the top four, I was like I want to play Clemson," Thomas said. "I never told anybody, but we were all thinking the same thing - I hope we play Clemson. Even Coach Stoops said we hope we play Clemson because we got embarrassed last year, and it's not going to happen this year. It's not going to happen."
Tapper said the comments made by the television commentators during last year's loss to Clemson struck a nerve.
"We watched it. The commentators kept saying it was like watching JV and Varsity, the scout team versus scholarship guys and we're like, 'That's not us. That's not Oklahoma,'" Tapper said. "We're ready to show the world what we're really about, and what better place than to be in Miami at the Orange Bowl to show everybody in the world."
Tapper said Sooner head coach Bob Stoops played the game for his team and it had the desired effect.
"He said that, "If this didn't get you fired up then you shouldn't even come down here." That was enough said right there," Tapper said.