| | |
| --- | --- |
| Official visits, offers and in-homes: Recruiting heats up | |
---
| | |
| --- | --- |
| Thursday, January 28, 2016 3:01 PM | |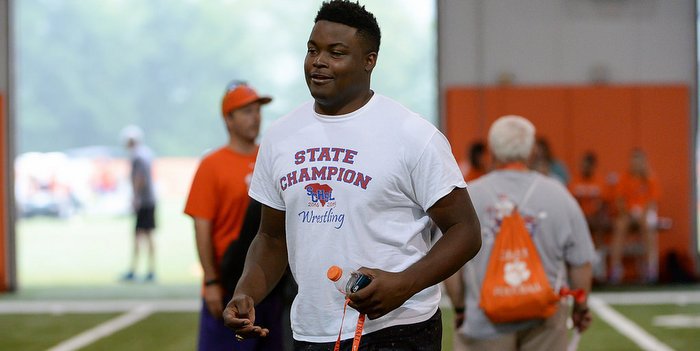 It's just five days until National Signing Day, a day that Clemson head coach Dabo Swinney refers to as Christmas morning. What will Swinney and Clemson fans find under the tree this year?
Christmas morning has been a bit reserved over the last few years – the Tigers nailed down classes early and many of the signees were already on campus. Signing Day was more of a celebration of those that were already on campus. This year could be a little different.
The nation's top-ranked recruit – Rashan Gary - plans to announce his college commitment live during the 1 p.m. hour, on ESPN2. Gary and his mother will visit Clemson this weekend. People keep asking me – does Clemson have a chance? Yes, you can't ever discount Brent Venables and Dabo Swinney once they get a recruit on campus.
I've spoken with his mother – Jennifer Coney – several times by text or on the phone and she's been very good about breaking down the chances of each team. I still think Michigan has the lead as of now – just my gut feeling – but this weekend will tell the tale. I know that's not news or a surprise to anyone, but ask me if Clemson has a chance Sunday afternoon.
The other recruit that will announce on National Signing Day on ESPN is cornerback Trayvon Mullen. Mullen was on Clemson's campus a few weeks ago, and that visit made quite an impression. This looks to be a battle between Florida St. and Clemson right now – LSU is full in the secondary – and I have to believe that Clemson is gaining momentum. The Tigers lost three members of the starting secondary after the title game, and I'm sure the coaches are pushing early playing time as an incentive. Swinney and Brent Venables will see Mullen today.
Speaking of the secondary, I've kept in pretty constant contact with safety recruit Romeo Finley. The first time we saw Finley was at the Nike Combine in Atlanta last spring. I had no idea who he was, I simply saw him working out in the drills and ambled over to inquire about him from a coach. I knew he was one of Clemson's targets and watched him the rest of the afternoon. I think he has the size and the tools to be dominant, but he told me after last weekend's visit that he still feels a certain loyalty to Georgia Tech – they've been in his top three since last summer. He also takes a trip to Miami this weekend, and that's the school he grew up cheering for.
Finley had 64 tackles with two interceptions, 1.5 sacks and 17 pass breakups on defense last year, and in conversations with his father last spring found out that both of them grew up Miami fans. Finley was being recruited by former Miami coach Al Golden, but new head coach Mark Richt saw Finley's film and made the Hurricanes a player for Finley's services. One thing to watch – wide receiver Elijah Stove was a teammate of Finley's at Niceville and the Canes are still actively recruiting him. He has been a solid commit to Auburn since last year, but you never know in the world of recruiting. Swinney will also see Finley this week.
Another one who will commit on signing day is 4-star Fort Dorchester offensive lineman John Simpson. As you already know, Simpson ruled out South Carolina Wednesday after Gamecock coaches made a visit. This one – from everything I am hearing – is down to Clemson and Florida. I've heard from more than one person down in the lower part of the state that Simpson might actually be favoring Florida while his family wants him at Clemson. Swinney visits Simpson on Friday.
Where will he go? I can safely say I don't think the coaches at Florida or Clemson know, but both have to feel good about their chances.
One player who is currently visiting Clemson is Cincinnati commit K'von Wallace. Wallace is interesting in that he began his senior season with exactly two offers – James Madison and Cincinnati. He committed to the Bearcats in July. Following the season, however, Wallace received offers from Arizona, Clemson, Maryland, Pittsburgh, Virginia Tech, Michigan St. and Ohio St.
Clemson is fine at wide receiver and is looking at Wallace in the secondary. His official visit ends Friday and we'll have more from him after the visit concludes.
One thing to note with Wallace is that he grew up an Ohio State fan and the Buckeyes just offered within the last 24 hours causing him to cancel a trip to Pittsburgh in favor of a trip to Columbus, Ohio.
Clemson will host one other official visitor this weekend in 3-star safety Isaiah Simmons out of Olathe (KS) North.
Simmons' has taken his recruitment slow and seemed to be favoring Nebraska, which he visited last week, but he is taking time to explore all of his options with the emergence of Michigan and Clemson as options. He is currently on an official visit at Michigan and will travel to Clemson on Friday.
Swinney and Venables conducted their in-home visit on Monday and set up the official visit then.