---
| | |
| --- | --- |
| Saturday, September 12, 2015 6:01 AM | |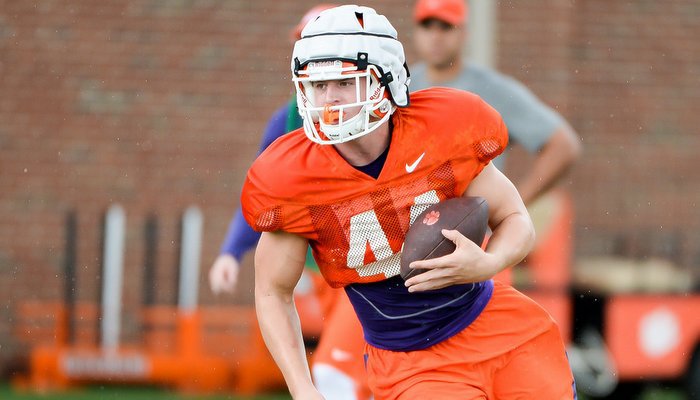 Clemson fans are probably aware of Garrett Williams

Garrett Williams
Fr. Tight End
#44 6-4, 236
Orlando, FL
View Full Profile ' family tree. His father, Dayne Williams, took the snap for Florida State in 1988's "Puntrooskie Game," and Garrett admits that he heard a lot about that play growing up. It was "his moment of glory with Florida State." However, the elder Williams supported his son's decision to play where he felt God was leading him to go, and made sure to pass on his strong work ethic.
"It was very obvious throughout the whole recruiting process that Clemson was where God wanted me to end up. I'm just really thankful my dad and the rest of my family were so supportive of me following that decision," Garrett Williams explained.
Despite some early questions about whether he would redshirt this season, Williams was one of 13 freshmen to take the field and make an impression during Saturday's win against Wofford. The final decision on whether he would play was ultimately up to Coach Swinney, but Williams' goal has always been to take the field if he could.
"My mentality was to come in and try to play. I was going to come in and just do my best and get the plays down and execute as well as I could," he said. "I'm glad that they liked what they saw and I'm happy to be playing."
The top two qualities Williams possesses that have caught the eyes of his coaches and recruiters Danny Pearman

Danny Pearman
Assist. Head / ST / TE
View Full Profile and Jeff Scott

Jeff Scott
Co-Offensive Coordinator / WR
View Full Profile are his abilities to block and catch the ball. During high school in Orlando, Fla. he spent much of his career blocking. In fall camp he also proved he could catch the ball on the perimeter. Now he's increasing his stock even more by making an effort to learn as much as he can from veteran Tiger tight end Stanton Seckinger

Stanton Seckinger
Gr. Tight End
#81 6-5, 238
Isle of Palms, SC
View Full Profile .
Williams said, "Even when I was being recruited, I'd stay in contact with him [Seckinger], and in the summer he would always help me out with the offense and I'd try to learn it as much as I could. He's just always checking on me, so I'm really thankful that he's been that mentor for me over the last few weeks."
The transition to college has been easier for Williams thanks to joining the football team. This year's talented freshman class made it easier to adapt to his new life. With the support of his team and his family, Williams is now prepared to concentrate on the challenges he'll encounter on the field as well as in his social life.
"I was thinking the other day, if I didn't have football and I just had to come out here and find my friends in all of these thousands of people that would be tough. But I think football has made the transition a lot easier than it would've been."
After his first experience playing on game day, Williams is concentrating on adjusting his assignment according to how the defense looks. The atmosphere of games is different than practice and the tempo is much faster.
"My assignment changes based on what they're lined up in, so having to recognize that real fast and being able to change what I needed to do, that came a little slower."
Now Williams is setting more of goals for his future. Luckily, he practices against some top defenders each day, which will help him improve week after week.
"I want to play faster. I want to get out there more relaxed, know what I'm doing, and just be confident in my assignment and be able to go out there and play fast and physical."