| | |
| --- | --- |
| Observations from Clemson's first practice | |
---
| | |
| --- | --- |
| Tuesday, August 4, 2015 7:14 PM | |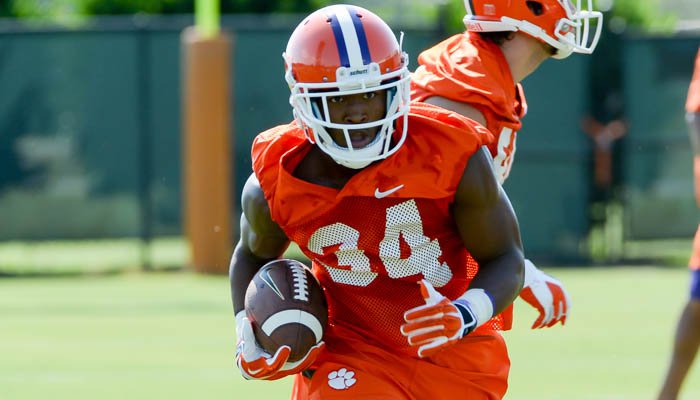 CLEMSON – Thanks to head coach Dabo Swinney

Dabo Swinney
Head Coach
View Full Profile , the Clemson media got to stay for an entire practice, something that hasn't happened around Clemson in years.
Clemson football SID Tim Bourret said the media will get an extended look at practice this week because of the amount of young talent on the roster.
Let's get started:
Deshaun Watson

Deshaun Watson
So. Quarterback
#4 6-2, 205
Gainesville, GA
View Full Profile and quarterbacks
He looks as good as ever. He still looks like maybe he doesn't entirely trust his knee when he throws on the run, but his throws in the pocket are spot on. In fact, there were three or four times during the practice when he made throws that just kind of made the jaw drop. One was a stutter-and-go that turned into a long touchdown to Artavis Scott

Artavis Scott
So. Wide Receiver
#3 5-10, 190
Oldsmar, FL
View Full Profile and another was a bullet through traffic to tight end Jordan Leggett

Jordan Leggett
Jr. Tight End
#16 6-5, 250
Navarre, FL
View Full Profile .
The longer Watson practiced, the better he looked, including taking a zone read through traffic.
Freshman Tucker Israel

Tucker Israel
Fr. Quarterback
#10 5-11, 190
Orlando, FL
View Full Profile looked healthy during the early session but was in walking boot after six periods.
Kelly Bryant

Kelly Bryant
Fr. Quarterback
#2 6-4, 205
Calhoun Falls, SC
View Full Profile is another player that looks the part, but his accuracy wasn't the best early on. However, once he got warmed up he made several nice throws, especially on the deep ball and the fade.
Offensive line
Like we expected, there is a lot of cross training going on with the offensive line. Maverick Morris

Maverick Morris
RS So. Offensive Line
#69 6-4, 295
Broxton, GA
View Full Profile took a lot of snaps with the first team at right guard, and Eric Mac Lain

Eric Mac Lain
RS Sr. Offensive Tackle
#78 6-4, 305
Hope Mills, NC
View Full Profile took snaps at left tackle. Jay Guillermo

Jay Guillermo
RS Jr. Center
#57 6-3, 310
Maryville, TN
View Full Profile also took a ton of snaps at left guard. It will probably be that way all through camp.
Defensive line
One of the concerns on the defensive line is leadership after the graduation of so many team players. However, defensive end Shaq Lawson

Shaq Lawson
So. Defensive End
#90 6-3, 269
Central, SC
View Full Profile was in the ear of all the younger players. He took time with freshman Austin Bryant

Austin Bryant
Fr. Defensive End
#91 6-4, 250
Pavo, GA
View Full Profile and was teaching him where to line up and where to go for the drills.
Wide receivers
Deon Cain

Deon Cain
Fr. Wide Receiver
#8 6-1, 190
Tampa, FL
View Full Profile is VERY competitive. He wants to win every drill, and he goes at full speed all the time.
Ray-Ray McCloud

Ray-Ray McCloud
Fr. Wide Receiver
#34 5-9, 175
Land O' Lakes, FL
View Full Profile 's talent is undeniable, and in the early part of practice he was trying to move too fast. Veteran Charone Peake

Charone Peake
Gr. Wide Receiver
#19 6-2, 205
Moore, SC
View Full Profile ambled over to the freshman and said, "Slow down. You have this." That was all McCloud needed. McCloud also looked like a natural while returning punts.
Trevion Thompson

Trevion Thompson
RS Fr. Wide Receiver
#1 6-2, 195
Durham, NC
View Full Profile was another receiver that was impressive. He's bigger than Scott, and he doesn't mind getting physical with the defensive backs.
Defensive backs
Mackensie Alexander

Mackensie Alexander
RS So. Cornerback
#2 5-10, 190
Immokalee, FL
View Full Profile wants to take every single snap during the drills. It's hard for the coaches to get him off the field – even though they try – and we saw a spark from Alexander after he was beaten on a pass play. Alexander came back on the next series, and his coverage was so good that quarterback Nick Schuessler

Nick Schuessler
RS Jr. Quarterback
#12 6-3, 195
Grayson, GA
View Full Profile didn't even throw the football. Schuessler just held the ball and threw it back to quarterbacks coach Brandon Streeter

Brandon Streeter
Quarterback Coach
View Full Profile while shaking his head.
Cordrea Tankersley

Cordrea Tankersley
Jr. Defensive Back
#25 6-1, 195
Beech Island, SC
View Full Profile was another that impressed Tuesday. He's physical, but he shows speed that you don't expect to see. One NFL observer watched a series of plays and said, "That secondary is big and fast. All of them look like they can play."
Walk-ons
Dabo Swinney can sometimes go a little over the top when it comes to walk-ons, and he spent a lot of the spring hyping up Hunter Renfrow

Hunter Renfrow
RS Fr. Wide Receiver
#35 5-10, 170
Myrtle Beach, SC
View Full Profile . However, Renfrow looked the best out of all the punters during the early session, and then he was involved with the wide receivers and then acted like a defensive back during other drills.
Seth Ryan

Seth Ryan
RS So. Wide Receiver
#85 5-11, 170
Summit, NJ
View Full Profile is another guy like that – he's all over the field, and he even spent time calling in plays for the offense.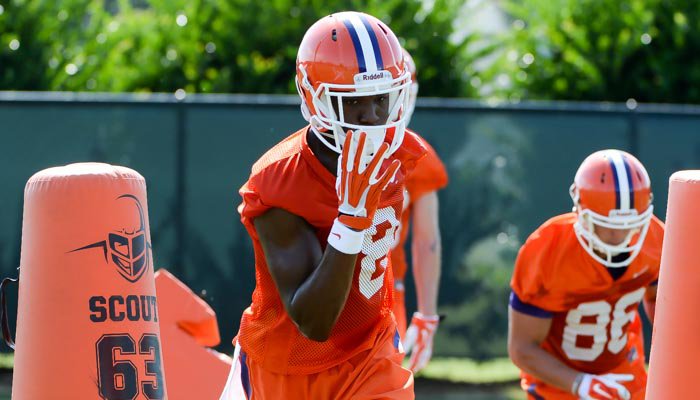 Tight ends
Cannon Smith

Cannon Smith
RS Fr. Tight End
#84 6-4, 240
Columbia, SC
View Full Profile is big – he weighed in at over 260 pounds Monday – but he looks as agile and moves as good as the others. Leggett also showed speed and hands during the pass skeletons, while freshman Garrett Williams

Garrett Williams
Fr. Tight End
#44 6-4, 225
Orlando, FL
View Full Profile just looks the part. I am sure the coaches would love to redshirt Williams, but he does a lot of things well.
Redshirt freshman Milan Richard

Milan Richard
RS Fr. Tight End
#80 6-2, 245
Savannah, GA
View Full Profile missed part of the spring with ankle injury, but he looked as good as advertised. He blocks well and can make all of the catches.
Other notes
*The offense did well as long as it ran away from Lawson. When the play came to his side? Not a lot going on.
*Artavis Scott, Germone Hopper

Germone Hopper
RS Jr. Wide Receiver
#5 5-11, 175
Charlotte, NC
View Full Profile , Ray-Ray McCloud and Adrien Dunn

Adrien Dunn
RS So. Wide Receiver
#82 5-7, 170
Clemson, SC
View Full Profile all worked on punt return.
* Freshman WR Deon Cain had a nice one handed grab for a touchdown.
* DT Carlos Watkins tipped a ball for an interception.

Tags:
Eric Mac Lain
,
Charone Peake
,
Nick Schuessler
,
Jay Guillermo
,
Germone Hopper
,
Shaq Lawson
,
Cordrea Tankersley
,
Jordan Leggett
,
Mackensie Alexander
,
Maverick Morris
,
Deshaun Watson
,
Trevion Thompson
,
Cannon Smith
,
Milan Richard
,
Artavis Scott
,
Adrien Dunn
,
Seth Ryan
,
Hunter Renfrow
,
Garrett Williams
,
Kelly Bryant
,
Austin Bryant
,
Ray-Ray McCloud
,
Deon Cain
,
Tucker Israel
,
Brandon Streeter