| | |
| --- | --- |
| Observations from Clemson preseason practice - Day 6 | |
---
| | |
| --- | --- |
| Thursday, August 9, 2012 5:49 PM | |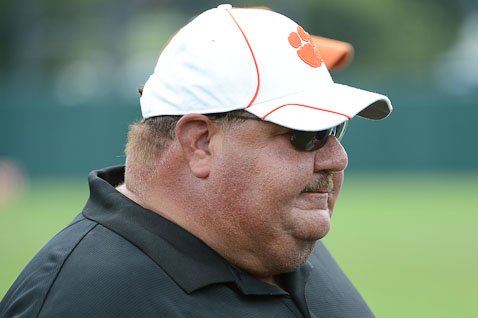 CLEMSON – Former Kansas coach Mark Mangino was at Clemson's practice on Thursday, and TigerNet spoke with Mangino – a friend of new defensive coordinator Brent Venables – about what Clemson fans can expect from a Venables defense.
Mangino said he calls Venables "the Machine."
"I have always called him that, because he is always going and going and going," Mangino said. "He is always going full-speed ahead. It is football, football, football. And when it's not football, he is a great family man and a great father."
Mangino said he has known Venables for a long time.
"I have known his as far back as Kansas St. when he was a player, a G.A. [graduate assistant] and a coach," Mangino said. "Then we both went with Bob Stoops to Oklahoma, so I have known Brent for a long time."
Mangino was at the practice as a guest of Venables, and I asked him what he prepared for when he coached against Venables – then at Oklahoma – while Mangino was the head coach at Kansas.
"His defenses are hard-nosed, have tough players and he coaches players to be physical, aggressive and assignment-sound," Mangino said. "Youth is the only reason his team wouldn't be assignment-sound. He forces people out of their comfort zone on offense. I would tell my team that they were going to play sound defense and he would always find ways to out-smart you and create mis-matches. He likes to bring pressure and blitz and he likes to change looks during a game."
Other notes and observations from practice. The media session was shorted because lightning in the area drove the players indoors.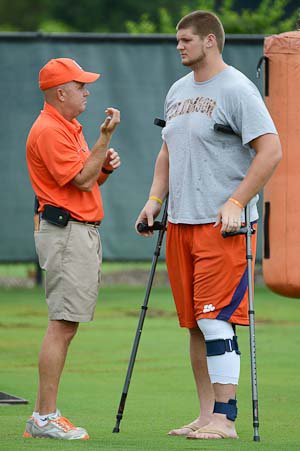 * Gifford Timothy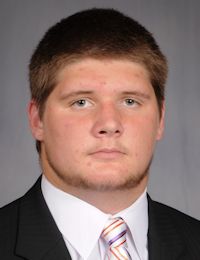 Gifford Timothy
RS So. Offensive Tackle
#70 6-6, 315
Middletown, DE
View Full Profile on crutches - Right tackle Giff Timothy - penciled in as the starter – was on crutches at the practice, his left leg wrapped in a brace. Timothy said a player rolled up on the back of his leg towards the end of Wednesday's practice. He had an MRI earlier Thursday, and said that the results should be known by Thursday evening. Trainers are hopeful it is just a problem with the meniscus.
* Jerome Maybank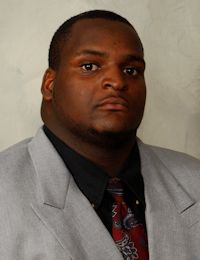 Jerome Maybank
RS So. Defensive Tackle
#96 6-4, 345
Pawleys Island, SC
View Full Profile to OL – Defensive tackle Jerome Maybank has been moved to the offensive line. The 6-4, 330-pounder was behind several other tackles on the depth chart on the defensive line.
* Joe Gore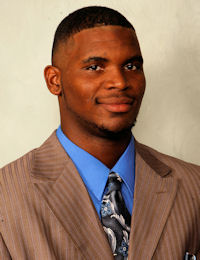 Joe Gore
RS So. Offensive Line
#73 6-6, 260
Lake Waccamaw, NC
View Full Profile , filling in at right tackle for Timothy, went the wrong way on an early play in the practice and was subjected to derision from his defensive teammates. "Fresh Meat!" was the term most often heard.
*At the No. 2 wide receiver spot – the spot occupied by Sammy Watkins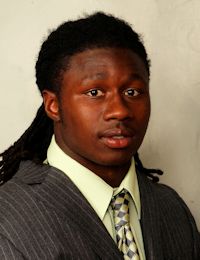 Sammy Watkins
So. Wide Receiver
#2 6-1, 200
Fort Myers, FL
View Full Profile – Watkins was taking first-team reps, Adam Humphries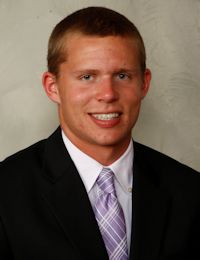 Adam Humphries
So. Wide Receiver
#16 6-0, 190
Spartanburg, SC
View Full Profile was second, freshman Gerome Hopper was third and walk-on Daniel Rodriguez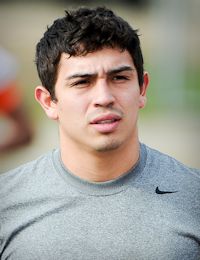 Daniel Rodriguez
So. Wide Receiver
#83 5-8, 180
Stafford, VA
View Full Profile was fourth.