| | |
| --- | --- |
| Nike's The Opening: Prospects open up about Clemson | |
---
| | |
| --- | --- |
| Monday, March 23, 2015 10:56 AM | |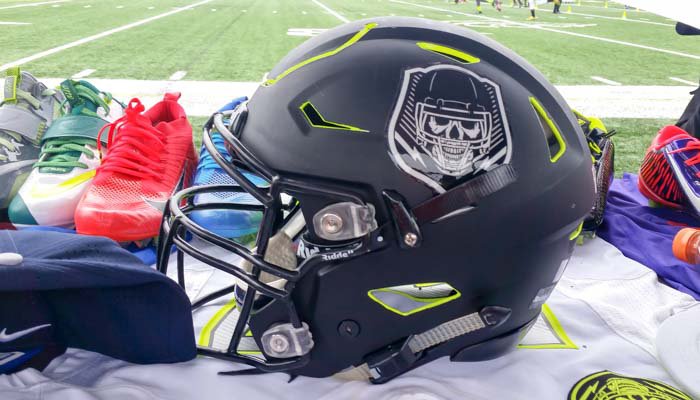 BUFORD, GA – Over five hundred of the region's top prospects were in Buford, Ga., Sunday for Nike's The Opening Atlanta Regional, and included in that number were several prospects that have mutual interest in Clemson.
Included in that number were 2016 Clemson commits T.J. Chase

T.J. Chase
Wide Receiver
6-2, 175
Plant City, FL
ESPN:


View Full Profile and Zerrick Cooper

Zerrick Cooper
Quarterback
6-5, 200
Jonesboro, GA
ESPN:


View Full Profile , and TigerNet was on hand for the entire event.
Cooper, the 4-star quarterback out of Jonesboro (GA), was sporting a knee brace on his surgically-repaired right knee but the brace didn't appear to affect Cooper's throwing or mobility. He told us that it was the first day for that type of brace, and after he got used to it he didn't feel it. Cooper and Chase got to spend a few minutes together, but following one of the drills LSU commit and defensive back prospect Saivion Smith

Saivion Smith
Athlete
6-2, 175
St. Petersburg, FL
ESPN:


View Full Profile sought out Cooper and put his arm around him.
No worries on Smith trying to sway Cooper, however; Cooper told us he is 100 percent and "All In" with the Tigers.
"Clemson just feels like home to me," Cooper said. "I will be back up there for the spring game, and I want to get to know Coach (Brandon) Streeter a little better. There is really nothing I want to see or do up there other than that, because we've seen it all. It will be like coming home."
Other notables also talked about Clemson:
Julian Rochester
Julian Rochester
Defensive Tackle
6-6, 280
Powder Springs, GA
ESPN:


View Full Profile , 5-star DT, Powder Springs (GA) McEachern
"Clemson - they are right there between Georgia and Auburn. I still have lots of family of there and I love Coach Dabo Swinney

Dabo Swinney
Head Coach
View Full Profile . He's that hype coach. I love it. And then you have Coach [Tony] Elliott, the running backs coach, and Coach [Brent] Venables. The defense was amazing this year. Why count them out? They put Grady Jarrett and Vic Beasley in the draft. It's unbelievable."
Charles Wiley, 4-star DE, Stockbridge (GA)
"Clemson's coaches, they are real and they don't hold anything back. Whatever they say is the truth and that is really the big deal with recruiting for me. They can play for a national championship."
Adam Raschilla, OT, Northport (AL) Tuscaloosa County
"It was awesome going up there and seeing what kind of family Clemson is. Everything about it, I love it. I love Coach (Robbie) Caldwell. The new facilities are already crazy looking and then all of the new stuff is awesome. I will be coming to camp."
Antwuan Jackson

Antwuan Jackson
Defensive Tackle
6-3, 265
Ellenwood, GA
ESPN:


View Full Profile , 4-star DT, Ellenwood (GA) Cedar Grove
"Clemson is definitely in my plans. I can see myself playing there. They are great coaches there and they are great people, and I have a great relationship with Coach (Marion) Hobby. It's also a beautiful campus."
Jamyest Williams, 4-star DB, Lawrenceville (GA) Archer
"Clemson is a great school with a great coaching staff. I love talking to Coach (Mike) Reed and Coach (Tony) Elliott. Coach Reed is an aggressive coach and he played in the league, he knows what he is talking about and knows all about technique and perfecting your craft."
E.J. Price, 4-star OT, Lawrenceville (GA) Archer
"One of the things that really stands out to me is that a lot of the coaching staff are graduates of Clemson. A lot of schools will tell you that they will take care of you once you graduate, but Clemson actually shows it and they show it that they have their guys in there. They are also very strong with academics and they tell you that if you aren't strong in the classroom then there will be a problem. I like that."
Malik Herring

Malik Herring
Defensive End
6-5, 245
Forsyth, GA
View Full Profile , 4-star DE, Forsyth (GA) Mary Persons
"They are very high on my list. I talk to Coach Hobby, and we have a good conversation every time we talk. He coaches the same way as my high school coach. I hope to get back up there for the spring game. They have great academics and I love the military history."
Tobias Little

Tobias Little
Linebacker
6-1, 230
Atlanta, GA
View Full Profile , 3-star LB, Atlanta (GA) Mays
"They are my favorites as of right now, and I have a great relationship with Coach (Brent) Venables. He keeps me on my toes. I've seen everything I need to see, but I will be back up there for the spring game. I want to go to the next level, and Coach V is the kind of coach that can help me get there."
Chidi Okonya

Chidi Okonya
Defensive End
6-5, 225
Riverdale, GA
View Full Profile , 4-star DE, Riverdale (GA)
"I hope to either go to Clemson or Georgia this weekend. I'm interested in Clemson, but I've only been in a little bit of contact with them. I just want to get things rolling with Clemson to see how they feel about me and how I feel about them and the place up there."
Jordan Smith, 3-star DE, Lithonia (GA)
"Clemson is very high. I came up for the elite junior day in January and it was good. The coaches' message to me was to just enjoy myself and they talked to me about where I would be playing if I were to come to Clemson. It was nice to see the campus and meet a lot of the coaches."