| | |
| --- | --- |
| Next Man Up: Defense in reload mode | |
---
| | |
| --- | --- |
| Thursday, January 14, 2016 10:24 AM | |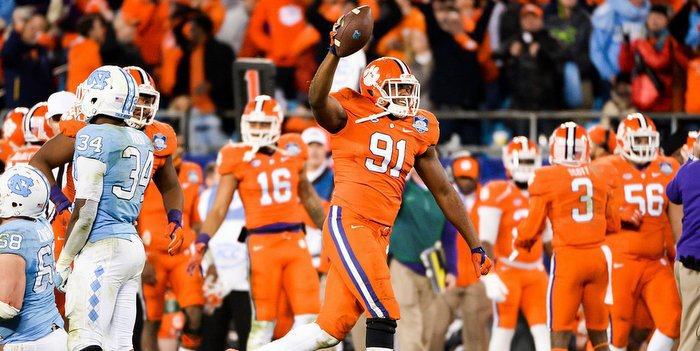 Next man up.
When Clemson's defense lost nine players after the 2014 season to the NFL, Dabo Swinney and Brent Venables said next man up. It was time for Shaq Lawson, Kevin Dodd, Carlos Watkins, Scott Pagano, Ben Boulware, B.J. Goodson, Cordrea Tankersley and T.J. Green to show what they were made of.
When Clemson lost Ebenezer Ogundeko, Isaiah Battle, Ammon Lakip and Deon Cain to suspensions or attrition? Next man up.
When Korrin Wiggins and Mike Williams were lost for the season due to injury? Next man up.
Clemson's defense will once again be in reload mode after losing B.J. Goodson, Shaq Lawson, Kevin Dodd, Mackensie Alexander, Jayron Kearse and T.J. Green, but for the young guys who litter the roster, it's next man up.
After 2014, Clemson replaced Vic Beasley and Corey Crawford with Lawson and Dodd, and the duo became the first in Clemson history to both post at least 20 tackles for loss in the same season. All four will be in the NFL next season and the Tigers will turn to Austin Bryant, Chris Register, Dane Rogers, Sterling Johnson, Clelin Ferrell and Richard Yeargin. Clemson also adds Xavier Kelly, a 4-star 2016 commit out of Wichita (KS) East.
Bryant is the most experienced, appearing in 13 games – most notably the Orange Bowl against Oklahoma – and registering 23 tackles, two tackles for loss, 1.5 sacks and one pass breakup. Yeargin appeared in nine games, registering eight tackles and and a sack.
At linebacker, Clemson only loses senior middle linebacker B.J. Goodson, and while nobody can replace Goodson's heart and desire the Tigers already have early enrollees Tre Lamar (who will play middle linebacker) and Rahshaun (Shaq) Smith on campus and both of those guys have the tools to come in and play right away. Redshirt freshman Chad Smith and redshirt sophomore Kendall Joseph will also have an opportunity to fill the void left by Goodson.
While there isn't a lot of experience in the front seven coming back (outside of defensive tackle), the good news is that Ben Boulware returns to anchor the weakside linebacker spot and a combination of Wiggins and Dorian O'Daniel will replace Travis Blanks on the strongside.
The defensive tackles – Carlos Watkins, Scott Pagano, and Christian Wilkins will be a force inside and can pick up some of the slack while the defensive ends get their feet under them.
With the loss of Alexander, Kearse and Green, Cordrea Tankersley will be the only returning starter, but he is a piece Clemson can build around in the secondary. Tankersley started all 15 games and registered 48 tackles, 3.5 tackles for loss, a sack, a team-high five interceptions and nine pass breakups.
The Tigers have plenty of experience in Adrian Baker, Ryan Carter, Marcus Edmond, along with freshmen and redshirt freshmen Denzel Johnson, Kaleb Chalmers and Mark Fields to play opposite Tankersley. While Baker and Carter have played the most, Fields has the talent and athleticism to come the closest to replacing Alexander.
Clemson has plenty of options at safety including moving Wiggins from nickel/SAM back to safety, Jadar Johnson, Jefferie Gibson, Tanner Muse and Van Smith. Johnson, who will be a senior, has the most experience playing in 39 games and registering four interceptions. Smith appeared in 14 games and had 19 tackles, a tackle for loss and an interception. Gibson will be a redshirt sophomore and has garnered praise from all of the coaches during his first two years on campus and would remind you a lot of Green with his 6-4, 200 athletic frame.
Does Clemson have the same amount of experience replacing this season's losses as they did after 2014? No, but there is plenty of talent to fill the void and keep the Tigers firmly in the hunt, so the message to all of the youngsters looking to fill a starting spot? Next man up.

Tags:
Cordrea Tankersley
,
Vic Beasley
,
B.J. Goodson
,
Corey Crawford
,
Ammon Lakip
,
Travis Blanks
,
Isaiah Battle
,
Kevin Dodd
,
Carlos Watkins
,
Shaq Lawson
,
Mike Williams
,
Ben Boulware
,
Marcus Edmond
,
Dane Rogers
,
Mackensie Alexander
,
Jayron Kearse
,
Jadar Johnson
,
Korrin Wiggins
,
Scott Pagano
,
Adrian Baker
,
Ryan Carter
,
Ebenezer Ogundeko
,
T.J. Green
,
Chris Register
,
Jefferie Gibson
,
Kendall Joseph
,
Tanner Muse
,
Kaleb Chalmers
,
Mark Fields
,
Austin Bryant
,
Van Smith
,
Deon Cain
,
Chad Smith
,
Sterling Johnson
,
Clelin Ferrell
,
Christian Wilkins
,
Denzel Johnson
,
Brent Venables