| | |
| --- | --- |
| News and notes from Saturday's scrimmage in Death Valley | |
---
| | |
| --- | --- |
| Saturday, August 20, 2011 2:42 PM | |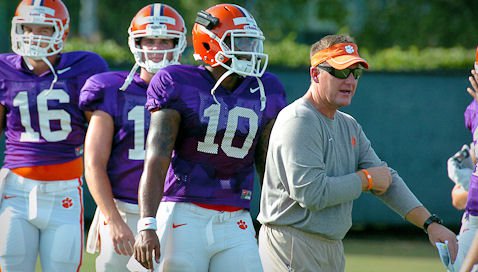 AUDIO: Dabo Swinney after scrimmage audio
AUDIO: Kevin Steele after scrimmage audio
CLEMSON – The Clemson Tigers went through a two-hour scrimmage in Death Valley Saturday morning, with the first team offense going against the second team defense, the second team offense going against the first team defense and the third units taking on both the first and second team teams.
Quarterback Tajh Boyd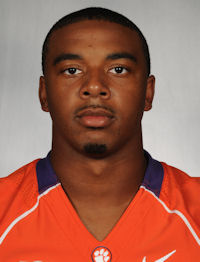 Tajh Boyd
Quarterback
#10 6-1, 230
Hampton, VA
View Full Profile was 8-for-14 for 108 yards, a touchdown and an interception (his first of the August scrimmages) and 15 different receivers caught passes. Starting running back Andre Ellington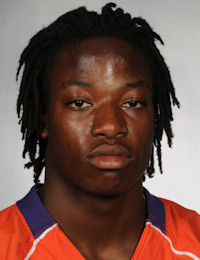 Andre Ellington
Running Back
#23 5-10, 190
Moncks Corner, SC
View Full Profile carried four times for 37 yards, but only played the first series. Tight end Brandon Ford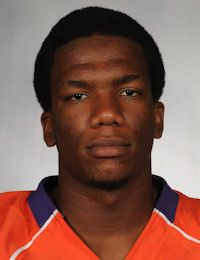 Brandon Ford
Tight End
#80 6-4, 220
Wando, SC
View Full Profile had a touchdown catch.
Clemson head coach Dabo Swinney said he feels like the coaches saw what they needed to see with the season opener against Troy just two weeks away.
"I thought it was a good scrimmage. I think we accomplished some of our objectives going into it," Swinney said. "I don't think anyone got hurt which is a real positive this last really full, live day. The biggest thing for me going into it is seeing some of our depth emerge and some guys take another step forward. The way we scrimmaged today we did all two's versus one's. Because when you put a guy out there they don't call timeout and put their subs in. They got to be able to play against the best unit. From that standpoint I think we got some things accomplished today."
Swinney said the defense rebounded after a letdown in Wednesday's scrimmage.
"I thought defensively they responded from a really rough day on Wednesday," he said. "They came back today much more ready to play and that was good to see. It wasn't dominant on either side. I thought it was very competitive. The swarm defense, our second group, they did much better. I've been pretty disappointed in that group as a whole but today I thought they really stepped up and played with some pride and did some good things."
Chandler Catanzaro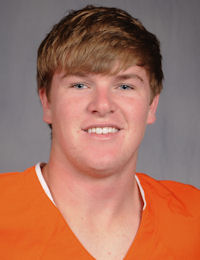 Chandler Catanzaro
Punter / Kicker
#39 6-2, 205
Greenville, SC
View Full Profile continued to solidify his hold on the starting job at kicker with another perfect scrimmage.
"I'm really continue to be impressed with our kicking game," he said. "We have worked really hard on that. Coach [Danny] Pearman has done an excellent job in coordinating that. Catanzaro has had an excellent camp. I don't think he missed one out there today. Six-for-six. He's about 85%. I think he has kicked a little over 50 kicks in camp and made right at 84 or 85 percent. That's a pretty strong camp for him. Ammon [Lakip] is somewhere in the 78 percent range. He's also had a good camp. [Phillip] Fajgenbaum has done an excellent job snapping for us. I feel very confident with him going into the season. Spencer Benton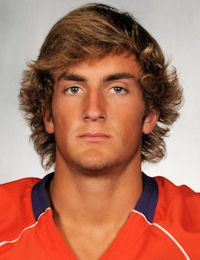 Spencer Benton
Punter / Kicker
#13 6-2, 195
Myrtle Beach, SC
View Full Profile has done a really god job holding as has Dawson [Zimmerman]."
*Three players were held out of the scrimmage – running back Mike Bellamy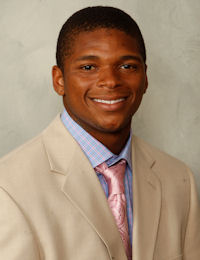 Mike Bellamy
Running Back
#5 5-10, 187
Nocatee, FL
View Full Profile [shoulder], defensive tackle Brandon Thompson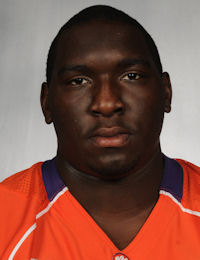 Brandon Thompson
Defensive Tackle
#98 6-2, 310
Thomasville, GA
View Full Profile [leg] and wide receiver Sammy Watkins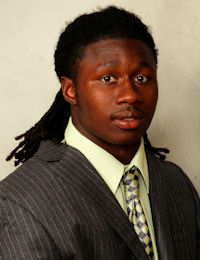 Sammy Watkins
Wide Receiver
#7 6-2, 200
Fort Myers, FL
View Full Profile [hip flexor]. Swinney said all three should be ready to go next week. Running back Demont Buice missed the scrimmage with a foot injury and Bryce McNeal was out with the flu.
*Boyd hurt his ankle during the scrimmage but said he didn't think it was anything serious.
"Somebody kind on stepped on the back of it, and it was really sore," Boyd said. "But I will throw some ice on it and it will be good to go. I guess I was coming through the middle and a linebacker just stepped on it. That is to be expected but at the same time you want to keep yourself healthy. I twisted it a little bit, but it wasn't severe."
*Second team quarterback Cole Stoudt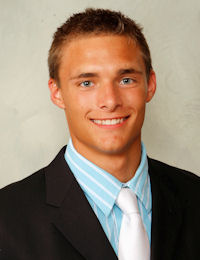 Cole Stoudt
Quarterback
#8 6-3, 195
Dublin, OH
View Full Profile struggled again – he was just 4-for-14 – but played behind a second-team offensive line that struggled against the first team defense.
*Senior lineman Mason Cloy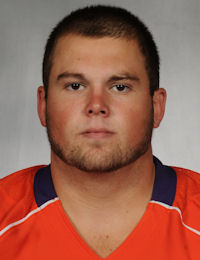 Mason Cloy
Offensive Line
#62 6-3, 295
Columbia, SC
View Full Profile stepped in and played for senior right guard Antoine McClain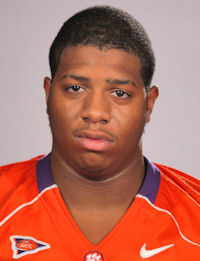 Antoine McClain
Offensive Line
#74 6-5, 330
Anniston, AL
View Full Profile , who missed the scrimmage and has missed a few days of camp after a death in the family.
*The passing game was balanced in terms of receivers. Fifteen different players caught at least one pass and no one caught more than two. Dwayne Allen and DeAndre Hopkins both had two catches for 29 yards. Stanton Seckinger might have had the top catch of the day with a 23-yard reception from Stoudt on the sideline. Will Harrison had the longest catch of the day on a 31-yard reception from Tony McNeal.
*Ford's 13 yard touchdown connection from Stoudt was the third straight scrimmage that Ford has scored a touchdown. Another tight end red-shirt freshman Sam Cooper also scored on a 19 yard pass from Boyd.
*Defensive coordinator Kevin Steele said that the younger defensive players, and especially the younger linebackers – are finally learning the defense and creating competition.
"We have some battles going on now," Steele said. "We are having some fun now. We are having some battles with the younger guys, and that makes it fun. We have competition now, which makes everybody better. They have all answered to it, and it will be interesting to see how it all shakes out."
*Steele said that sophomore linebacker Justin Parker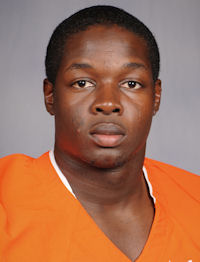 Justin Parker
Linebacker
#8 6-1, 225
Port Royal, SC
View Full Profile is working mostly at middle linebacker during the scrimmages because of Morris' offense.
"He is having to work a lot at Mike, because we don't see a lot of regular [offense] out here," Steele said. "We see mostly three wides, so we are in the nickel a lot. He isn't really getting many snaps at SAM, and that is something we will have to work on the fly once the season starts."
*Swinney said that Ellington only worked the first series because the coaches want to keep the junior fresh.
"He's good. He's just waiting on game day to get here. He can't wait to play," Swinney said. "I think early on in camp we had to kind of get his legs back under him because he hadn't been tackled. He's had to do the Oklahoma drill and everything. We've had to throw him out there. That's the only way you are going to be ready to play in this game. He has responded well. I haven't seen any lingering effects at all especially now that he has a couple of weeks of camp under his belt. He looks good."
Ellington has received a lot of work thus far in fall camp, according to Swinney.
"We have worked him pretty hard. He has gotten a ton of work," Swinney said. "Today we wanted to get a good look at Rod [McDowell] and D.J. [Howard]. We kind of taxed them a little bit to see how they would respond. I think we have some good depth at running back. I really do. Andre came right out of the gate and had a good opening drive. He had some nice runs. He's a special player. He loves to practice. He studies. He's just a guy that has been fun to watch grow.
"I can just think back to when he was a freshman out there with James Davis

James Davis
Running Back
# 6-0, 205
Atlanta, GA
View Full Profile , C.J., Jamie Harper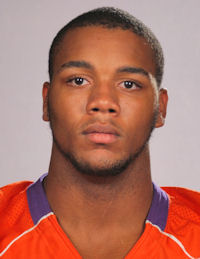 Jamie Harper
Running Back
#8 6-0, 235
Jacksonville, FL
View Full Profile , and Ellington. You could see it then. A lot like you see it with Bellamy right now. He was about 170 pounds and now to see him where he is now – 190 some pounds – the veteran. He has worked really hard. He doesn't ask to get out of anything. He doesn't really ever say anything. He just practices. We are very confident in him so we got him some good early work."
*Howard carried the ball eight times for 53 yards and Swinney said the redshirt freshman was stepping up his game.
"D.J., to me, really continues to show that he could possibly be one of those every down kind of guys," Swinney said. "I like the depth and we are going to need all those guys. We got an Andre Ellington and then we got a group of guys that are all going to have to bring something to the table for us. I think they will all be able to do that."
*Swinney was asked how man true freshmen he could see starting by the end of the year, and he said two or three.
"Anything is possible. Maybe two or three by the end of the year or middle of the year," he said. "I wouldn't be surprised. But again we got some very good freshmen, but we got some very, very committed veterans. We have a solid first group that has done a very good job. Now they have to go be productive like that on the field and some of this young talent is going to get some experience."
*The freshmen linebackers are pushing for playing time, not a starting job, at this point.
"That is a complex system over there," Swinney said of the defense. " Stephone Anthony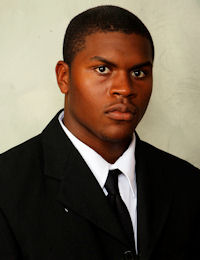 Stephone Anthony
Linebacker
#12 6-2, 220
Wadesboro, NC
View Full Profile is a guy that is really bright and is really coming on and Tony Steward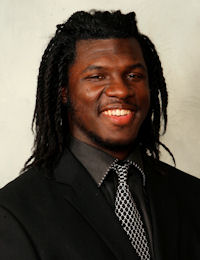 Tony Steward
Linebacker
#7 6-2, 225
Hastings, FL
View Full Profile is the same way. But there is a pretty good gap there. But those guys are only going to get better and close that gap because they are good players and very talented. But I think right now, we are set on the starters."
*Andre Branch led the first unit defense that allowed just one touchdown and that came in an overtime simulation. Branch, who is the top returnee in terms of quarterback sacks, had three tackles for loss, including a sack. Mallicah Goodman added two sacks from his defensive end position, as he takes over for DaQuan Bowers, who led the nation in sacks last year.
Branch had four tackles, as did Justin Parker in the 75-play scrimmage. Tig Willard and Kantrell Brown had interceptions for the defense, while Cortez Davis had a caused fumble.
AUDIO: TE Dwayne Allen after scrimmage audio
AUDIO: QB Tajh Boyd after scrimmage audio
AUDIO: OL Dalton Freeman after scrimmage audio

Tags:
Andre Ellington
,
Antoine McClain
,
Brandon Ford
,
Brandon Thompson
,
Chandler Catanzaro
,
Cole Stoudt
,
James Davis
,
Jamie Harper
,
Justin Parker
,
Mason Cloy
,
Mike Bellamy
,
Sammy Watkins
,
Spencer Benton
,
Stephone Anthony
,
Tajh Boyd
,
Tony Steward