| | |
| --- | --- |
| News and notes from Monday's scrimmage | |
---
| | |
| --- | --- |
| Monday, April 8, 2013 8:29 PM | |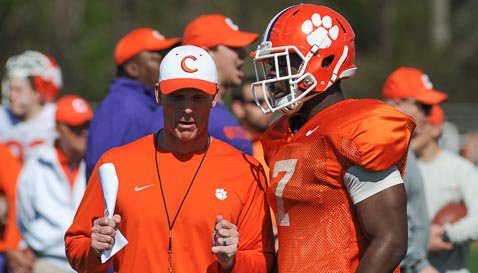 CLEMSON – The scrimmage held in Death Valley Monday afternoon was one that was dominated by the defense.
In fact, head coach Dabo Swinney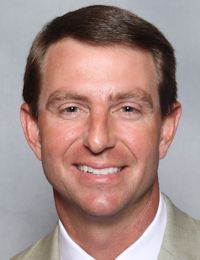 Dabo Swinney
Head Coach
View Full Profile said it wasn't even close.
"That was just a butt kicking today. It really was," Swinney said to the media once the team left the field. "I wish I could paint a more balanced picture, but the defense was pretty dominant. To be honest with you, that's good. I know our offense is going to be outstanding. I don't have any doubts about that. To see our defense line up and perform consistently and do it with three different groups was equally impressive. From my perspective, that is good. I know our offense is going to be fantastic. I was pleased with consistency, and I was pleased in particular with our defensive line."
Swinney said starter Tajh Boyd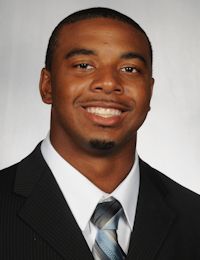 Tajh Boyd
RS Jr. Quarterback
#10 6-1, 225
Hampton, VA
View Full Profile played just three or four plays because the coaching staff wanted to see the backups in action.
"That was the plan," he said. "We wanted to hold Tajh back and let those other guys get the majority of the work, and I don't think we responded it very well. I think defensively we wanted it a little bit more, and they even blocked a field goal. We will have another scrimmage on Wednesday, and I am sure this offense has a lot of pride and we will see how they do."
*Swinney said that freshman tight end Jordan Leggett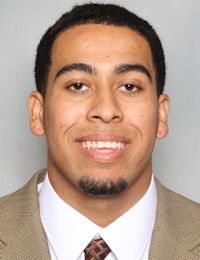 Jordan Leggett
Fr. Tight End
# 6-6, 235
Navarre, FL
View Full Profile continues to impress.
"He has had a solid spring, and I am very encouraged with him," he said. "He is one guy that I am surprised he has picked up things as quickly as he has. He has done a nice job."
Swinney was asked if Leggett is a player that could play this season, and he said yes.
"I would say if we were going to play a ballgame right now, he is a guy that we would be getting ready to play," he said. "But that's because of numbers. You know how we use the tight ends, and we use two and sometimes three and we only have five. He is a guy that is in the mix but still has a long way to go."
*Defensive end Vic Beasley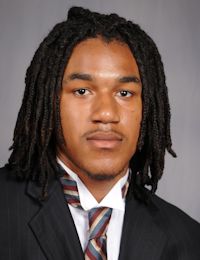 Vic Beasley
RS So. Defensive End
#3 6-3, 225
Adairsville, GA
View Full Profile tallied four sacks in the scrimmage – he said he played mostly at weakside defensive end – and credited a move that he has been working on called the 'The Dip and Rip.'
"I'm using the dip and rip and getting on the edge and bending the corner," Beasley said. "That's my move. I came up with that. I used it a little last year but not as much. It's just comes naturally now after practicing it in the offseason against tackles like Eric Mac Lain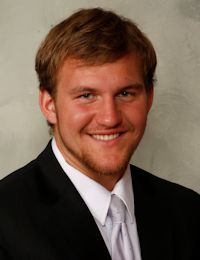 Eric Mac Lain
RS Fr. Tight End
#88 6-4, 260
Hope Mills, NC
View Full Profile and Isaiah Battle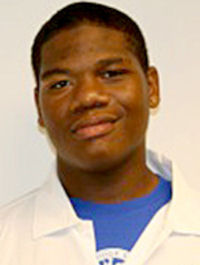 Isaiah Battle
Fr. Offensive Tackle
#79 6-6, 280
St. George, VA
View Full Profile - it has gotten a lot better. Some things just come natural to you, but Coach [Marion] Hobby, he critiques it. He just makes it a whole lot better."
*Defensive coordinator Brent Venables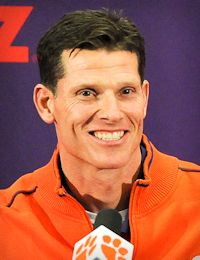 Brent Venables
Defensive Coordinator / Linebackers
View Full Profile – who never gets too high or too low when talking about his defense – seemed pleased with his defense for the first time this spring on Monday.
"I liked our attitude that we came out with today. They played with an edge, toughness, played with effort," Venables said. "The first three-fourths of the scrimmage was pleasing from an effort standpoint and attitude. Then it was pretty inconsistent after that in some situational stuff. I like the direction that we're heading."
Venables said he is pleased with the play of Beasley, but cautioned that Beasley still has a long way to go if he wants to be truly dominant.
"We'll see. It's still a process. I think he's getting better," Venables said. "He needs to continue to add weight and strength, but I think he has shown that he's capable of making some plays. It's [run defense] good. It has been solid. He still like everybody has to continue getting better. He plays with good leverage, knows how to use his hands, and understands gap control. If he can play with discipline that way- that's the biggest thing- not getting nosey and putting his head where it doesn't belong. He's making improvement."
I asked Venables about what he would be looking for during Saturday's spring game, and he said he just wants to come out of it healthy.
In fact, he doesn't like scrimmage situations.
"To be healthy. I'd rather practice than scrimmage," he said. "To play hard and be disciplined and stay healthy."
*Venables on Kellen Jones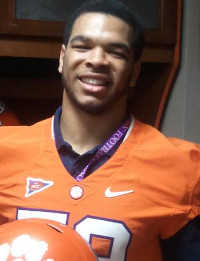 Kellen Jones
So. Linebacker
#52 6-1, 215
Houston, TX
View Full Profile – "I don't how many other good days he was having, but today was good. Today was a good day for him. He showed up. He made improvement today."
*Venables on the linebackers – "Quandon [Christian] didn't play because he was sick so we had to move Tony [Steward] out there. Some of our non-scholarship guys that are backing up there aren't there because they are injured. We moved Tony out there and he did pretty good. I didn't find out about Quandon not practicing until this afternoon so we kind of gave Tony a crash course about the strong-side position. It was good. T.J. Burrell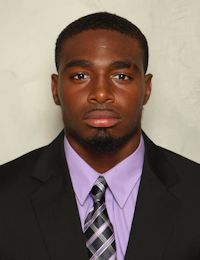 T.J. Burrell
Fr. Linebacker
#41 5-11, 215
Goose Creek, SC
View Full Profile was back out there. [Spencer] Shuey and Stephone [Anthony] were really good. B.J. [Goodson] did some good things. As a group, I thought it was pretty solid."
*Loganville (GA) Grayson High School head coach Mickey Conn watched the scrimmage from the sidelines, and he was able to see former Grayson quarterback Nick Schuessler

Nick Schuessler
Fr. Quarterback
#17 6-3, 185
Grayson, GA
View Full Profile hit Daniel Rodriguez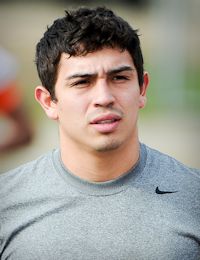 Daniel Rodriguez
RS Fr. Wide Receiver
#83 5-8, 175
Stafford, VA
View Full Profile for a long touchdown.