| | |
| --- | --- |
| National Signing Day, ESPN and Clemson: What to expect | |
---
| | |
| --- | --- |
| Tuesday, February 2, 2016 7:57 AM | |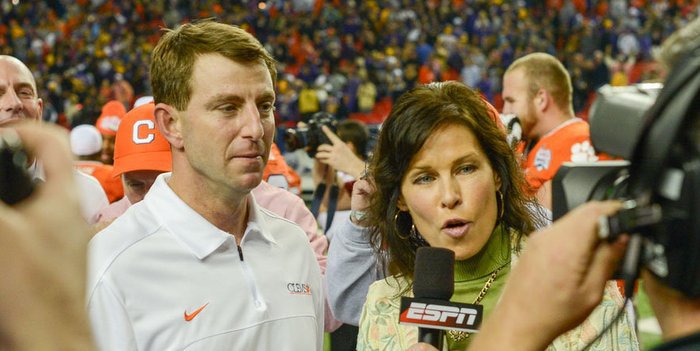 Clemson is a program on the rise – a trendy destination for the nation's top players as well as some of the best reporters in the business.
While 2016 prospects will sign their National Letters of Intent throughout the day Wednesday, ESPN and Jeannine Edwards will broadcast live from Clemson as the letters roll in and as the Clemson coaching staff waits to hear from some of the top prospects, including No. 1 Rashan Gary.
Edwards – who you might remember was picked up by a jubilant Dabo Swinney after the Tigers win over LSU in the Chick-fil-A Bowl – had her pick of assignments for National Signing Day. LSU? Florida State? Clemson?
Edwards told TigerNet Monday evening that she chose to come to Clemson because Swinney and the Tigers are building something special.
"There are a few reasons. There's a familiarity with the program and the players and the coaches and that makes it easy," Edwards told TigerNet. "It's a fun to place to be. It's a program on the rise. Do they have the nation's number one recruiting class? No, probably not, but they will have a top 10 class at the very least. I'm here to tell the stories and go behind the scenes and I couldn't think of a better place to be on Wednesday than right here."
What makes Clemson so special? It begins with Swinney and trickles down through the players, administration, students and fans.
"I think the program has been built with some energetic, experienced, quality coaches. I think it starts there. Coaches with a lot of energy and a lot of belief in the program," Edwards said. "They've recruited well and they've developed their players well. It speaks for itself when you see the product on the field and it also speaks for itself when you see so many guys leaving early and actually being drafted and being successful in the NFL. This is the real deal here. I don't exactly know how the attraction started because it had to start somewhere with getting good players to come and play here.
"I think it started with really good players that were coached very, very well and believed in the system and now you're getting great players to come here and play. You had some great players and now you have more great players coming. I think the foundation is here and it's solid and you've got some of the greatest fans in the country. Trust me, I've covered football games all over the country and the Clemson fans are in the top three in the country in their passion and their loyalty and their respect for their team, which I find really refreshing, and their respect for the other team, as well. It says a lot about the character of the people here."
Edwards is a mainstay on college sidelines and has traveled the country, but Clemson is where she will spend Signing Day because she said people love to see what's going on in the Upstate of South Carolina.
"I was here last year on Signing Day as well. It's indisputable what Dabo and his staff have been building here at Clemson and the results are showing on the field," she said. "Last year was a big year for them recruiting because they had lost so many guys, especially on defense. They had 10 guys that were drafted last season and this year they lose a bunch again - eight guys on defense are gone. There's no mistaking that Clemson is becoming a very fashionable program and they're a program that drives ratings. They're a program that people love to watch and like to talk about. I actually had a choice of assignments for Signing Day and I chose to come to Clemson. I love it here."
College football fans also love to see what Swinney has up his sleeve – whether it's showing the world his newest dance moves or celebrating by picking up the on the field reporter, what you see is what you get with Clemson's head coach.
"Absolutely. He's so genuine and he's so endearing. I think his endearing qualities sort of permeate the rest of the program," she said. "It's funny, I was on campus for the national championship game and I had the pleasure of speaking to Jim Clements, the university president, and he said Dabo has built this unmistakable, family atmosphere and it resonates because he is so genuine. He's so homey and folksy and his priorities are in order. It's family first and faith, and it trickles down from him and it resonates with the entire community. I find him to be that way.
"What you see is what you get with Dabo Swinney. He's also a little bit of an impulsive kind of guy. Last year he kind of threw together the party they had on Signing Day for the midyear guys. That was a last minute thing that he threw together the evening before. As he and I were talking, he was saying, 'Well, maybe I should do this or maybe we should do that,' and then he started telling his staff and making some phone calls and the next thing you know people are ordering catering and balloons. He's a man of many ideas but he's not just blowing smoke. If he has ideas he puts his ideas into action and implements them."
So what can fans expect from Edwards and the ESPN coverage?
"I think one of the priorities of the Signing Day coverage is to take the viewers behind the scenes and not only talk about the recruiting and the new class coming in, but kind of give the viewers - the people who are watching on Signing Day are eating, sleeping and breathing football and they love this recruiting process and they love to see anything that we can show them that they wouldn't normally see," she said. "I plan to go behind the scenes and check out the construction of the new football complex. Social media has become a big thing in recruiting so we're going to talk to those guys. We're going to do some behind the scenes interviews with some of the current players.
"We're going to talk to Dabo a couple of times. We're going to talk to him early in the morning. He's going to open the program for the boosters in the Paw and he's going to introduce the seven midyear guys that are already here and give them a little bit of a celebration since they aren't actually part of the Signing Day festivities, per-se. In terms of story lines, we're going to be talking about rebuilding again on defense, maybe a couple of the surprises in terms of the guys who decided to declare early and leave for the draft. We're going to be talking about the great pieces that they have coming back on offense, which is going to be a huge deal. We're going to be talking about where Rashan Gary ends up going. The No. 1 overall recruit is going to making his announcement during the day."
Should Clemson be the landing spot for Gary, Edwards said that college football fans may be in for a treat with Swinney's reaction.
"It's a very realistic possibility that he'll pick me up," she said. "I do think if that happens that Dabo may be dancing. He may be singing. He may pick me up. There's no telling."