| | |
| --- | --- |
| Morris says Price is the mold for future offensive linemen | |
---
| | |
| --- | --- |
| Wednesday, December 14, 2011 8:00 PM | |
CLEMSON – Offensive coordinator Chad Morris was asked Wednesday afternoon about the prospect for next year's offensive line, and he answered that he wishes they would all be like Phillip Price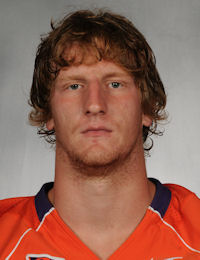 Phillip Price
RS Sr. Offensive Tackle
#79 6-5, 315
Dillon, SC
View Full Profile .
Morris spoke to the media following Wednesday's practice for the Orange Bowl, and one of the questions was in reference to getting practice time for the players who will be counted on to play the line next season, and Morris said he would like to see them all have a little Price in them.
"That guy is an anchor on that offensive line," Morris said of the fifth-year senior left tackle. "He is what you're after. He, Dalton [Freeman], Landon [Walker] - those guys have anchored that front. Phillip has meant so much to us because of where he came from, having to walk-on and earn everything that he got. When nobody gave him a chance, he battled through it. That shows so much about him and his drive and his character.
"You've got to love a guy who doesn't wear shoes and you have to tell him to put a shirt on. He may not take a bath. You've got to love a guy like that. That's what you want on your offense. You want guys that are mean, rugged and they just don't care. That's what we've got to get. That's our focus - we've got to get guys a lot tougher than where we are right now. That's my job. That's what we're going to do. From a mental standpoint, from a physical standpoint, from the weight room to conditioning, we've got to become more mentally tough in that regard, to be able to run the football more effectively."
Morris said he hopes those players use this extra practice time wisely.
"They've gotten a lot of reps this year in practice," he said. "These guys have got to come on. They've got to use these 15 days, plus the practices we had two weeks ago for the championship and they have to take it like another spring ball. You're almost going to get two full springs out of them. They've got to understand the importance of them coming on and being developed and get their technique right. It's something that's a huge concern. We've got to get these guys going."
He said he would be hard-pressed to name any of the players who would be ready to step in right now if needed.
"You've got to hope that Kalon [Davis] would come on," he said. "Kalon's got to be more physical. There are several others. It's hard to mention all of them right now, and which ones. Right now, I couldn't really tell you. If I started mentioning names, they might think they're starters or something and not work. I can promise you something. I will not be their best friend. It ain't happening. That's an area that we're addressing with these young guys. They've got to know, right now, the importance. They've got to use these 15 practices, plus spring ball, to get ready to go."
Other highlights from Morris
On his contract
"We did that Monday morning. I was out all last week. I knew that the details were being ironed out, as far as that. I know that coach [Dabo] Swinney, Terry Don [Phillips] and myself, it finalized was Monday morning."
On being highest-paid assistant coach
"I don't know about all that. I'm very honored this university has made a huge commitment, obviously. There were a lot of things going on, in the mix. As far as what's been done here, it's a great time to be a Tiger. This university has definitely made a huge commitment. You've got to respect that. We don't want to go anywhere. We're completely happy with Clemson. Our family is excited to be here, as well as I am."
On not having Mike Bellamy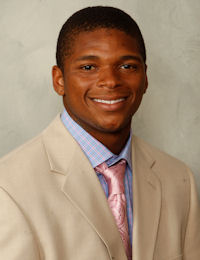 Mike Bellamy
Fr. Running Back
#5 5-10, 175
Nocatee, FL
View Full Profile in the Orange Bowl
"I think you've got to have them all ready to go. I think Tajh has got to become part of this. You saw that in the championship game. He ran the ball more effectively in the prior four weeks that he was running. When we were clicking early in the year he was doing that and that was something he's gotten away from. We really challenged him last week, to run the football. For this offense to roll and click like it needs to click, we've got to be able to run the football effectively. The quarterback running it, running backs, whoever. We've got to be able to involve the running game and get him involved in it."
On seeing Sammy Watkins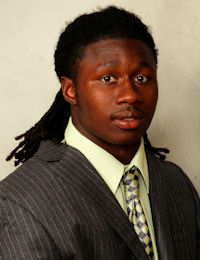 Sammy Watkins
Fr. Wide Receiver
#2 6-1, 200
Fort Myers, FL
View Full Profile in the running game
"I think you're going to see him involved in the running game. We've done that this year, to take some pressure off of our running backs, especially when Andre was out, when Andre was hurt. We're trying to incorporate Sammy a lot. He's got to be a threat."
On if he would be surprised if tight end Dwayne Allen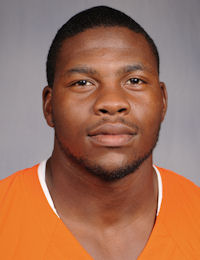 Dwayne Allen
RS Jr. Tight End
#83 6-3, 255
Fayetteville, NC
View Full Profile returned for his senior season
"Would I be surprised? Absolutely not. Dwayne is motivated by how can he help, what can he do to make things better. It wouldn't be a surprise either way. I've talked with him. I've shared, from my selfish standpoint, what I wanted. I want him to come back, because I know what kind of a player he can be. I hope he does what's best for him. But I hope he does what's best for this university, too. We'd love to have him back. I met with him today and reminded him of that. When I first got here, he asked me if I used the right end. I told him then I would make him the most versatile player in the country. I asked him today if I lied to him, and he said no."