| | |
| --- | --- |
| Morris expects Tigers to continue to boast a top tier offense | |
---
| | |
| --- | --- |
| Wednesday, July 16, 2014 11:35 AM | |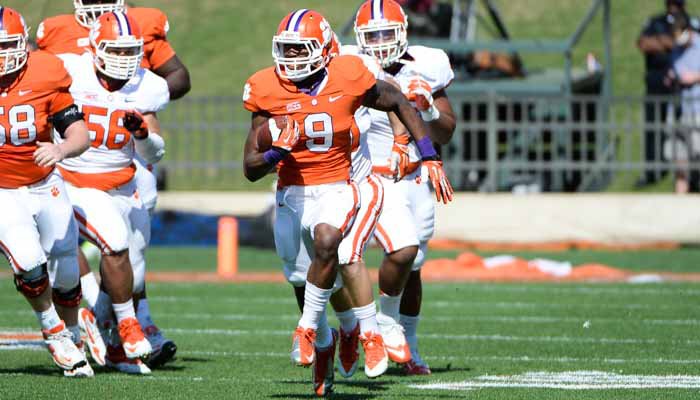 SUNSET, SC – Over the past three years, offensive coordinator Chad Morris

Chad Morris
Offensive Coordinator / QBs
View Full Profile has had the likes of Tajh Boyd

Tajh Boyd
Quarterback (2009 - 2013)
#10 6-1, 225
Hampton, VA
View Full Profile , Sammy Watkins

Sammy Watkins
Wide Receiver (2011 - 2013)
#2 6-1, 205
Fort Myers, FL
View Full Profile , Nuk Hopkins Andre Ellington

Andre Ellington
Running Back (2008 - 2012)
#23 5-10, 195
Moncks Corner, SC
View Full Profile and Roderick McDowell

Roderick McDowell
Running Back (2009 - 2013)
#25 5-9, 195
Sumter, SC
View Full Profile to carry the load on offense. However, with those playmakers gone, Chad Morris must determine the strengths of the 2014 Clemson offense and the best way to utilize those talents.
With the departure of all of those playmakers, the college football pundits expect Clemson to take a step backward on offense and for the defense to carry the team the 2014.
Don't tell Morris that.
"I know defensively we are going to be really good," Morris said Tuesday at Dabo Swinney

Dabo Swinney
Head Coach
View Full Profile 's annual golf outing at The Reserve at Lake Keowee. "Obviously, they have a lot of veteran guys back and you would hope that they will take on that responsibility. I'm going to be very disappointed in our guys if we're not one of the top offenses in the country. That's our expectation. That's what we do. All of the notoriety and publicity is going to the defense, as it should. We're kind of the unsung heroes right now. It kind of reminds me of the first year that I was here when the expectations weren't so high offensively - just score 26 points a game and everything will be great.
"Well, if it's 26 points a game, I'm going to be pretty ticked off, to be honest with you. I like the fact that we're in that kind of underdog role, because we've been that front dog - a lot of the talk with Tajh and Sammy. The challenge is to go out and prove that it hasn't been a two-man show. That's the big talk. I'm going to tell them that on day one, day two, day three. They've got a lot to prove because everybody in the country isn't giving you a lot of credit."
With a young group of wide receivers, a plethora of running backs and an experienced offensive line Morris hopes to transition to more of a run-first offense, or the 'smash-mouth spread' as he called it when he first burst onto the scene in 2011.
"From a running back standpoint, we're as deep depth-wise and as powerful as we've been since I've been here," Morris said. "We expect to run the football more. We want to run the football more, but we also are going to get the ball to our hot hand. If we'd have been running the ball more last year than we were passing it, then people would have been asking, 'You had Tajh Boyd and Sammy Watkins, how come you didn't throw it them?' I've spoken at several booster functions and they all ask why we didn't run the ball more.
"The great thing about what we do offensively is that we're going to evolve to the talent that we have. We expect to run the ball more. If you would've told me at this time last year that Hot Rod McDowell was going to be a thousand yard rusher, I would've told you that you're crazy, but what did we do? Rod McDowell became a thousand yard rusher. We want to carry that forward. We want to run the ball more and take more off the quarterback."
The running back corps will need to step up and fill the void left by Boyd – especially in third down situations – but don't expect to see a lot of differences in Morris' system.
"We're still going to run our quarterback," Morris said. "We anticipate Tyshon Dye

Tyshon Dye
RS Fr. Running Back
#23 6-1, 205
Elberton, GA
View Full Profile being a guy. Wayne Gallman

Wayne Gallman
RS Fr. Running Back
#9 6-1, 195
Loganville, GA
View Full Profile is as violent a runner as we've had. Had Tyshon not gotten hurt last year, he probably would've started for us. He's that 225 to 227 pound back. Zac Brooks

Zac Brooks
Jr. Running Back
#24 6-1, 185
Jonesboro, AR
View Full Profile is a guy that he's back healthy at 100-percent. We want to run the ball more with our running backs in critical situations, but we're going to be who we are. We're not going to change who we are. We're still going to be an aggressive play caller. We're still going to do what we do, but we're going to adapt to the strengths that we have."
A lot of the running game will depend on how well the offensive line can come together.
"It's hard to say right now. We've got some moving parts in there that need to materialize and really move forward," Morris said. "We've got to have a great fall camp. They had a good spring, but we really have to push the envelope in fall camp to get the continuity. Continuity is going to be the thing with those guys. With that happening, I hope that we're going to run the ball more and be more effective. We've got great running backs and we may not have a thousand yard rusher so we will be able to rotate the guys in. I do know this, that competition in the running back room because of the depth that we have has made the guys a lot more healthy than what they thought they were."