| | |
| --- | --- |
| Mid-year enrollees: Who will earn early playing time? | |
---
| | |
| --- | --- |
| Thursday, January 21, 2016 7:01 AM | |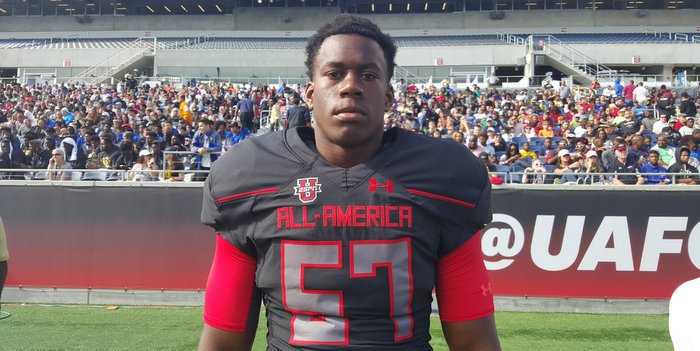 Ten players from the 2015 recruiting class arrived on Clemson's campus last January and a few turned early enrollment into early playing time. Which players from the 2016 recruiting class that are already on campus can do the same?
The Tigers have seven midyear enrollees already on campus with defensive end LaSamuel Davis, offensive lineman Tremayne Anchrum, linebacker Tre Lamar, defensive tackle Dexter Lawrence, defensive tackle Nyles Pinckney, offensive guard Sean Pollard and linebacker Rahshaun Smith.
Last January the Tigers welcomed quarterbacks Kelly Bryant and Tucker Israel, linebacker Chad Smith, offensive linemen Noah Green, Zach Giella, Jake Fruhmorgen and Mitch Hyatt, defensive backs Kaleb Chalmers and Van Smith and wide receiver Shadell Bell. Added to the list were greyshirt linebackers J.D. and Judah Davis and Jalen Williams.
Bryant saw action in eight games, completing 7-of-9 passes for 27 yards. He also carried the ball 23 times for 172 yards, including a 59-yarder at Miami in October. Israel suffered an injury early in camp and red-shirted.
Out of the linebackers, Chad Smith red-shirted. Judah Davis saw action in 13 games and recorded ten tackles, while J.D. saw action in eight games and recorded eight tackles. Williams played in all 15 games and recorded ten tackles.
Shadell Bell red-shirted, as did Chalmers. Smith played in 14 games, recorded an interception and had 19 tackles.
Out of the offensive linemen, Giella and Green both red-shirted while Hyatt and Fruhmorgen saw extensive playing time. Hyatt earned freshman All-American honors while starting all 15 games at perhaps the most important position on the offensive line – left tackle. Fruhmorgen is now in line to start at right tackle heading into the 2016 season.
So which of the mid-year guys will use spring practice as a springboard into early playing time?
Let's start with LaSamuel Davis. Davis was initially a 2015 commit but had to take the prep school route. Clemson took a bit hit with the losses of Shaq Lawson and Kevin Dodd to the NFL. Returning are Richard Yeargin, Austin Bryant, Clelin Ferrell (red-shirted), Chris Register and Dane Rogers. Xavier Kelly, a 2016 commit, already has enough weight to play defensive end and should be in during the summer.
Davis came out of high school in the 215-pound range but looked heavier recently. He has the size, length and speed to be a factor coming off the edge, and the spring will tell the tale of whether he plays next season.
The two offensive linemen are Tremayne Anchrum and Sean Pollard. The good news for Clemson is that offensive line will be a position of strength next season. Returning are Fruhmorgen, Hyatt. Tyrone Crowder and Jay Guillermo. Add in Taylor Hearn and Maverick Morris – who both saw significant snaps – and there is a lot of experience along the line. Justin Falcinelli, Zach Riggs, Green and Giella are all ready to provide depth while walk-on Logan Tisch can't be overlooked. That's 11 players who have either seen snaps or have red-shirted.
In an ideal situation, both Pollard and Anchrum would red-shirt but it will be interesting to see if Pollard winds up at tackle. If so, he has the size to provide depth at a spot where Clemson is a little thin.
Next up are the defensive tackles in Lawrence and Pinckney. Tackle is another spot where the Tigers have depth – Scott Pagano, Albert Huggins, Christian Wilkins, Carlos Watkins, Sterling Johnson, Gage Cervenka and Jabril Robinson have all either played or will be coming off of a redshirt and are eligible to play. In a normal situation, both Lawrence and Pinckney would redshirt, but Lawrence isn't a normal player. He has the size, speed and agility to be a game-changer at the tackle spot, and he has the ability to be disruptive from day one.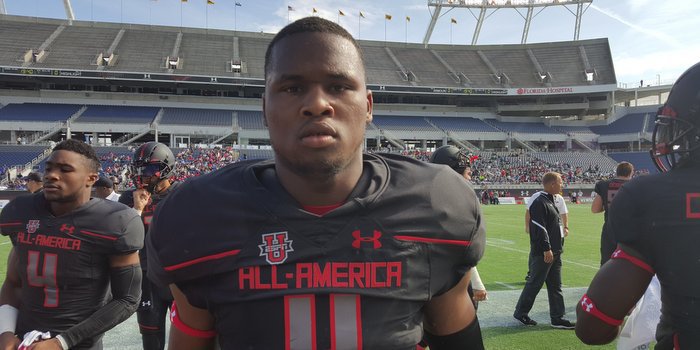 Give Lawrence an entire spring to digest Brent Venables' defense and he could see snaps early and often.
Finally, we go to linebackers Tre Lamar and Rahshaun Smith. The Tigers were thin at linebacker this past season, especially after Korie Rogers decided to quit football prior to the season. Gone is senior leader B.J. Goodson, but the Tigers return Ben Boulware, Kendall Joseph, Dorian O'Daniel and Williams as players who all saw action last season. Chad Smith redshirted and is currently sitting at 240 pounds and could be in a position for playing time early this season/
Lamar gained a fifth star from Rivals recently, and I came away from the Under Armour game in Orlando earlier this month extremely impressed with his motor, angles to the football and overall speed and physicality. If O'Daniel and Korrin Wiggins continue to battle at Nickel/SAM spot, expect Lamar to battle Joseph and Chad Smith for the MIKE spot.
Boulware will start at the WILL, but Rahshaun Smith and Jalen Williams will be in a battle for the backup spot from day one. Smith – like Lamar – is impressive physically and has all of the ability to play from day one. The only thing standing in his way are Boulware and the playbook.