| | |
| --- | --- |
| Meeting with Jeff Davis helps Watson with big decision | |
---
| | |
| --- | --- |
| Monday, November 25, 2013 5:43 PM | |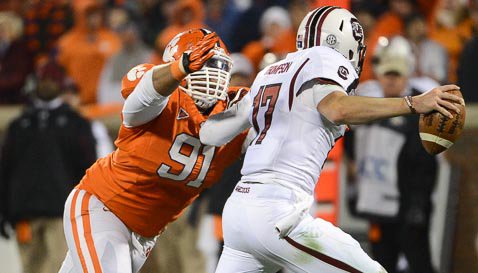 CLEMSON – Josh Watson

Josh Watson
RS Jr. Defensive Tackle
#91 6-4, 285
Wilmington, DE
View Full Profile always knew that the Clemson coaching staff appreciated his efforts, but a meeting with Jeff Davis last week let him know how much he would be missed.
The Delaware native announced early last week via Facebook that The Citadel game would be his last in Death Valley; however it didn't take too many discussions with Clemson coaches and his mother for him to realize that a change of heart was needed.
The coaching staff required Watson to meet with them before finalizing his decision, and he said it was during those meetings that he realized that the coaches really cared about him not just as a player, but as a person.
"I had to meet with all of the coaching staff because they weren't going to let me go that easy," Watson said Monday in the WestZone. "I probably met with about seven of them in a week's span. Who really changed my mind was Jeff Davis, a man who really cares about us on a personal level. Whether I was going to stay or leave, he was going to be by my side and support me."
However, their support really hit home when defensive coordinator Brent Venables

Brent Venables
Defensive Coordinator / Linebackers
View Full Profile told Watson that he might cry on the field before last Saturday's game against The Citadel.
"It was more of standpoint of where I was going in my life. They were just caring about me and they really do respect me," Watson said. "That felt good. It was funny because on the field before the game, Coach V was telling me that it was an honor that he got to coach me. And I told him, 'Coach, I'm staying.' He looked back at me and said, 'What?' He said his hair on the back of his neck stood up and he thought he might cry before the game. That felt good to hear that it will be appreciated that I'm coming back next year to help a lot of the young guys out as I have before."
After talking with the coaches, Watson realized that his job at Clemson – both on and off the field – was far from complete as he continues to mentor younger players entering the program.
"I've got a few projects that I'm working on right now with Kevin Dodd

Kevin Dodd
So. Defensive Tackle
#98 6-4, 280
Taylors, SC
View Full Profile and Scott Pagano

Scott Pagano
Fr. Defensive Tackle
#56 6-4, 280
Honolulu, HI
View Full Profile ," Watson said. "I'm kind of taking them underneath my wing and helping them get better in the weight room and on the field. I'm looking forward to do that with more of the guys. "
Watson, who will graduate in December, initially decided that his career at Clemson had come to an end because he was mentally and physically burnt out from the rigors that come from being a full-time student athlete.
"A lot of people forget that I went to Hargrave right out of high school and that's a semester before college and then four years in college that is just a beating taken on my body," Watson said. "And, not a lot of people know, but we are right back at it January right after the bowl game. So, just beating up my body, I didn't really get a chance to go home throughout my college career because I live so far away. I'm always in there working out and I probably overworked myself and burnt myself out on both ends. It's important to take a lot of rest when you get a chance and I wasn't doing that, so my body suffered the consequences and mentally as well. I was just a little bit tired of it, but I'm now."
However it was only a matter of days before his mother talked him out of his decision and he had a change of heart.
"I think my mom probably thought I was crazy," Watson said. "She kind of was a big part of the decision for me to stay as well. She was proud of me either way. Whatever I was going to do, she was going to help me however she could to help me as I tried to go to the next level or whatnot. As a mother, she knows best. She kind of kicked my butt in the right direction, as well."
Watson stayed in Clemson all of last summer and worked out everyday, not giving his mind and body time to recuperate, but now that he is graduating his load with decrease dramatically.
"It's more of a 50-50 split with school and just football beating up the body," Watson said. "Not a lot of people realize what a grind it is just being here. It's a 365 day a year job. If don't take your breaks, you're going to get burnt out fast. I'm graduating in a couple of weeks so that takes a lot of pressure off from the school aspect and then I can just focus on getting my body healthy and rehabbing."
Watson – who will have back surgery in January – will still submit his paperwork to the NFL, but this offseason will spent getting healthy and trying to take that much needed break.
"Obviously, I'm going to turn it in and get feedback," Watson said. "The number one goal with me coming back next year is to get healthy. The surgery will probably keep me out about two months. That will give me time to rest and clear my mind. I don't think I'll have to do All-In Drills so that's always a good thing. I'll be back for spring ball."