| | |
| --- | --- |
| McKinzy blown away by Clemson visit | |
---
| | |
| --- | --- |
| Sunday, January 22, 2012, 6:08 PM | |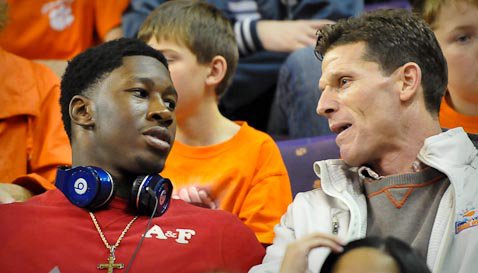 Cassanova McKinzy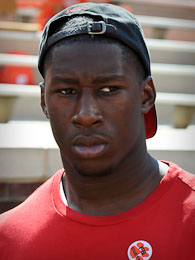 Cassanova McKinzy
Linebacker
6'3, 230
Birmingham, AL
View Full Profile told TigerNet Sunday afternoon that his visit to Clemson this past weekend was different than any he had ever taken.
The Woodlawn (Birmingham) Alabama linebacker and Auburn commit was in Clemson over the weekend for an official visit, and he spent most of his time with new defensive coordinator Brent Venables. He said spending time with Venables and current players made this visit one that stood out to him.
"It was good. Really good," the 4-start recruit said of the visit. "I really enjoyed myself. For the first time on a visit, I went somewhere and actually paid attention to what they were saying. I didn't just sit back and watch and try to observe everything. I was a part of it."
McKinzy and Venables were able to spend a good bit of time together, and the two could be seen talking football during Saturday's basketball game against Georgia Tech. McKinzy said he and Venables talked about a lot of different topics.
"He is real cool, really down to earth," he said. "We sat there at the basketball game and we talked football. He has coached some really good players, and a couple of Butkus Award finalists. One thing about him – he won't hold back. He won't tell you what you just want to hear. He will tell you your downfalls and everything. He was talking about his defense and he said it was plain and simple. He said it was easy to learn, but it works. He said if something keeps working, then do it."
McKinzy said he and Venables actually spent a good bit of time together.
"We just talked football the whole time, and I was around him most of the time," he said.
He said another highlight of the trip was hanging out with some of Clemson's current players.
"All of it was good, but another favorite part was just hanging out with the players," he said. "I hung out with Tajh [Boyd] and Sammy [Watkins] and Corico [Hawkins]. Those are some good players, and they are really focused. They have a lot of dedication. You can tell they do things the right way."
McKinzy also spent time with head coach Dabo Swinney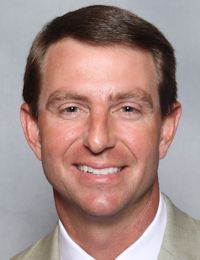 Dabo Swinney
Head Coach
View Full Profile .
"He is in it [coaching] for the right reasons," McKinzy said. "I have never seen a coach that would coach Little League baseball and still try and coach a major program. He is just a normal guy. You won't see most coaches doing stuff like that. He sat me down and gave me the basics and let me know what a linebacker my size can do in the ACC. He said I would be pretty much unstoppable. We talked about a lot of stuff."
McKinzy said he was going to keep mum on his decision – whether to stay committed to Auburn or announce he was looking elsewhere – until he had a chance to talk to his high school coach on Monday.
"I just don't want to say anything right now," he said. "Nothing. I want to talk to my coach first."
Swinney is scheduled to visit McKinzy this week, as are Auburn's coaches.
During his senior season, he tallied 113 tackles with 21 for loss and one sack. As a junior, he had 123 tackles including 19 for a loss.
Some of his other offers include Alabama, Arkansas, Arkansas State, Auburn, Clemson, Florida State, Kansas and and UAB.