| | |
| --- | --- |
| McDowell wants the "last hoorah" to be loud and clear | |
---
| | |
| --- | --- |
| Saturday, August 3, 2013 11:27 AM | |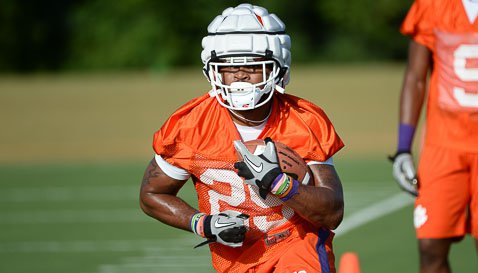 CLEMSON- This is the last hoorah for senior running back Roderick McDowell and he intends for his group of running backs to compete and contribute every day.
McDowell has played behind the likes of C.J. Spiller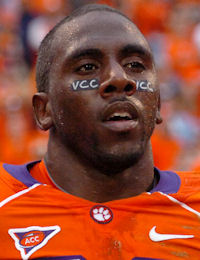 C.J. Spiller
Pro Running Back
#28 5-11, 195
Lake Butler, FL
View Full Profile , Jamie Harper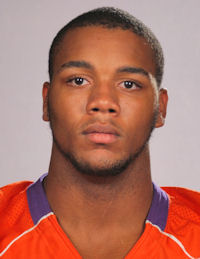 Jamie Harper
Running Back
#8 6-0, 235
Jacksonville, FL
View Full Profile and Andre Ellington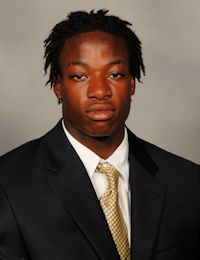 Andre Ellington
Running Back
#23 5-10, 195
Moncks Corner, SC
View Full Profile during his time at Clemson; however, he isn't going out to prove anything to anyone but himself.
After the Tigers' first day of fall camp, McDowell said that nobody can push him harder than he pushes himself.
"My mentality is that this is it. This is the last go-round," McDowell said after Friday's practice. "I just have to have fun and compete 24-7. My mindset is that I'm not the starter. I'm just a player who is hungry to compete. I challenge myself 24-7. Nobody has to challenge me because I challenge myself to be the best running back in the country."
McDowell knows that he will be an effective ball carrier, but if he wants to take his game to the next level, he needs to prove himself as a protector.
"As a running back, you know you can run the ball, but if you can't protect your quarterback, nobody at the next level is going to want you," he said. "If I go out there and help my offensive line and my quarterback with pass protection and running the ball, then I feel like I'm a complete running back."
The key for McDowell is learning to play like the 200-pound back that he has become.
"There are a couple things that I need to improve," he said. "I don't need to be scared when people say that, ' Roderick McDowell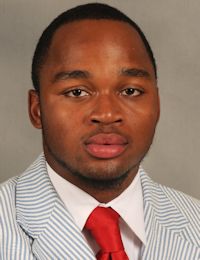 Roderick McDowell
Gr. Running Back
#25 5-9, 195
Sumter, SC
View Full Profile , you can't do that because you are a smaller back.' I'm 200 pounds now and I need to play like that when I'm running the ball and pass protecting, which I'm working on right now."
However, with the help of position coach Tony Elliott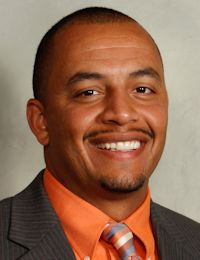 Tony Elliott
Assistant Coach / Running Backs
View Full Profile and the offensive line, he knows that improvement will occur.
"My pass protection was pretty good, but it can get better and it's going to get better," he said. "With Coach Elliott and the offensive line and our scheme, I feel like I can take my pass protection to the next level. I know people see me as a small back who can't stick his nose in there and pass protect, but I think that I can do anything a bigger back can do."
McDowell knows that there are those that doubt him and this group of running backs, but they are just focused on competing each and every day.
"We are running backs. We aren't going out there to prove anybody wrong or have the big name guy," McDowell said. "It doesn't really matter. Everyone is going to go out and contribute. Whether it's Zac [Brooks], D.J. [Howard] or me we are going to go in there and compete."
McDowell said that each running back brings something different to the table.
Brooks- a sophomore who carried the ball 26 times for 119 yards- is vying for playing time after putting on weight during the summer.
"Zac put on some weight as far his benching. He made it known that he wants to get some playing time," McDowell said. "He's really pushing for playing time by getting his weight up there. I can really respect a dude like that because he comes to work no matter what it is."
McDowell said that he and Howard work well together and are interchangeable in the lineup.
"D.J. is my right hand man. We are like Thing One and Thing Two," McDowell said. "No matter what happens, we just roll with it. I call him 'Thunder' and he calls me 'Lightning'. I know that if I come out, he's got me and he comes out, I've got him. That's how me and D.J. work."
According to McDowell, freshman Tyshon Dye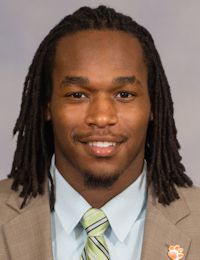 Tyshon Dye
Fr. Running Back
#23 6-1, 205
Elberton, GA
View Full Profile 's biggest upside is his ability to pass protect.
"Ty- that's a big boy for a freshman. One thing I noticed about him is that he prides himself on pass protection," McDowell said. "You are that big and a freshman and you are that good at pass protection. One thing that I like about him is that he is not one of those big backs that's just going to run you over. He's going to put a couple of moves on you."
Another freshman, Wayne Gallman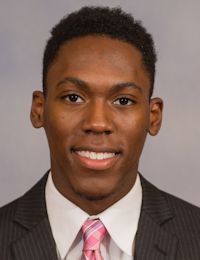 Wayne Gallman
Fr. Running Back
#9 6-1, 195
Loganville, GA
View Full Profile , is tall, lanky and very capable of making defenders miss.
"Wayne is shifty and tall. I know for a fact that he is going to contribute for a long time down the line," McDowell said.
However, the biggest surprise in this group of running backs might just be speedy, walk-on C.J. Davidson

C.J. Davidson
RS So. Defensive Back
#32 5-11, 185
Clemson, SC
View Full Profile from Daniel High School.
"C.J. is very quick. He's loves to learn," McDowell said. "He is very patient and he wants to hit it and get it. He has a gear that he can take it from third or fourth really quick."