| | |
| --- | --- |
| McCullough earns trust, increased playing time by doing the dirty work | |
---
| | |
| --- | --- |
| Saturday, September 13, 2014 8:01 AM | |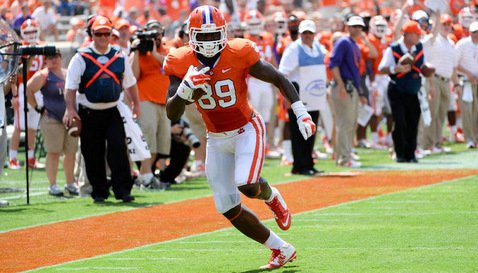 CLEMSON – Much of the talk surrounding the tight end position at Clemson during fall camp centered on the blocking of senior Sam Cooper

Sam Cooper
RS Sr. Tight End
#86 6-6, 250
Brentwood, TN
View Full Profile , the catching ability of junior Stanton Seckinger

Stanton Seckinger
RS Jr. Tight End
#81 6-4, 241
Isle of Palms, SC
View Full Profile and the all-around talent of sophomore Jordan Leggett

Jordan Leggett
So. Tight End
#16 6-5, 251
Navarre, FL
View Full Profile .
Sophomore Jay Jay McCullough

Jay Jay McCullough
RS So. Tight End
#89 6-3, 248
Fort Mill, SC
View Full Profile hopes to be a little bit of all three, and should see increased playing time as the season progresses. McCullough was on the field during crunch time against Georgia, and he played a major role in Saturday's win over South Carolina St.
McCullough told TigerNet earlier this week that it's all about trust, and the coaches have told him he has earned the playing time.
"I actually got that confirmation from the coaches," McCullough said. "Coach (Dabo) Swinney and Coach (Chad) Morris said that a year or two years ago they wouldn't trust me to run that route or get that touchdown or get those key blocks. I feel like it is coming along really well. I had to make that transformation from running back to tight end. I was never focused on blocking or doing those types thing. But Coach(Danny) Pearman is a good coach and he knows what he is talking about, and we work on that a lot at practice."
McCullough said that while he used to focus on the glory of catching the football, he now realizes there is glory in doing the dirty work as well.
"At first I used to like catching rather than blocking, but now that I am seeing how to do it and how to strike, it is equal now. Either job," he said. "If they want me to go in there and block I am excited to do it, if they want me to go run a route I am excited to go do it."
He then said that he is comfortable blocking defensive ends and linebackers, and he thinks that is what has led to his increased playing time.
"It has been equal, because different teams have different kinds of defensive fronts," McCullough said. "They teach us how to take on blitzes and that kind of thing. It is pretty equal - blocking defensive ends or linebackers. As long as you have good technique and know what you are doing, everything levels out.
"If they can trust me with the blocking, they can trust me with running routes. Because running routes and catching balls - that's the easy part. Most people would say that is the easy part and blocking is the challenging part. If you can get in there and use the right technique and footwork everything else will come along."
The payoff came last Saturday when he was on the receiving end of a beautiful 34-yard pass from freshman quarterback Deshaun Watson

Deshaun Watson
Fr. Quarterback
#4 6-3, 204
Gainesville, GA
View Full Profile , a catch that ended in a touchdown and his first score as a Tiger.
"When I turned around and looked up, I was surprised to see the ball coming. But I was glad," McCullough said with a huge smile. "Let's go ahead and get my first touchdown out of the way now. I think I had a defensive end or linebacker running with me at first, and when I first started my route he almost pushed me out of bounds. But I managed to stay on my route and Deshaun put it in there perfectly. He put it in my stride and I didn't have to slow down. He put it in the perfect spot. I have been waiting to score, because I haven't scored since high school. To get that first one was pretty special."