| | |
| --- | --- |
| Mac Lain, Tigers like underdog role | |
---
| | |
| --- | --- |
| Saturday, December 19, 2015, 11:25 AM | |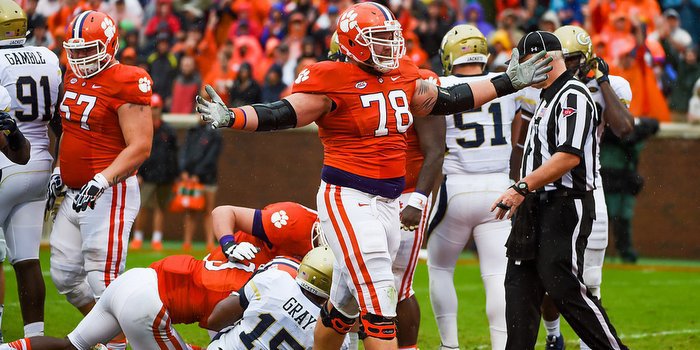 Clemson is undefeated through 13 games for the first time in program history and has a chance to become the first 15-0 team in college football history. It is ranked No. 1 and has been in each of the College Football Playoff rankings. And it won its first ACC title since 2011.
Yet, the Tigers are underdogs against the Oklahoma Sooners in the Orange Bowl with the winner advancing to the national championship game. That's just fine by senior offensive lineman Eric Mac Lain and the Tigers.
"We love it. Being the underdog is a great thing," Mac Lain said. "We love that there is all that added pressure on them, not too much on us. If they lose the game, 'What the heck? This is the weakest team in the playoffs,' apparently with us. So we're really excited about that."
Clemson has won 16 straight games, and one of those was a 40-6 win over Oklahoma last season in the Russell Athletic Bowl.
The Sooners are 11-1 this season and have won seven straight games since a 24-17 loss to Texas in October.
"This is their whole revenge-score type deal," Mac Lain said. "They have beaten five, or four, of the past people that have beaten them the previous year. So there is probably a little bit of outside pressure on them and no pressure on us. We've really taken that 'next game' mentality all the way up to this. We really understand this is a playoff, but at the end of the day, it's just another game."
There is one big difference for Clemson between this year's meeting and last year's. Tigers quarterback Deshaun Watson didn't play in that game after having knee surgery, and he was replaced by senior Cole Stoudt.
Stoudt had a big game, completing 26-of-36 passes for 319 yards and rushing for a fourth score.
"We had a great scheme for Cole, but that was something maybe Deshaun wouldn't have been able to do," Mac Lain said. "They're different people, and I think throughout the season, Cole didn't get too fair of a shake with some of the things we asked him to do just because he's not that type of player. Him and Deshaun are two different quarterbacks, two different athletes, so you can't really expect them to do the same things. I think we just had a great plan for him, and the results showed so."
The Tigers rushed for only 68 yards in that game on 42 attempts, but Mac Lain said that was more about what the Sooners were giving the Tigers and not what the Tigers weren't able to do.
"I don't know if it's that we struggled or that we just didn't try to run the ball as much as we have this year," he said. "They were just giving us the quick game, and Cole was excellent throwing those quick balls, so we didn't need to run it. I don't think that we tried to run, and that's something these coordinators are great at. They take what they give you. They don't try to force anything, so it's been special."
Oklahoma has allowed 4,208 yards this season, an average of 350.7 yards per game, and 20.8 points per game.
Dominique Alexander leads the Sooners with 91 tackles, followed by Jordan Evans with 79, Ahmad Thomas with 68 and Eric Striker with 61.
"It's really the same team," Mac Lain said. "Maybe they bring a little more pressure than last year, but really it's the same guys. They have incredible personnel. Obviously, Striker, No. 19, is a heck of a leader, a heck of an athlete. I'm really looking forward to going against him again. Just really their whole front is going to give us challenges. That odd (front) is difficult to target and try and pick up different blitzes and stuff, but we'll be ready."
The Clemson offense has been ready for just about everything it has faced this season, and that starts with strong play by a line that was maligned during the preseason.
The Tigers have 2,888 rushing yards, including 1,332 from Wayne Gallman and 887 from Watson. Watson has 11 touchdowns while Gallman has 10.
"When you can do that with an offensive line that's not that good, we're doing something right," Mac Lain joked. "It's been great. Obviously, Wayne and Deshaun are running the ball extremely hard and extremely smart. Deshaun is taking what the defense is giving him, and it's been special."
Mac Lain was told that Gallman said he needs to take his linemen to dinner some time, and Mac Lain is ready, no matter where that dinner comes from.
"Unfortunately, Wayne is in college and couldn't afford to take the offensive line to dinner," Mac Lain said with a laugh. "Unless, we're going to McDonald's, we can just get a rain check on that when he gets to the NFL. Whatever you can give us. The best is the standard around here, so if that's all he can do, that's all you can ask for."
The Tigers have surrendered just 14 sacks, and five times this season, their opponents have had zero sacks, including the past three games.
Mac Lain joked that not all of those have come against the offensive line.
"It's actually five games, and (for) a sack on the offensive, line it's probably about eight," Mac Lain said with a laugh. "It's a great testimony to us and Deshaun. He's done a heck of a job being able to see where the pressure is coming from to whether he's throwing it quick and getting it out there or running away from it, it's not just us. He has a huge deal with that, so it's been great.
"When we have him back there, it really doesn't matter who we play. We're confident that he's going to make plays and put us in the best situation to win."
That confidence has been there the entire season, and Mac Lain said players started to notice how special this season could be about halfway through the season.
"Midway through, that's when a lot of guys starting realizing that," Mac Lain said. "We have a senior meeting room that we go to every Monday, maybe every Friday, or so, and there's two (former Clemson) teams up there, 11-0 and 12-0, and last week, we finally surpassed them for most wins in a season with 13-0, and I keep stressing to them, 'Guys, this is our time to be legendary. This is what this season is all about.' And I think they full realize that."
Daniel Shirley is the sports editor of The Telegraph in Macon, Ga., and co-host of The Morning Show on FoxSports 1670 AM. Follow him on Twitter at @DM_Shirley and read his blog at macon.com/peachsports.