| | |
| --- | --- |
| Last in the ACC? Don't bet on it | |
---
| | |
| --- | --- |
| Sunday, May 4, 2014 10:18 AM | |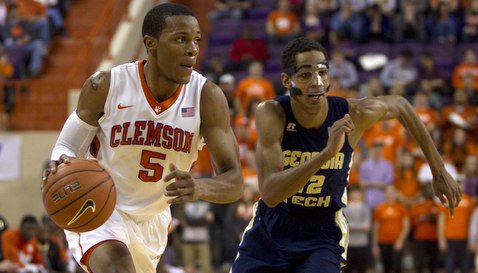 One ACC media member has already penciled in Clemson as the cellar-dweller for the 2014-15 Atlantic Coast Conference men's basketball season.
Didn't they learn anything last season?
The ACC media picked the Tigers to finish 14th in the league a year ago, but Clemson wound up finishing sixth during the regular season. Last week, a columnist in North Carolina said the Tigers will miss K.J. McDaniels

K.J. McDaniels
Jr. Forward
#32 6-6, 200
Birmingham, AL
View Full Profile and finish last. Here is what News Herald columnist Paul Schenkel had to say about the Tigers' prospects for the 2014-15 season.
"Losing KJ McDaniels may precipitate Brad Brownell

Brad Brownell
Head Coach
View Full Profile 's departure at Clemson. He did wonders with the Tigers last year, but McDaniels cured a lot of ills that the rest of a paltry roster created. "
Last year, Schenkel also picked Clemson dead last, and many in the ACC media will probably once again have the Tigers near the bottom of the standings.
In the words of Lee Corso, however: Not so fast.
Clemson head coach Brad Brownell has proven that he can coach, and athletic director Dan Radakovich is already looking at ways to restructure Brownell's contract. The Tigers return all but McDaniels from last year's team, and have help on the way.
"I feel very good about where our program's heading, what we're doing and who we have returning," Brownell said.
The Brownell signed Parade All-American guard Gabe DeVoe

Gabe DeVoe
Fr. Guard
# 6-4, 195
Shelby, NC
View Full Profile and 6-foot-8 Donte Grantham

Donte Grantham
Fr. Forward
# 6-7, 200
Martinsburg, WV
View Full Profile , and will have redshirt freshman Patrick Rooks

Patrick Rooks
Fr. Guard
#4 6-2, 185
Charlotte, NC
View Full Profile available after he missed all of last season due to injury.
Also returning are Rod Hall

Rod Hall
Jr. Guard
#4 6-1, 210
Augusta, GA
View Full Profile , Jaron Blossomgame

Jaron Blossomgame
RS Fr. Forward
#5 6-7, 215
Alpharetta, GA
View Full Profile , Damarcus Harrison

Damarcus Harrison
Jr. Guard
#21 6-4, 200
Greenwood, SC
View Full Profile and Landry Nnoko

Landry Nnoko
So. Center
#35 6-10, 245
Montverde, FL
View Full Profile , who each played significant minutes last season.
Hall got hot down the stretch, and proved that he could be a reliable scoring threat – he was the Tigers leading scorer four times in their final 12 games after doing it just once in the first 24. Harrison, a BYU transfer, also grew into a scoring threat and had the team's second-most 3-pointers (36) behind McDaniels' 42.
However, the biggest upside could belong to Nnoko, a solid, 255-pound post player from Cameroon. Nnoko finished second to McDaniels in blocks with 69 and rebounding average at 6.2 per game. He also developed accuracy near the hoop, leading the Tigers in field goal percentage at .548 (92 of 168).
Brownell said he is excited about Nnoko's potential, and thinks he could develop into one of the ACC's premier post players.
"Landry made great strides," Brownell said. "I'm unbelievably pleased with the steps he made, and I thought he had a good sophomore season. We saw his confidence continue to grow."
Nnoko scored in double figures in five of the Tigers' final 11 games, and Brownell said he wasn't surprised by Nnoko's emergence.
"I said this last year, but I don't think anybody believed me: that we had a lot more confidence in our post players than most people knew," Brownell said. "They were better than (most) guys who only got to play five or six minutes (as freshmen). They were just playing behind guys who were good players, and those guys were better.
" Devin Booker

Devin Booker
Sr. Forward
#31 6-8, 250
Whitmire, SC
View Full Profile was a lot better than Landry as a freshman, and Landry wasn't nearly as good as he is now. That's to be expected for young players, especially big guys. Big guys just take time.
"People think that you need to have them in there doing all the game stuff, but not has much. If they're practicing every day against good players --- if Landry's playing every day against Devin Booker --- then he's getting better. If he can score in practice against Devin, and if he can get rebounds, then he's going to be fine."
However, Nnoko will have to continue to improve.
"We felt that he'd come in (last season) and defend and rebound pretty well," Brownell said. "Now, I'd like to see those rebounds go up just a little, and obviously he's got to continue to improve his back-to-the-basket scoring. He needs to become more comfortable and more fluid. He improved this year a lot, and I would anticipate that he will continue to improve."
Another player that Brownell expects to see make strides during the off-season is swingman Austin Ajukwa

Austin Ajukwa
Fr. Guard
#1 6-5, 190
Columbia, SC
View Full Profile .
"I think Austin is a guy who could take another step, and needs to take a big step," Brownell said. "He's a talented kid in terms of athleticism, and he has a pretty good skill set. He has good confidence offensively in his abilities."
Ajukwa, a Columbia, S.C. Cardinal Newman High product, averaged 7.5 minutes per game as a freshman, and contributed several key three-pointers over the course of the season.
"Austin needs toughness and strength, and he needs to really compete at a high level all the time, just to bring it out of him," Brownell said. "I think there's some talent there that you really like to see as a coach. There's an up-side there that if he can get it going in the right direction for a while, he has a chance to make a big step. We're optimistic with that."
Will the Tigers miss McDaniels? Absolutely. But with developing post players and a year's worth of experience for the backcourt players, the Tigers simply aren't last place material, despite how much the media in North Carolina wants it to happen.

Tags:
Austin Ajukwa
,
Brad Brownell
,
Damarcus Harrison
,
Devin Booker
,
Donte Grantham
,
Gabe DeVoe
,
Jaron Blossomgame
,
K.J. McDaniels
,
Landry Nnoko
,
Patrick Rooks
,
Rod Hall