| | |
| --- | --- |
| Korn to Graduate and Then Transfer | |
---
| | |
| --- | --- |
| Wednesday, December 9, 2009 11:29 AM | |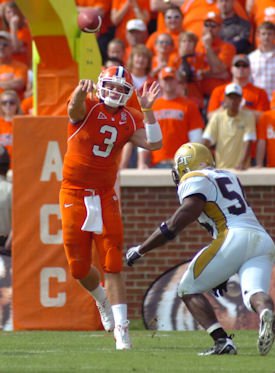 Clemson, SC—Clemson red-shirt sophomore quarterback Willy Korn announced Wednesday that he intends to graduate from Clemson in May of 2010, then transfer to another institution. Korn will have two years of eligibility remaining.
"I have truly enjoyed my experience at Clemson University," said Korn. "I was very blessed and fortunate to have had the opportunity to play football and go to school here.
"The relationships I have built with my teammates will last the rest of my life. Things didn't work out for me on the football field the way I had hoped. However, with two years of eligibility remaining, I really want to go where I can contribute as a starter. So, I plan to transfer to another school in hopes of earning the starting quarterback position."
Korn will continue to practice with the team and be available to play in the Music City Bowl against Kentucky. He intends to stay at Clemson until May when he will earn his undergraduate degree in communications studies.
Korn played in each of the last three seasons for the Tigers. He played in two of the first three games in 2007 and completed 8-11 passes for 100 yards and a touchdown. But he suffered an injury and was granted an injury hardship year.
In 2008, he played in six games, including one start and completed 26-38 passes for 216 yards and a touchdown. He started Dabo Swinney's first game as head coach against Georgia Tech.
This season he has played in six games and completed 12-17 passes for 90 yards and a touchdown.
For his three years with the program he has completed 46-66 passes for 406 yards and three touchdowns. He has a 69.7 percent completion percentage, and a passing efficiency of 130.3. He has also rushed for three touchdowns in his Clemson career.
"Willy Korn has set a great example for every student-athlete in our program," said Clemson Head Coach Dabo Swinney. "He has represented this institution in a positive manner in everything he has done the last three years. That includes his work ethic in practice and in games, and the way he has carried himself around his teammates and as a student.
"We met near the end of the season and obviously he wants to transfer to a school where he can be the starter. I understand his decision.
"I know he intends to remain in Clemson for the second semester and earn his degree. He will be an outstanding representative of this university for years to come."