| | |
| --- | --- |
| K.J. McDaniels: Flight 32 back in Clemson | |
---
| | |
| --- | --- |
| Monday, February 16, 2015 3:49 PM | |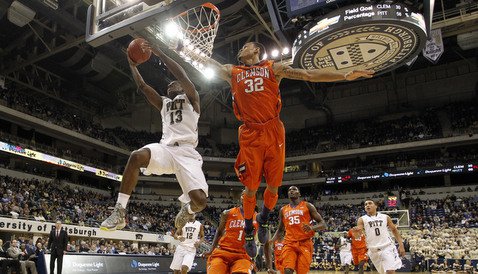 CLEMSON – Flight 32 was back in Clemson Saturday afternoon, and while he couldn't suit up for the Tigers in the win over Virginia Tech, K.J. McDaniels

K.J. McDaniels
Guard
# 6-6, 200
Birmingham, AL
View Full Profile

K.J. McDaniels
Jr. Forward
#32 6-6, 200
Birmingham, AL
View Full Profile had fun just being back in Littlejohn Coliseum.
McDaniels was selected by the Philadelphia 76ers as the 32nd overall pick of last year's NBA draft. However, McDaniels turned down a four year contract, the first two years of which were guaranteed above the minimum, the latter two non-guaranteed at the minimum, in favor of a one year deal non-guaranteed at the minimum. Once McDaniels' contract expires, he will still be under team control for at least two more seasons as a restricted free agent. The restricted tag means that McDaniels can either resign with the Sixers or tender a contract with any other team in the league and give the Sixers the chance to match it.
McDaniels' bet is paying off – he is averaging 9.2 points per game, 3.8 rebounds per game and has had several highlight reel plays that have kept social media buzzing.
During the NBA All-Star break, McDaniels returned to Clemson and told TigerNet what his first few months in the NBA have been like, especially for a team that has struggled to put wins together.
"It's been great. It's been a journey for me," McDaniels said. "It's just a learning process for me and I've been going in there and trying to get better every day. No one wants to lose. You win some and you lose some. But we are all learning and we are trying to get better every day and trying to help each other and learn the NBA and get adjusted to it."
The biggest adjustment? Travel.
"Probably the travel. There are a lot of back-to-back games and there has been a lot of back-and-forth," he said. "But it's been fun. It's all new and I think I could get used to it. Physically I am good, even though it will bear down on you. Just knowing what to do and taking care of your body and getting the right treatment, which is something else that I am learning."
McDaniels said that the All-Star break was a time to reconnect with his family and prepare for the season's second half.
"I will be with my family most of the time over the break," he said. "I will just be working and getting up a lot of shots. Just getting ready for the second half of the season. "
His high-flying acrobatics earned him an invite to the Slam Dunk contest, but he turned it down.
"I felt like I would have been invited, and that happened," McDaniels said. "But I felt like this year wasn't my year to go out there and do it. I am still getting adjusted to everything. But somewhere down the line I will probably try to enter one. But they have some great dunkers in there now."
He then said that the Sixers' coaches have told him to concentrate on improving the other parts of his game.
"They show me a lot of film on decision making and the types of shots that I take," he said. "They work on me finding the open man and just being a better all-around player."
Prior to the break, however, McDaniels turned in one of the best plays of the year when he threw a pass off the backboard to himself for a dunk.
"It was an adrenaline play, but it was also a birthday gift to my little brother," McDaniels said with a smile. "It was just something that just happened. It was open and it was something that I just had to do."
As the second half of the season beckons, he said he will work even harder to improve his all-around game.
"I am going to finish out the year strong just because of the person I am and how much work I put in," he said. "I have no choice but to go out there and work hard and try to get ready for the summer coming up and the second half. I am just trying to get better as a player. I just have to stay humble and keep working."