| | |
| --- | --- |
| Johnson commits to Clemson, finishes 2015 recruiting class | |
---
| | |
| --- | --- |
| Wednesday, May 20, 2015, 9:12 AM | |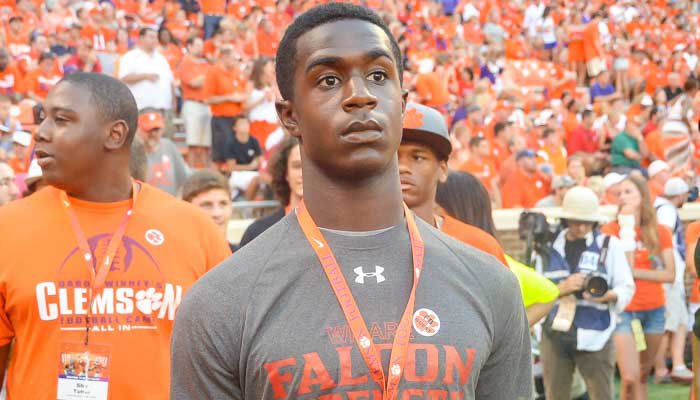 Clemson's 2015 recruiting class is finally complete, a full three months after National Signing Day, with the addition of Denzel Johnson.
The 3-star athlete out of Columbia (SC) A.C. Flora made his commitment official at his school Wednesday morning, becoming the 26th and final member of the Tigers' 2015 class.
He had offers from Clemson, Georgia Southern, Georgia State, Liberty, Louisville, North Carolina State, Old Dominion, South Carolina State, Towson and UMass.
Clemson head coach Dabo Swinney

Dabo Swinney
Head Coach
View Full Profile had been personally recruiting Johnson since Swinney saw Johnson play against Daniel in last year's playoffs, and Johnson told TigerNet Tuesday evening that he has known for over a month that Clemson was his destination and that Swinney was a big part of that decision.
"I figured it out about a month ago. When I went on my official visit, everything was amazing and even better than what I thought," Johnson said. "All I can say is that it's a blessing. I feel honored that Dabo Swinney is my recruiter. I've gotten to know him a lot. He keeps everything real. This is a lot of fun for me – a real happy moment."
Johnson had been waiting to see if he has the grades – and test scores – before he knew if he will qualify. He got his ACT scores back earlier this month and his grades matched up, allowing him to qualify.
He said that learning his grades might keep him out of school was a life-changing moment.
"It pushed me to do a lot better. This is a wake-up call for me," he said. "I feel like I've really grown up through all of this. My whole personality and everything changed. When the coaches told me that I had to get my grades up to qualify, that's the moment that I grew up."
Johnson then said that his family is on board with his decision.
"They love it. My dad, my mom and my family met Coach Swinney on the official visit and they said they love him," he said. "They love how the coaches talk to the players and tell them what's up. The family is good with my decision. Especially with Coach Swinney, you can tell that family is really important. Most of the coaches went to Clemson."
Johnson had 69 catches for 910 yards and 12 touchdowns last season. He also played safety and had 60 tackles with two interceptions and eight passes broken up. After the season, he was selected 2014 HSSR 3A player of the year, and said that Clemson's coaches haven't decided where he will fit once he gets on campus this summer.
"They told me that I will be able to work at either wide receiver, corner or kick return," he said. "I don't really have a preference where I play."
He also said he wants to not only help Clemson win championships but make it to the next level.
"I love competing and I love the competition," Johnson said. "My goal is to try to get to the NFL after three years. That's my main goal and then I'll go back and get my degree."
A.C. Flora's Denzel Johnson posing with family before his signing announcement. One guess where he's going. #HSS19 pic.twitter.com/KpZdwiDA7v

— Ron Aiken (@RonAiken) May 20, 2015
Denzel signs with the Tigers and closes out Dabo's 7th recruiting class at Clemson. pic.twitter.com/AV2GVMe4ne

— Reggie Anderson (@ReggieWLTX) May 20, 2015