| | |
| --- | --- |
| Jarrett looking "to see what these two hands can do together" | |
---
| | |
| --- | --- |
| Friday, March 7, 2014 7:38 PM | |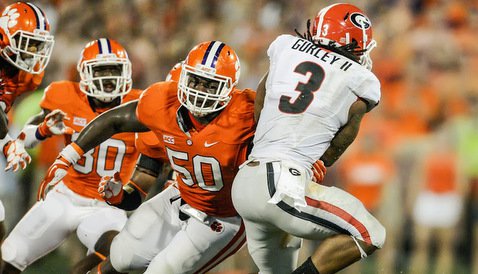 CLEMSON – Grady Jarrett

Grady Jarrett
Sr. Defensive Tackle
#50 6-1, 290
Conyers, GA
View Full Profile has quickly developed a reputation as one of the toughest players in college football, and that reputation will only be enhanced now that the news is out that the Georgia native played all of last season with a torn labrum.
In the week leading up to the season opener against Georgia, Jarrett was angling for a tackle on running back Roderick McDowell

Roderick McDowell
Running Back (2009 - 2013)
#25 5-9, 195
Sumter, SC
View Full Profile when his hand caught on McDowell's jersey, causing a burning sensation in his shoulder.
Garrett immediately headed over to the training staff, fearing that he had torn his pectoral muscle. However, tests later revealed that he had torn the labrum in his left shoulder, and he was faced with a tough decision: should he have surgery and miss the first part of the season, or should he play and wait to have surgery after the season.
The answer was never in doubt.
"I really didn't want to let my teammates down," Jarrett told TigerNet Friday evening after practice. "I felt like if I could play with it, then I would do that. I said, 'let's just strap it up and let's go.' So I had this black brace that I wore, and it helped some. But I was in a lot of pain. And if you look at the film of the Georgia game, there was one play early where I had a chance to sack Aaron Murray. If my shoulder was good, I probably would have had a sack. I went to grab him and the shoulder just went out. I had to jog over to the sidelines and sit over until it went back in and the pain went away. It was painful but I had to stick through it."
Jarrett played limited snaps against the Bulldogs – he was on the field for 46 plays – but still managed eight tackles, 0.5 tackles for loss, and a team-high three quarterback pressures in Clemson's thrilling win.
The bum shoulder didn't slow him down during the season either – he wound up with 83 tackles, 11 tackles for loss, two sacks, 14 quarterback pressures, and two recovered fumbles in 539 snaps over 13 games (13 starts).
Once the regular season was over, the training staff gave him the option of having the surgery in the hopes that he would be ready for the bowl game against Ohio St. Again, no dice.
"They gave me the option of doing it after the South Carolina game and before the Ohio St. game," Jarrett said. "But I didn't know how it would react. I had already played all season with it. And now, I am glad I didn't do it after the South Carolina game, because it has taken me about six weeks to get back to where I can use my hands. I am glad I waited until after the season and everything took care of itself."
Jarrett had had six tackles and one sack in 57 snaps against #6 Ohio State in the Orange Bowl on Jan. 3rd, and once the celebration was complete, he finally focused on getting better.
"It was tough. It was tough throughout the whole season," Jarrett said. "if I got hit right, it would hurt. But I just couldn't show it. I finally got the surgery and now I am still rehabbing and trying to get back to a hundred percent. "
Jarrett then admitted that he is no stranger to playing with pain, and can only imagine the possibilities if he stays healthy this season.
"If I stay healthy, this will really be my first season that I will have both of my hands," he said. "My sophomore year I played almost all year with a broken wrist almost the whole year. God willing, I will stay healthy and see what these two hands can do together."