| | |
| --- | --- |
| Interception against Oklahoma sets the stage for T.J. Green's breakout season | |
---
| | |
| --- | --- |
| Saturday, July 18, 2015 12:09 PM | |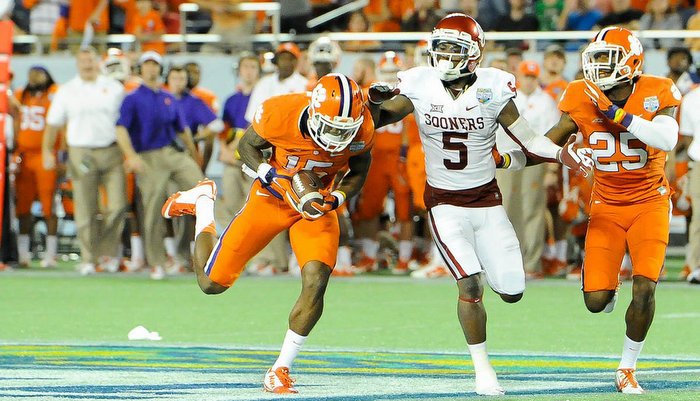 SUNSET – Defensive coordinator Brent Venables

Brent Venables
Def. Coordinator / Linebackers
View Full Profile sat down with the media this week at head coach Dabo Swinney

Dabo Swinney
Head Coach
View Full Profile 's annual media golf outing, and he was asked if there was one player on his roster that would be a household name by the end of the season. His answer was quick and to the point: safety T.J. Green

T.J. Green
Jr. Safety
#15 6-3, 205
Sylacauga, AL
View Full Profile .
Venables smiled brightly and said that he knew Green was on the right track when he picked off Oklahoma quarterback Trevor Knight late in the Tigers' win over the Sooners in the Russell Athletic Bowl in December. Green slid inside receiver Durron Neal and leapt high to snare the interception, Oklahoma's fifth turnover of the night.
"Really good, fundamental football play," Venables told TigerNet. "We're in quarters coverage and they have by design a play-action (play) to attack the quarters coverage. He did exactly what secondary coach (Mike) Reed wanted him to do. Not bite on the play-action. Keep his eye on his key. Keep his eye on the key that tells him that this is a play-action and not really a run. He turns and slides underneath the post route – that's designed to go over the top and be a big play – and he picks it off. That's a play for us as coaches (we say), 'Whew, he's coming along.'"
I asked Reed about the play, and he cut me off when I said I wanted to talk about an interception from the bowl game.
"You're going to ask about T.J.," Reed said with a big grin. "Right? What happened was, they had a play fake and T.J. kind of froze. The Oklahoma receiver got inside the defensive back and behind T.J. He then turned around and he did what he does best – he ran and caught the ball. With anybody else it would have been a touchdown. But T.J. is fast and he is long and that makes the quarterback have to throw the ball that much higher. When you throw the ball that much higher, it stays in the air that much longer. Case in point – that interception."
Swinney agreed with Venables that Green is set to have a breakout season.
"He's a guy that's really primed to have a big year," Swinney said. "He is a really talented football player that not a lot of people know about. I'm excited about him."
Green's route to safety was full of twists and turns. Green was a late addition to Clemson's 2013 recruiting class, and he was seen by many to strictly fit in on special teams. He played some at wide receivers that season, snaring two passes in 147 snaps on offense. However, an off-season conversation with safety and roommate Jayron Kearse

Jayron Kearse
Jr. Safety
#20 6-4, 210
Fort Myers, FL
View Full Profile convinced Green to give defense a try.
During the 2014 season, Green had 24 tackles, one interception and 21 kickoff returns for a team-high 445 yards in 159 snaps over 11 games (one start) and enters the 2015 season listed as the co-starter along with Jadar Johnson

Jadar Johnson
Jr. Defensive Back
#18 6-0, 200
Orangeburg, SC
View Full Profile . However, Venables likened Smith's newfound work ethic to that of the recently graduated Robert Smith

Robert Smith
Safety (2011 - 2014)
#27 5-11, 215
St. George, SC
View Full Profile .
"T.J. really since the end of the last year has had the kind of focus of a guy like Robert (Smith)," Venables said. "He's had that kind of focus. The work. Corrects himself. Takes our coaching. Exceptional skillset to go along with it. He understands what his weaknesses are. He can talk verbiage with you now. He knows what more people around him are doing."
Venables said a late June run into the WestZone was all he needed to see of Green's commitment to the game.
"He's showing up in June on a Saturday night when nobody else is around," Venables said. "I had to run into the office to get something, and as I am coming out he was pulling in. There was nobody around to see him do it, and he didn't do it for the attention. He called a couple buddies, but they weren't willing to come. He doesn't care.
"He's willing to do the work like a bank account – he's putting it in so he can take it out down the road. They all want to put that card in the ATM. The first guys to complain about the results they didn't get for the work they didn't do. That's the world we live in. They all want to complain about the success they don't have for the work they didn't do. He's a guy that's willing to do the work to get that success."
ATTENTION: All flights planned to take off against Clemson have been canceled until all DBs have retired from the program. Thank you.

— TJ Green (@BossGreen256) July 19, 2015