| | |
| --- | --- |
| Inside the committment: Albert Huggins | |
---
| | |
| --- | --- |
| Tuesday, December 16, 2014 10:13 AM | |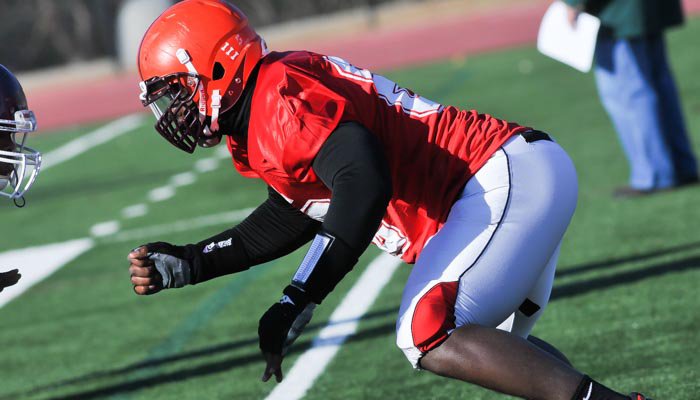 SPARTANBURG – Most people who follow recruiting believed that Albert Huggins

Albert Huggins
Defensive End
6-3, 280
Orangeburg, SC
ESPN:


View Full Profile was Clemson bound from the very beginning of the process. However, that simply wasn't the case.
As a matter of fact, the 4-star defensive end from Orangeburg (SC) Orangeburg-Wilkinson didn't make his decision between Clemson and Georgia until last Friday – the morning of his announcement.
Huggins took the recruiting process slow – not really taking any visits except to Clemson and South Carolina until this past summer – but he told TigerNet after Monday's Shrine Bowl practice at Spartanburg High School that he had many sleepless nights trying to decide which school fit his needs and personality.
"Georgia did have a lead at one point," Huggins told TigerNet. "There were many nights that I sat up thinking, 'Hey, what am I going to do?' They really did have a chance but Clemson just felt like home to me. The morning of my signing [was when I really made my decision]."
In the end, though, the time that he spent in Clemson forging relationships with players and coaches is what led him to announce his decision as a Tiger commit.
"It was family. Clemson has a great family-based team," Huggins said. "Georgia does as well. Clemson's defense is great and so is Georgia's. I've been to Clemson so many times that it just felt like home."
Even though Huggins knew he was going to commit to Clemson, he didn't reveal his decision to defensive ends coach Marion Hobby

Marion Hobby
Co-Defensive Coordinator / Defensive Ends
View Full Profile , who stopped by Orangeburg-Wilkinson Friday morning before the ceremony for one final pitch.
"I didn't tell anyone at Clemson my decision," Huggins said. "Coach Hobby found out after he came back that I had signed with Clemson. He was at my school that morning but he left. I guess [Orangeburg-Wilkinson] Coach Brown called him and told him that I signed with Clemson."
With the recruiting process behind him, Huggins can focus on his last game as a high school player – the Shrine Bowl, which will be played Saturday at 1 p.m. at Wofford's Gibbs Stadium.
Huggins said that he's trying to make the most of the week and have fun while doing it.
"I have to. I try to joke around a little bit and make it fun for them," he said. "This is not supposed to be a boring week. It's supposed to be one of the best weeks we have in a long time as a player, so I'm trying to make that happen and just go out there and have fun."
He is also enjoying going up against some of the top offensive linemen in South Carolina, including Clemson commit Noah Green

Noah Green
Offensive Tackle
6-5, 275
Boiling Springs, SC
ESPN:


View Full Profile (Boiling Springs) and South Carolina commit Zack Bailey

Zack Bailey
Offensive Tackle
6-5, 300
Summerville, SC
ESPN:


View Full Profile (Summerville).
"It really does prepare me [for what I'll see at Clemson]," he said. "I get to go against Noah and Zack. I have fun. I like to play. Noah is a great guy. I didn't know he was that good but he's a real good player."