| | |
| --- | --- |
| Iconic Howard's Rock Defaced | |
---
| | |
| --- | --- |
| Wednesday, June 12, 2013 8:46 PM | |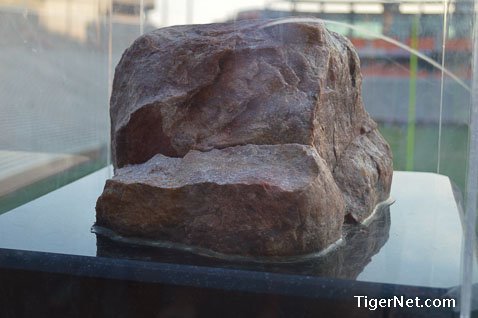 CLEMSON – The rumors are true – Howard's Rock, an iconic and important part of Clemson football history – has been defaced.
I started receiving text and Facebook messages while attending Dabo Swinney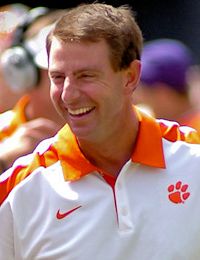 Dabo Swinney
Head Coach
View Full Profile 's high school camp, and quickly ran over to take pictures and assess the damage. The gates were open to satisfy the curiosity of the onlookers who were responding to the rumors and hurrying out to see if the rumors were true.
They are.
Former Clemson player Miguel Chavis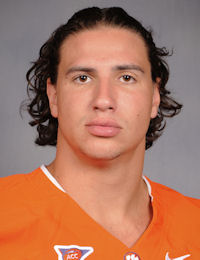 Miguel Chavis
Sr. Defensive Tackle
#89 6-5, 285
Fayetteville, NC
View Full Profile stood by the rock early Wednesday evening, and pointed out where the damage had been done. Chavis rubbed the rock many times, and he pointed where a chunk had been taken off the front of the rock.
According to a source I spoke with, the vandalism took place over a week ago and is still being investigated. At this point, it isn't known if there are any leads or suspects.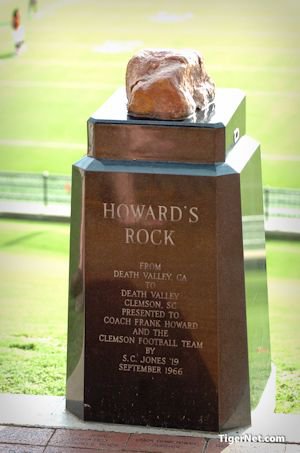 According to someone I spoke with, the case that holds the rock was shattered and it appeared that someone tried to take or steal the entire rock, but only managed to steal the front part that was broken off.
Clemson sent out the following release:
Howard's Rock, the iconic fixture Clemson players rub prior to running down the hill during the football team's entrance into Memorial Stadium, was vandalized sometime June 2nd or June 3rd. A small portion of The Rock was broken off of its pedestal after vandals broke the casing that protects the artifact.
"We take vandalism, especially of such an important part of our history, very seriously," said Director of Athletics Dan Radakovich. "Police are investigating."
There was no damage to the pedestal that supports the rock.
Unfortunately, this is the third time someone has tried remove or deface the rock. The first time occurred in 1992, in the week leading up to the game against arch-rival South Carolina, when someone tred to remove Howard's Rock from its pedestal and knocked off a piece on the left side of the rock.
In 2004, an opponent's team manager tried to vandalize the rock during a walk through the day before the game. However, he was stopped before any damage could occur.
TigerNet will obtain a copy of the police report Thursday morning.
Clemson reacts to Howard's Rock Vandalism
To the person who messed with Howard's Rock... I've got a hammer too twitter.com/Jay_Guillermo5…

— Jay Guillermo(@Jay_Guillermo57) June 13, 2013
That's just gone make us go even harder who did that to our rock. So thanks for the extra motivation

— DeShawn Williams

DeShawn Williams


Jr. Defensive Tackle
#99 6-1, 285
Central, SC
View Full Profile (@BigNuk_99) June 13, 2013
Just the fact tht someone did that shows how intimidated they r by us, or how much of a life they DON'T have..!

— ?Nube Nueve ? (@marleygang_6) June 13, 2013
Still bleed orange! Still TigerPride! Don't nothing stop our show! We gone go hard this season . Look atchuu now look at uss!

— ?Nube Nueve ? (@marleygang_6) June 13, 2013