| | |
| --- | --- |
| Hood: Another interesting week in Clemson Sports World | |
---
| | |
| --- | --- |
| Saturday, May 3, 2014 10:55 AM | |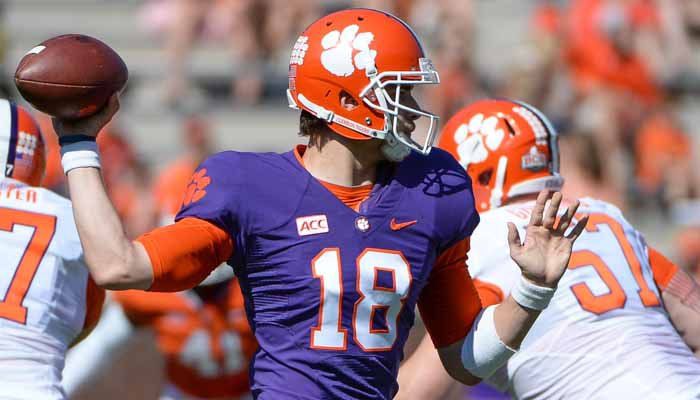 An interesting week? You bet. Like I said last week, just when you think things are going to settle down, things get interesting.
We had the deal with Pete Yanity and Don Munson and the play-by-play duties for the Clemson football and basketball programs, the football team added a quarterback and the FFRF and the legal counsel for Clemson University exchanged letters. In the meantime, the baseball teams begins its most crucial stretch of the season.
Where to start? Let's go with baseball….
The Tigers were swept by Miami last weekend, and the post-season essentially begins now. The Tigers are officially on the NCAA Tournament bubble.
"Getting swept at home by Miami put Clemson on notice," Baseball America's Aaron Fitt wrote earlier this week. "The Tigers are in bubble range in the RPI, they are just 12-11 in the ACC, and they are 2-11 against the top 25. Two home games against UNLV will be huge, and the Tigers must take care of business against Notre Dame and Boston College in the final two weeks. Their wiggle room is gone."
One analyst - ESPN's Jeremy Mills - projected a familiar postseason spot, sending Clemson to Columbia for a third-straight year – this time as a No. 3 seed. I don't think anybody around this program wants that, not with the record against South Carolina in recent seasons and South Carolina's superlative record at home in the post-season.
FFRF
I thought the exchange between the university's legal counsel and the legal counsel for the FFRF was telling – the university told the Freedom From Religion Foundation in a short and tersely-worded letter that the foundation had some facts "misconstrued." An earlier statement by the school said that they have found all of the programs – even football – to be in compliance with the U.S. Constitution.
The attorney for the FFRF said that legal action is "disfavored" and that they will be watching what happens from here on out, and will depend on their supporters in this area to keep them apprised of what is occurring.
What does all of that mean? Unless a player comes forth and wants to help the FFRF bring legal action against the school, this will all go away. The FFRF got the attention it wanted, and don't doubt for a second that the powers-that-be at the school aren't on high alert, watching for any wrong-doing. This will all be a distant memory sooner rather than later is my best guess.
David Olson
The Clemson coaching staff picked up a big commitment late Wednesday night from former Stanford quarterback David Olson, who has one year of eligibility remaining. He will provide insurance at the position, which lost depth when Clemson head coach Dabo Swinney

Dabo Swinney
Head Coach
View Full Profile dismissed Chad Kelly
Chad Kelly
RS So. Quarterback
#11 6-2, 210
Buffalo, NY
View Full Profile last month.
A lot of people took that as a sign that freshman Deshaun Watson

Deshaun Watson
Fr. Quarterback
#4 6-3, 190
Gainesville, GA
View Full Profile would redshirt – I don't know about that. I talked to Olson for close to 30 minutes Wednesday evening, and he seems like a great young man. Smart, very well-spoken, and he is excited about playing for the team he grew up rooting for.
However, it's hard for me to see this as anything other than insurance, at least at this point. He didn't play significant snaps for the Cardinal, never threw a pass, and helped run the scout team. If Nick Schuessler

Nick Schuessler
RS So. Quarterback
#3 6-3, 185
Grayson, GA
View Full Profile is definitely your number two or number three, you don't want him getting knocked around on the scout team, do you? Same goes for Watson.
Olson still has to pick up the system and learn offensive coordinator Chad Morris

Chad Morris
Offensive Coordinator / QBs
View Full Profile ' offense – not an easy task in a few months. To me, the real question is whether Watson or Schuessler comes out of the fall as No. 2 – if the coaches decide they trust Nick, then Watson will have the opportunity to redshirt and if they need a third QB somewhere down the road Olson would be a good fit. Let something happen to starter Cole Stoudt

Cole Stoudt
Sr. Quarterback
#18 6-4, 205
Dublin, OH
View Full Profile early, however, and the team will more than likely belong to Watson.
Play-by-play
The announcement that the school was changing directions regarding play-by-play duties provided one of those weird moments for me. Both Pete Yanity and Don Munson are guys I see regularly, and while I don't go out to eat with them or their families, I still consider them friends. So it was kind of weird in that I had one friend who received something at the expense of a second friend. How do you handle that?
And I understand that there are a lot of rumors out there about why and how the change was made, and different people who really don't know about what happens inside the athletic department have some really strong opinions. My advice? Be patient, and we will know more about the why and how at a later date.
2014 season
Nikki Steele and I were talking football the other night (we are always talking football), and I mentioned that the 2014 season scares me in some ways. So, we are going to do another point-counterpoint article taking a look at Clemson's chances for the 2014 season.
I can give you a sneak peek into my thoughts right now (yes, I know, that's scary). And while I don't believe this will happen, it does give me pause for thought. The season starts at Georgia, not an easy task, and following a game with S.C. State at home the Tigers take back to the road against Florida St.
Is it conceivable this team will be 1-2 heading into the fourth game? New quarterback, new wide receivers as backups, questions on the offensive line, no clear cut No. 1 at running back as of right now, new kicker…you get it. This team could be one of the top 15 teams in the country and still be 1-2. But that isn't the scariest part to me – what if a 1-2 team has a little bit of its confidence shaken? The next game is at home against UNC (no pushover), then N.C. State and then Louisville.
I remember 2010 when that team started 2-0, but wound up 2-3 after losses to Auburn, Miami and UNC and eventually finished 6-7. Again, I think the program has a lot more talent now than it did then, and I don't see this kind of "doom and gloom" scenario playing out, but I have to be honest when I say it does kind of make me wonder. This team needs to start quick.