---
| | |
| --- | --- |
| Thursday, March 20, 2014 9:33 PM | |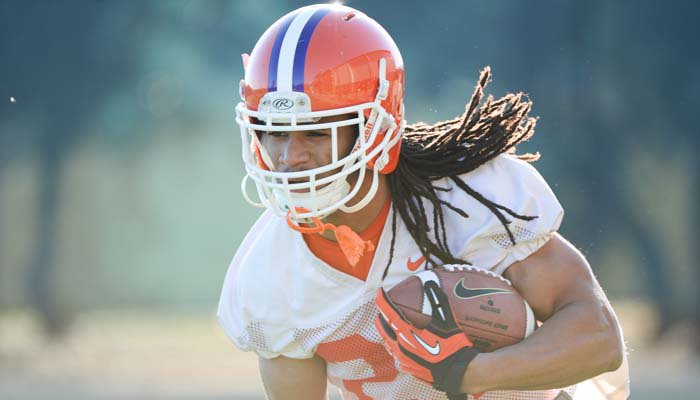 CLEMSON – Zac Brooks

Zac Brooks
Jr. Running Back
#24 6-1, 185
Jonesboro, AR
View Full Profile ' Clemson career hasn't turned out like many would have expected when the Arkansas native committed to the Tigers back in 2011.
Brooks was rated by many scouting services as the top player in the state of Arkansas for the 2012 recruiting cycle, and the expectation was that he would fill a number of roles for the Tigers once he understood the nuances of Chad Morris

Chad Morris
Offensive Coordinator / QBs
View Full Profile ' offense, splitting time at running back and even seeing time in the slot as a receiver.
He played limited snaps in 2012 – 65 over eight games – and was limited by injuries at the end of the 2013 season. Despite having used up two years of edibility, Brooks has logged just 204 snaps in his Clemson career, with 365 rushing yards on just 74 carries. He also has nine receptions for 92 yards in the 18 games he has played, none of which he has started.
Brooks, however, told TigerNet at the start of spring practice that he hasn't let the lack of playing time or the injuries change his mindset.
"Life is all about ups and down. I knew, going into this type of life that there were going to be a lot of ups and downs," Brooks said. "It's just having the strength and the right mindset to get through the adversity. "
Clemson's backfield is crowded this spring – C.J. Davidson

C.J. Davidson
RS Jr. Running Back
#32 5-11, 185
Clemson, SC
View Full Profile , Wayne Gallman

Wayne Gallman
RS Fr. Running Back
#9 6-1, 195
Loganville, GA
View Full Profile and D.J. Howard

D.J. Howard
RS Sr. Running Back
#22 5-11, 195
Lincoln, AL
View Full Profile are battling with Brooks for playing time. Once August rolls around, Brooks will have to deal with the arrival of Tyshon Dye

Tyshon Dye
RS Fr. Running Back
#23 6-1, 205
Elberton, GA
View Full Profile and the freshmen.
Brooks said he knows it is finally take to make a statement.
"It's time for me to step up and do what I'm expected to do, and do what I expected myself to do," Brooks said. "Just take the role of a leader in the backfield, and do what I'm expected to do and make a statement."
Brooks was expected – there is that word again – to be a major focus in Clemson's offense last fall, and he started out the season by getting three carries in the season opener against Georgia, and caught a 31-yard pass from quarterback Tajh Boyd

Tajh Boyd
Quarterback (2009 - 2013)
#10 6-1, 225
Hampton, VA
View Full Profile on a wheel route that was a key play in the contest.
He wound up getting 45 carries over the next seven games, but injured his shoulder on a cold day at Maryland and aggravated it further against The Citadel a few weeks later. As a result, he got just one carry over the season's final five games as the Tigers relied more and more on Roderick McDowell

Roderick McDowell
Running Back (2009 - 2013)
#25 5-9, 195
Sumter, SC
View Full Profile and Boyd to carry the load.
He had surgery to repair the damage in December, and he says he is healthy and ready to join with the other running back contenders in "taking Athens by storm" when Clemson opens the season at Sanford Stadium.
During the interview, Brooks said he didn't concern himself with who would start, and even went out of his way to talk about each of his running mates.
"It's not so much a running back battle," he said. "It's just everybody going out and doing what they're best at. We don't look at it as, 'I want to be the starting running back. That's my spot.' We just all work, man, just to get the team better and get one another better as a corps. We want to be the best backs in the nation.
"I tell D.J. all of the time how different he looks. He is finally healthy and he just looks like a different guy back there and is having a great spring. C.J. is fast, really fast, and he is going to play a lot. And I can't forget my man Wayne Gallman. Clemson fans need to know that whenever Wayne is about to do something good, they have to give him the 'Whoo Whoo' sound for the Wayne Train (mimics engineer pulling train whistle). We've been doing that all camp."
However, he knows what he has to do.
"I've been here, and I know I'm going to have to play a lot more than I have in the past," he said. "I'm prepared to potentially be the starter, and I'm prepared to back up one of the other players. I'm prepared for whatever situation."