---
| | |
| --- | --- |
| Monday, September 26, 2011 2:10 PM | |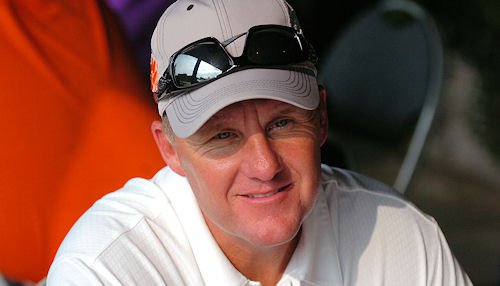 CLEMSON – Don't expect Chad Morris to be intimidated by the raucous environment in Blacksburg this weekend.
The Tigers take their 4-0 record and No. 13 ranking into Lane Stadium for a date with the Virginia Tech Hokies this Saturday, in the past a house of horrors for the Clemson program, but Morris says he is more concerned with Clemson and getting his offense fine-tuned than he is about the atmosphere at Lane.
"I am not concerned about how our players will handle it," Morris said Monday morning in the WestZone. "I am sure it will be a crazy atmosphere like it is here. We will be practicing with crowd noise to prepare them. If you want to be a championship-caliber ball club, then you have to win games on the road. This is our first test – we have proven we can play that way at home, now we have to prove we can do that on the road."
Morris said that he doesn't expect Virginia Tech defensive coordinator Bud Foster to change anything defensively in preparation for Clemson's offense.
"They are going to do what they do, and they have been doing it for a long time," Morris said. "We have to think about getting better and playing more physical. I keep hearing about the last time Clemson went up there, they got hit in the mouth and it was a 'How quick can we get back to the bus' type of deal. They are going to play physical, but that is something we take pride in as well."
Two years ago, Morris was coaching Lake Travis High School in Texas, and now he finds himself matching wits with Bud Foster in a battle of Top 15 teams, but he said he simply doesn't have the time to reflect on the turns his life has taken.
"It is an amazing run. I have been very blessed," Morris said. "Someday I will sit on a beach somewhere and look back and enjoy that, but there is no time right now."
At Tulsa last season, Morris got a taste of what Saturday might bring when Tulsa traveled to South Bend to take on Notre Dame, an eventual 28-27 win by the Golden Hurricane.
"We got there the day before, and Coach Graham took us to the stadium, and I had Chandler with me and we had a chance to run around the stadium a little bit and look around and think about all the history that has come out of South Bend," Morris said. "But when the clock starts, it doesn't matter if you are in Lake Travis or South Bend - football is football. They are too well-coached and too talented to think about other things.
"They have great history and you can't get caught up in all of that – we just have to keep getting better and keep pushing ourselves and our players and our coaches to get better. Our players will be well-prepared for the journey and they will be excited. They will be reminded over and over again about who is going to play more physical and about what happened in the 2006 game."
Other notes from Morris
On the missed 4th-and-1 late in FSU game
"We are having missed assignments. That 4th and 1 play, we ran it two plays earlier with success. I loved the call. Like I told you Saturday, I would run it 100 more times. Guys still have to make a play. We had the edge sealed off, and we missed two key blocks out there on the edge. I didn't come here to lay up, we came here to win a ballgame and that is what we felt like we had to do. We just didn't execute."
On tempo Saturday
"I was disappointed early in the game because I didn't think the tempo was where it was supposed to be. Tajh was reverting back and not looking back at me as early as I wanted him to. We had the ball out there for 94 snaps including penalties and some timeouts, so our tempo was pretty good. You could definitely tell our tempo was affecting their guys up front. Our offensive line was saying that."
On big pass play to Sammy Watkins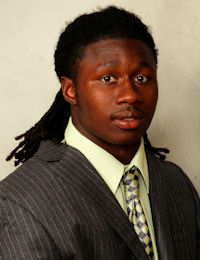 Sammy Watkins
Fr. Wide Receiver
#7 6-1, 200
Fort Myers, FL
View Full Profile
"You always wanna get a feel for what your players are thinking, and after the series prior to that one Sammy calls me over. He says 'If we get into another third-and-short or third-and-medium, they are expecting a slant and I can get them on a double move.' I said okay, look, and I showed him where I had already written that down on the board and circled it. I told him we were thinking alike. I trust him."
Watkins said on Monday that he did indeed suggest the play.
"Every time we were in that situation, they [the FSU defense] were calling, 'Slant! Slant! Slant!' So I went over to Coach Morris and I said 'I think we can run the sluggo right there.' So we ran it, and when I came back over to the sidelines after the touchdown he said, 'You did it.' That was a great feeling."
On Andre Ellington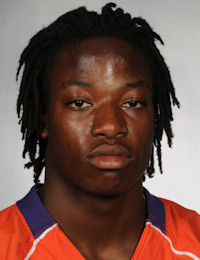 Andre Ellington
RS Jr. Running Back
#23 5-10, 190
Moncks Corner, SC
View Full Profile
"Andre felt better yesterday than he had at any point last week. I think playing in the game and stretching it out helped him. You could tell he wasn't the 100-percent Andre. He should be 100 percent by Saturday."
On Mike Bellamy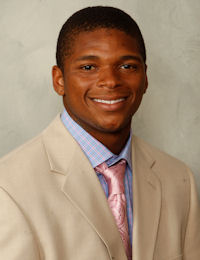 Mike Bellamy
Fr. Running Back
#5 5-10, 175
Nocatee, FL
View Full Profile
"We try to get him his package, and try to keep growing him. He is a work in progress. Saturday, we had him out there and motioned him out and he was supposed to rail up the sidelines and he undercuts us. You have to understand with a young guy like that, that he is a work in progress. We will keep working his package in, and hope as the season goes he continues to get better. Mike is coming on – we hope to keep pushing him and keep growing him. "
On Tajh injury
"He got hit a little bit in the pocket and got a kind of high calf bruise. We will put ice on it and he will be good to do. He didn't even come in for treatment."
On D.J. Howard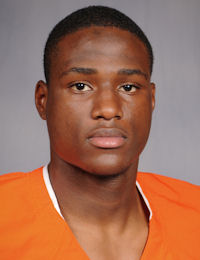 D.J. Howard
RS Fr. Running Back
#22 5-11, 195
Lincoln, AL
View Full Profile
"He is going to work out today. They are going to really push him today to see how he works out cutting."
On left guard situation
"Right now, if David [Smith] comes back, we are still wide open with him and Brandon battling it out. We saw good things last week, but are we at a point where are solid at the position? No. "
On Joe Craig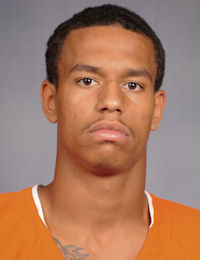 Joe Craig
RS Fr. Wide Receiver
#81 5-10, 160
Gaffney, SC
View Full Profile
"He was in there for a snap, but he has to keep progressing. We think Joe can come in and spell Sammy for a little bit. How many snaps at this point? I have no clue."