| | |
| --- | --- |
| Hall's last-second drive pays off as Tigers top Illini in NIT thriller | |
---
| | |
| --- | --- |
| Sunday, March 23, 2014 1:02 PM | |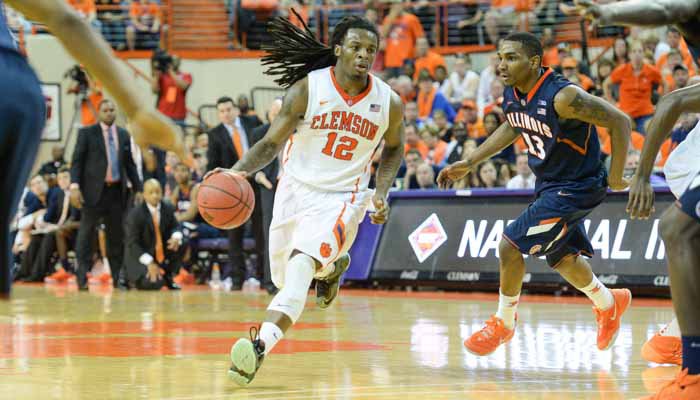 CLEMSON – This time, Rod Hall

Rod Hall
Jr. Guard
#4 6-1, 210
Augusta, GA
View Full Profile wasn't fouled and hit the game-winning shot.
Clemson's point guard drove to the basket and hit a runner in the lane with 9.3 seconds remaining Sunday, lifting Clemson to a 50-49 victory over Illinois in the second round of the NIT in front of a sellout crowd at Littlejohn Coliseum.
Illinois had taken its first lead of the game at 49-48 with just over two minutes remaining, and the Tigers and Illini traded scoreless possessions to set up Hall's final drive. A little over a week earlier, Hall's drive to the basket against Duke in the ACC Tournament wound up as a no-call in Duke's win.
The Illini had one final chance, but a long 3-pointer with just under two seconds remaining fell harmlessly out of bounds and the Tigers were able to throw a long pass down the court to run out the clock.
The Tigers will host Belmont Tuesday night in the quarterfinals of the NIT, and the game will start at either 7 p.m.
K.J. McDaniels led all Clemson scorers with 12 points – some of the highlight reel variety – while Landry Nnoko

Landry Nnoko
So. Center
#35 6-10, 245
Montverde, FL
View Full Profile added 11 and Jordan Roper

Jordan Roper
So. Guard
#20 5-11, 165
Columbia, SC
View Full Profile 10.
The game was listed as a sellout, with many fans wandering the concourses well into the first half looking for an empty seat. It was the first capacity crowd since a February 2012 game against Virginia.
"First off, I would like to thank our fans. It was special to come out to Littlejohn today and see 10,000 fans," Clemson head coach Brad Brownell said. "We appreciate those folks getting up early, going to church early and spending the day with us. I told our players before the game when I got here at 9:30, there was already a line at the gates and I had goose bumps on my neck because I was proud to see that kind of support for our program. I told our players I thought it was a great way for the fans to thank us for what we've been doing down the stretch. I think they appreciate how hard our team has played and how much we've improved. In return we thought the best way to thank them was to play hard today."
Brownell said that the game two weeks against Pitt - when Clemson botched an inbounds pass late and eventually - factored into the thinking on the game's last play.
"That certainly came to mind. We were trying to get it in, first thing," Brownell said. "The one thing though, is that as athletic as K.J. (McDaniels) and Rod (Hall) are, they're not great cutters. They're strong guys and K.J. is more of a jumper than a runner. It is hard sometimes for us to get open. The great play, because we were trying to go to (Landry) Nnoko but they were fouling him and not letting him get the ball, was for Rod to get to the ball and tip it back in. Phenomenal, heads up play. Rod certainly made a great play on a difficult situation."
He then said he was glad that Hall's made basket set up the last frenzy of shots.
"We really played well in the last three or four plays of the game," Brownell said. "We told our guys if we get the stop, then we had a play called. But then we thought if we get a rebound and have an open court, then go play and trust Rod to go make a good decision. He got to the rim and scored and we called a timeout to set up our defense and then had a really good last stop on the last possession of the game."
With starter Jaron Blossomgame

Jaron Blossomgame
RS Fr. Forward
#5 6-7, 215
Alpharetta, GA
View Full Profile sidelined with a leg injury, Brownell went with a smaller lineup and it paid dividends as Roper scored the first points of the game and seven in the early going as the Tigers raced out to an 11-4 lead.
However, turnovers by the Tigers kept Illinois in the contest despite missing nine 3-pointers in the opening stanza.
A layup by Rayvonte Rice with just a little over eight minutes left in the half brought the Illini back to within four at 18-14, but a 3-pointer by Roper and a layup by Adonis Filer

Adonis Filer
So. Guard
#3 6-2, 190
Chicago, IL
View Full Profile put the Tigers up by nine at 23-14. The Illini eventually pulled within five, but Austin Ajukwa

Austin Ajukwa
Fr. Guard
#1 6-5, 190
Columbia, SC
View Full Profile hit a 3-pointer with 15 seconds left in the half and the Tigers went to the locker room with a 28-19 lead despite eight turnovers.
The beginning of the second half was not kind to the Tigers, who missed shots, allowed open layups and Illinoi eventually found a way to tie the game at 35-35 after a three-point play by Rice at the 10:32 mark.
Brownell called a timeout, and the Tigers responded. Harrison hit a short jumper in the lane as Clemson retook the lead. Following a quick defensive stop, Harrison threw a 60-foot alley oop to a streaking McDaniels for the kind of dunk that brought the Littlejohn crowd to its feet as the Tigers opened up a five-point lead at 40-35.
The Illini still hung around, and Jon Ekey's 3-pointer coming out of a timeout tied the game at 46-46 with the just 3:54 left on the game, and the Littlejohn crowd began to get restless with Clemson's inability to put the Illini away. Two minutes later, Ekey hit another from the right win and Illinois had its first lead of the game at 49-48, setting up the final 24 seconds.
In the NIT, Clemson advanced past Illinois thanks in part to their ability to convert chances in the paint: pic.twitter.com/5fbVbWry4D

— ESPN Stats & Info (@ESPNStatsInfo) March 23, 2014
If you can't see the PDF below, click here to open it.