| | |
| --- | --- |
| Grantham's recruitment: The inside story | |
---
| | |
| --- | --- |
| Saturday, November 16, 2013 11:47 PM | |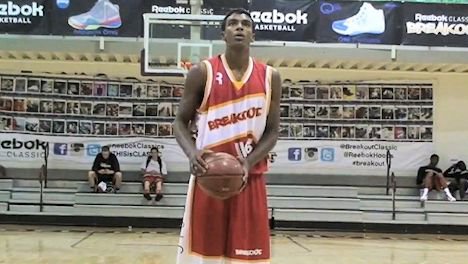 When Brad Brownell

Brad Brownell
Head Coach
View Full Profile decided to take the time to build a relationship with a relatively unknown player, he had no idea that it would lead to the biggest signing of his young Clemson career.
Brownell was second to only West Virginia in offering a Donte Grantham

Donte Grantham
Forward
6-7, 200
Martinsburg, WV
View Full Profile – a 6-7, 195-pound wingman from the mountains of Martinsburg (WV), and the time he took early last spring is what led to Grantham inking his signature last week to play basketball for Brownell and the Tigers.
Grantham signed his National Letter of Intent last Tuesday, and Brownell said that he and Clemson assistant Steve Smith

Steve Smith
Assistant Coach
View Full Profile kept the heat on throughout Grantham's entire recruitment, even when the big-name schools like Michigan and Texas got involved.
"His recruiting was a little bit unique," Brownell said after Tuesday's win over Delaware State. "He was a kid who everybody had kind of heard about, but he's up in Martinsburg, West Virginia –a little bit out of the way, don't play competition sometimes, not sure how good he really is because he played inside a lot. You don't know how skilled he is because he can't be a 6-7, 195-pound four-man. I don't know if he's got the skills to do that.
"We heard about him and followed up. We heard about him, followed up. Steve [Smith] went and saw him play, kept the heat on. As soon as we lost in the ACC Tournament, the next day I was up at his high school. I think it was a semifinal or a quarterfinal game, watched him, liked him, got him down on an official visit, offered him a scholarship."
Grantham visited Clemson early in his recruitment and seemed to enjoy himself, but Brownell didn't think the trip went as well as it could have because school wasn't in session and the team wasn't around.
"The only problem with his visit to Clemson that time is, I think, we were on a break, and we didn't have a lot of players around," Brownell said. "K.J. [McDaniels] was here, hosted him and we had a good, but he didn't get a true feel of our team, so I think that, too, kind of just made him a little hesitant to pull the trigger."
It wasn't until Grantham played for the D.C. Assault AAU team and was invited to July's Reebok Breakout Classic that his recruitment really took off because teams were able to see him play high-level competition and see what he could do as a guard, instead of a four-man, his high school position.
"Once he didn't [commit to a school] and he played for the DC Assault team, his recruitment exploded and we knew it would. Everybody – including Texas, UConn and Marquette – was chasing him down" Brownell said. When you saw him play in that environment and played wing at that level, he just played at a very good level."
After his recruitment really took off, Grantham and his mom decided that it would be better to enroll in prep school for a year to mature.
"I was a little surprised that he didn't pull the trigger. West Virginia had offered him, Brownell said. "He had some high major offers. Other people really kind of realized that West Virginia offered, Clemson offered, Cincinnati and a lot of other people are sniffing around his recruitment. Boom, it just happened about February and on. The kid had talked to Coach Smith a lot – he and his mom said that they didn't know if he should go to prep school for a year, if he was quite ready. Even when we offered him a scholarship and he came on a visit."
But again, Brownell and staff stuck with Grantham through his first semester of prep school and finally the Hargrave Military enrollee pulled the trigger and committed to Clemson on October 4th, becoming the biggest commitment in Brownell's short Clemson tenure.
"Michigan made a huge late run along with some others. I think he wanted to be loyal to us. I think he felt loyal to the relationship," Brownell said. "I think he sees himself being a good player here. I think he thinks we're in a position to where there are some good things really starting to happen here. He believes in what we're doing and he's excited about taking it to the next level."