| | |
| --- | --- |
| Gilmore has Clemson in top three | |
---
| | |
| --- | --- |
| Thursday, May 3, 2012 4:35 PM | |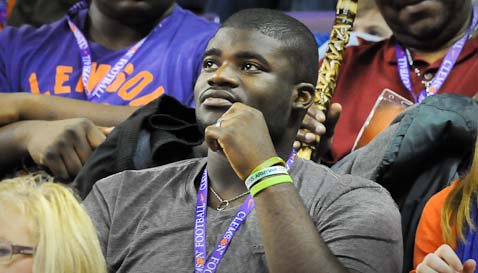 The good news for the Clemson Tigers is that they are in the top three for the services of defensive tackle Greg Gilmore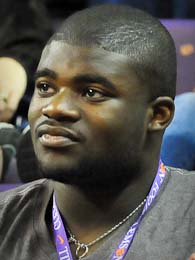 Greg Gilmore
Defensive Tackle
6-4, 285
Hope Mills, NC
View Full Profile . But there is work to do with the change in defensive coordinators.
Gilmore is listed as one of the top defensive tackles in the nation (No. 11 according to Rivals), and he told TigerNet Thursday afternoon that Clemson sits firmly in his top three.
"Right now, it is LSU, Florida and Clemson," Gilmore said. "I talk to Coach [John] Chavis [the LSU DC} a lot, and I talk to Coach [Dan] Brooks of Clemson a lot. I talk to Coach Brooks all the time. LSU has a great defensive reputation, and I think Clemson has one of the best defensive lines in the ACC. And I know Florida is recruiting a lot of great defensive linemen."
What would it take for Clemson's Tigers to move solidly on top?
"I guess I was just really a Coach [Kevin] Steele guy," Gilmore said. "He was the one that started recruiting me, and we were both from Dillon and had that in common. I felt like I had built up a great relationship with him. I really haven't talked to Coach [Brent] Venables a whole lot. I know he is a good guy and a great coach. I have his number, and I need to call him."
He said that he hears rumors about Venables that worry him as well.
"I have had people tell me that he will be a head coach very soon," he said. "They say that he will be at Clemson for just a year, or maybe two, and then he will be a head coach somewhere and take another job. I know that is part of the business, but I don't like hearing things like that. But I really like Clemson, and I think they have great facilities and a great tradition. It's close to home, and I wouldn't mind living in South Carolina again.
The Hope Mills (NC) South View standout fashioned a solid junior season, finishing with 68 tackles, a sack, a blocked field goal, four forced fumbles and two fumble recoveries. He also caught three passes for 43 yards. As a sophomore, he had 70 tackles and a sack.
He has taken visits to Clemson, LSU, East Carolina, Alabama and South Carolina, but said he hasn't nailed down a summer itinerary as of yet. In the fall, he wants to visit Clemson, LSU, Ole Miss and Florida and make a decision sometime after his senior season.
Gilmore, who is a solid 6-4, 275-pounder, says he is going to focus on playing the 3-technique this fall.
"I am going to concentrate on playing the 3-technique this fall, and I won't play any defensive end at all," he said. "I really feel like that is where I will play on the next level. I don't think I will be any more than 295 pounds when I get to college, and I feel like I am a perfect 3-technique in a 4-3 scheme. I am not really a 3-4 guy, lining up as a nose guard. I will play some as a defensive end if there is an injury, but I really want to stay as a tackle."